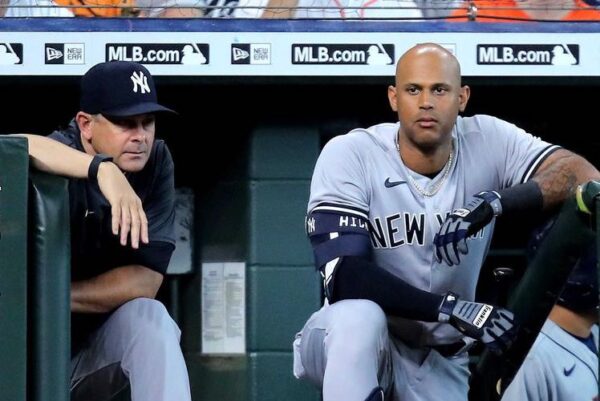 The Yankees went 6-1 on their seven-game road trip, finishing with a sweep of the Reds. More importantly, they made a roster move that was long overdue by designating Aaron Hicks for assignment.
Here are 10 thoughts on the Yankees.
1. The Yankees won three of four in Toronto and Aaron Boone started off the three-game series in Cincinnati with a lineup resembling the Yankees having just clinched the division. Jake Bauers leading off (why is this still a thing), Willie Calhoun batting fifth and an 8-9 of Kyle Higashioka and Aaron Hicks. After losing a home series to the 100-loss Reds last year, I was prepared for a letdown series from the Yankees with the end of the road trip in sight and a day off on Monday, and Boone wasn't doing anything to calm my fears with the lineup.
The Yankees took an early lead on another Aaron Judge home run and tacked on two more runs in the sixth for a 3-0 lead. Clarke Schmidt had given the Yankees five scoreless innings in his best start of the season, but that wasn't good enough for Boone. With a rested bullpen after Boone elected to play roulette with Albert Abreu and Ryan Weber in the series finale in Toronto, Boone decided to double down on his ridiculous bullpen management in the first game in Cincinnati.
2. Boone let Schmidt start the sixth and face the top of the lineup for a third time. After a leadoff single, Boone stayed with Schmidt and Schmidt then gave up a double. Second and third, no outs. The Reds now had the tying run at the plate with their 3-4-5 hitters due up. That was enough for Boone. He wasn't going to let Schmidt completely ruin the game, just set it up for the next guy to come in and potentially ruin with a tiny margin of error and without a clean inning to work with. Jimmy Cordero came in, allowed a two-run double to the first batter he faced and followed it up with a walk. Cordero settled down to retire the next three batters, but the Yankees' lead was now only 3-2.
With nine outs to go and clinging to a one-run lead, Boone would have his choice of Michael King, Wandy Peralta or Clay Holmes for the seventh, who were all rested. His choice for the seventh inning? Abreu. Truly unbelievable.
After pitching a a 1-2-3 inning on Thursday in Toronto, Abreu had apparently erased all the disastrous appearances he has recorded this season and in his Yankees career. He was pitching in a high-leverage situation on Friday despite the entire bullpen being available. Boone lucked out as Abreu was able to pitch around a two-out walk.
Finally, in the eighth, Boone went to Peralta, who pitched a perfect inning, and then in the ninth the Yankees scored three runs (and Kyle Higashioka earned three weeks of negative criticism immunity for his ninth-inning double), so Boone was able to use Nick Ramirez to close out the game.
3. I was surprised when I saw the news of Aaron Hicks being designated for assignment on Saturday. Confused and surprised. Hicks had finally started hitting (.353/.450/.647 in his last 20 plate appearances) and now the Yankees were going to get rid of him? The timing was odd and actually quite infuriating.
Infuriating, not because I wanted Hicks to remain a Yankee. No, I haven't wanted him to be a Yankee for a long, long time. (I didn't want him extended, so of course I didn't want him still be here). But infuriating because the Yankees chose to not upgrade their outfield in the offseason, believing Hicks would magically revitalize his career after three injury-plagued seasons with below-average production.
"I suspect he will be the guy that emerges [in left field]," Brian Cashman said in late January. "Because he is still really talented and everything is there."
It took 76 plate appearances (of which the last 26 percent of those plate appearances were finally major-league caliber) for Cashman to go from believing Hicks was "still really talented" and a player with "everything there" to giving up on him.
The Yankees never truly thought Hicks would be an everyday player in 2023. Because while Cashman and Boone spent the offseason and spring training hyping him up to the media, it was Oswaldo Cabrera starting in left field on Opening Day.
Hal Steinbrenner gave Judge a franchise record $360 million and to cover that amount without hurting his balance sheet, Hal was going to pull from other places. Those places would be left field and the bench. So Hicks spent nearly two months barely playing, sitting on the bench so infielders could play the outfield over him, moping around and complaining about his playing time to the media and being a zero at the plate when he did play.
The plug should have been pulled on Hicks last season when he went month-long stretches without extra-base hits and played the outfield like he was blindfolded. Boone benched him several times throughout the season and even removed him midgame against the Rays for his miscues. In a season in which Hicks said, "If I'm a guy that's in the lineup, cool. If I'm not, it is what it is," it was irresponsible to continue to roster him for all of 2022, keep him on the roster in the offseason and then play him (even if sparingly) in 2023.
"Hopefully we can get the Aaron Hicks we know is in there back as a consistent player for us," Cashman also said in January.
The player Cashman spoke about as "getting back" never really existed. It was a mirage. That player would be the 2018-19 version of Hicks who hit a 162-game pace of home runs of 32 and had an .813 OPS when the baseball was juiced to the point that Gleyber Torres hit X home runs, Brett Gardner hit X, Ketel Marte hit X and Christian Yelich was Barry Bonds. Those seasons were in no way true indicators of what a player's ability was or is.
Hicks' inability to stay heathy and produce cost the Yankees a lot more than the $70 million they extended him for in February 2019. (Immediately after signing the extension, he hurt his back on a 35-minute bus ride in spring training.) It cost them the chance to sign Bryce Harper, who Cashman said "wasn't a fit" during the two-time NL MVP's free agency because Cashman was planning on an outfield combination of Judge, Giancarlo Stanton, Hicks, Clint Frazier and Jacoby Ellsbury. Whoops! (Reminder: Cashman's contract was extended this past offseason.) It cost them Ezequiel Duran, Glenn Otto and Josh H. Smith when they had to trade for Joey Gallo to make up for Hicks. It cost them three more prospects when they had to trade for Andrew Benintendi because Gallo didn't work out. It cost them Jordan Montgomery when they had to trade for Harrison Bader. Sometime this season it will cost them an extension for Bader or in the offseason an overpay in free agency to re-sign Bader.
Cashman always thought he had found Bernie Williams 2.0 in Hicks, but what he had was a major disappointment disguised as a former first-round pick. Thankfully, Hicks is now gone and a piece of this group of Yankees that represents disappointment and coming up short is no longer part of the team. There will be much less booing for players on the home team at Yankee Stadium now. That is, until Josh Donaldson returns.
4. The Yankees have a good thing going right now. Anthony Rizzo at first Torres at second, Anthony Volpe at short and DJ LeMahieu at third. So when Donaldson does come back, he's going to screw it all up. Eventually, he too, will likely be designated for assignment once the Yankees feel as though they have gotten their money's worth of the $51.5 million they agreed to pay him. Continuing to roster Donaldson, like Hicks, is another move that doesn't make sense.
5. It didn't make sense that Jhony Brito started Saturday's game without an opener. I guess the strategy worked out too well in his last outing for the Yankees to try it again. Brito was his usual bad self. He allowed a first-inning run after a walk, balk and double. After Judge tied the game with an RBI single in the top of the third, Brito gave the run back in the bottom of the third. Then in the fourth he allowed a two-run home run to 9-hitter Luke Maile to put the Yankees behind 4-1. I think the Yankees will go back to using an opener for Brito the next time he gets the ball. Then again, I thought they would sign an actual major-league left fielder in the winter.
In the top of the fifth, trailing by three runs, Isiah Kiner-falefa (who is going to put Bader on the injured list st some point with his lack of awareness playing the outfield) hit his second home run of the road trip. (I have a feeling there was a performance-enhancing drug test waiting for Kiner-Falefa at his locker after the game.) Ben Rortvedt in his Yankees debut followed with a single, as did Torres. The Yankees trailed by two with the tying run on base and Judge at the plate. Judge hit a booming double off the left-field wall, scoring Rortvedt and moving Torres to third. The Reds went to lefty Alex Young to face Anthony Rizzo and Rizzo singled to left to score Torres. On the Rizzo base hit, Judge was sent home and the throw was at the plate waiting for him before he entered the picture on TV. It was an inexcusable send. If Judge is held at third, it's first and third with one out for DJ LeMahieu against a lefty. Instead, it became a runner on first with two outs. Sure enough., LeMahieu singled on the first pitch he saw, but the Yankees didn't score again in the inning. 4-4.
Boone decided his elites relievers had had enough says off so he employed them on Saturday. Ron Marinaccio, King and Holmes all pitched, combining for five innings of one-hit ball. After the Yankees scored three runs in the top of the 10th to take a 7-4 lead, I figured Holmes would go back out for a second inning of work to close out the game. Nope. Boone went with Weber, who is the last pitcher in the majors you want to see pitching in extras, only leading by three with the automatic runner on. Thankfully, the Reds suck, and Weber was able to close out the win. (The longer the Yankees roster Abreu and Weber, the better the likelihood of the duo costing the Yankees immensely increases.)
6. The Yankees had clinched the three-game series and with the series finale on Sunday presenting getaway day into a day off on Monday and the end of a 17-games-in-17-days stretch, I knew to expect a wild Boone lineup on Sunday. Like clockwork, Boone sat Judge, batted Calhoun fourth and Bauers sixth (why not leadoff all of a sudden?!).
Major-league pitching hasn't been able to slow down Judge (.378/.491/.911 since coming off the IL), so Boone decided he would do whatever he could to cool off his best player. Between Judge's day off on Sunday and no game on Monday, we all know who to blame if Judge struggles against the Orioles the next three days.
7. A day after DFA'ing Hicks, Luis Severino made his season debut. Severino walked the first batter of the game and allowed a bizarre first-inning run because the Yankees continue to play first baseman Bauers in the outfield, but otherwise was as good as possible for five innings. He obnoxiously was pulled at 75 pitches after 4 2/3 innings because the Yankees think they have some magic pitch count formula to protecting their pitchers' arms, which is why Severino has pitches so much since the end of 2018.
After being shut down by the hard-throwing Hunter Greene for four innings, the Yankees finally solved him in the fifth and sixth innings and carried a 4-1 lead into the ninth.
8. Last year, Clay Holmes blew a ninth-inning, 3-0 lead, allowing four runs without recording an out against the Reds. I thought something similar may happen on Sunday.
It took eight pitches for Holmes to retire Matt McClain on a flyout. Then he allowed back-to-back singles to Jake Fraley and Spencer Steer. After striking out Nick Senzel, he walked Stuart Fairchild to load the bases. A double would likely tie the game and a home run would win it. Fortunately, Holmes got Will Benson to ground out to end the game.
It's incredibly hard to trust Holmes and has been for a while now. You really have no idea which version of him you're going to get each time he pitches. A week ago I gave my current Order of Trust Reliever Rankings as follows:
Michael King
Wandy Peralta
Ron Marinaccio
Ian Hamilton
Jimmy Cordero
Clay Holmes
They are still the same, just with Hamilton removed as he's on the IL. (Again, no, those aren't all the Yankees reliever, those are just the ones I trust even a little bit.)
9. Gary Sanchez returned the majors on Sunday as a Met. While I hate the Mets, I still like Sanchez and am happy to see him back in the bigs, even if it's with the Mets. (I will continue to root against the Mets, but root for Sanchez.)
Sanchez went 1-for-3 with an RBI in his 2023 and Mets debut, and the Mets won the game 5-4. Sanchez caught Max Scherzer, who had his best start of the season with six shutout innings with Sanchez behind the plate, which I found odd since the Yankees made Sanchez out to be incapable of catching star pitchers. I guess that's only a Gerrit Cole problem.
10. Cole will start the series opener against the Orioles on Tuesday, which is a big series since every game and every series is big, especially in the AL East where being above .500 puts you in last place, like the Blue Jays are at 25-23. The Yankees will see Ryan Bradish, Tyler Wells and Kyle Gibson over the next three nights as they try to make up ground on an Orioles team that is three games ahead of them (four in the loss column) in the standings. While the Yankees are playing the Orioles, the Rays will be playing the Blue Jays, so each Yankees win will mean picking up a game on at least two AL East team and each Yankees loss will mean losing aa game on at least two AL East teams.
Maybe the Yankees will use the best possible lineup in each of the the next three games and utilize their best relievers when the situation calls for it? Ah, who am I kidding?
---
Subscribe to the Keefe To The City Podcast.
---
My book The Next Yankees Era: My Transition from the Core Four to the Baby Bombers is available as an ebook!