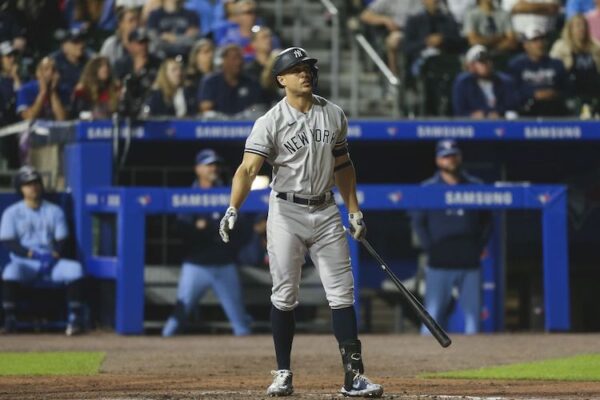 That's more like it. A sweep of the Blue Jays (who had been 6-3 against the Yankees in 2021), the return of the offense and three games of ground made up in the division over the last three days. It's been a wonderful few days to be a Yankees fan, even if it's been a mostly miserable two-plus months to be one this season.
Here are 10 thoughts on the Yankees.
1. The Yankees were fortunate to win one of the three games in Buffalo, let alone all three. In the series opener, Jordan Montgomery put them in a first-inning hole and they trailed by three runs entering the sixth. In the second game, Kyle Higashioka started over Gary Sanchez because Gerrit Cole started and because Aaron Boone is an idiot, and the Yankees needed Sanchez to save them with a two-run, pinch-hit home run in the seventh, and then needed Aroldis Chapman to escape a second-and-third, no-out jam in the ninth. In the series finale, Michael King was his usual awful self and needed a triple play as a result of horrible Blue Jays baserunning to escape the first inning, and the Yankees needed another seventh-inning comeback after Boone let Lucas Luetge give away the lead rather than giving Chad Green a clean inning to work with.
2. It was yet another forgettable series for Boone, who made idiotic lineup decisions, like continuing to pair Higashioka with Cole, and disastrous bullpen decisions, like allowing King and Luetge to start innings they should have already been pulled for. I have said it for years and I'll say it again: the Yankees' biggest obstacle to ending their championship drought is Boone. It's not the Rays or Blue Jays or Red Sox or White Sox or A's or Astros or Dodgers or any team, it's their own manager. The Yankees' offense has to overcome their own manager's decision making, and because the offense has been so bad this season (worst in the American League before Thursday's game), the Yankees are where they are at only four games over .500 through 68 games.
3. In the second game of the series, the Yankees loaded the bases with no outs in the first inning for Giancarlo Stanton. I went to read Goodnight Moon and I returned to Marcus Semien stepping on home plate after hitting a home run. I was confused, but then quickly realized the Yankees had once again failed to score more than one run with the bases loaded and no outs. I was happy they even scored the one run. But it took two pitches for Semien to tie the game against Cole, who continues to have serious issues with giving up home runs (two more on Wednesday).
The Yankees' 17 runs in the three-game series (5.7 per game) were a welcome sight. (They now have a one-run lead on the Tigers to avoid being the worst offense in the American League.) But their inability to get runners in from scoring position with no outs is a major concern, and the reason their offense as a whole has been so bad, and the reason they are facing an extremely difficult uphill battle the rest of the season for a postseason spot.
4. King can't continue to start or open. He really can't. In his latest poor outing, he put seven baserunners on in 4 1/3 innings and if not for the most ridiculous and unexpected triple play, the game might have been over in the first inning with runners on second and third and the Blue Jays' 3-4-5 hitters coming up. King started a game the Yankees won, but it had absolutely nothing to do with him as he allowed three earned runs and only recorded 13 outs.
Unless the Yankees' offense returns to normalcy, it's going to be hard for them to ever have an extended winning streak with both King and Jameson Taillon in the rotation. Not only are they both in the rotation, but they are lined up to start consecutively. The Yankees have enough trouble winning games started by Gerrit Cole, having both King and Taillon starting 40 percent of the games is a problem.
5. I don't want to hear that Deivi Garcia hasn't been good lately in Triple-A. King hasn't been good … ever. If Garcia had started the season in the Yankees' bullpen like King did before being inexplicably inserted into the rotation, then Garcia never pitches in Triple-A this season and then that can't be used as an excuse for why he's not starting the games started by King. King isn't a starter. At least not a good one. He's not an opener. Again, at least not a good one. Call up someone who can actually start, and who has had success starting games in the majors.
6. Boone is at the point where not playing Sanchez just because Cole is starting is going to cause him a lot of issues with the media. Cole's next start is on Tuesday against the Royals, following a day off on Monday. If Higashioka is the starting catcher for that Tuesday game, Boone is going to have to answer for it, and he's going to have to give an answer that makes sense. Unfortunately, there isn't one.
Sanchez is up to 10 home runs on the season (third on the Yankees behind Aaron Judge and Giancarlo Stanton) and has a .785 OPS. In 63 plate appearances since May 27, Sanchez is hitting .333/.397/.667 with four doubles, five home runs and 11 RBIs.
In 65 plate appearances since April 28, Higashioka is hitting .136/.215/.220 with two doubles, one home run and three RBIs.
7. Offense can't be used as a reason by Boone. And on Wednesday, after Boone went to Sanchez over Higashioka in the seventh to win the game for the Yankees, Sanchez had to catch Cole in the seventh and eighth innings for the first time since Opening Day. How did it go?
Joe Panik: groundout on four pitches.
Lourdes Gurriel Jr.: Flyout on two pitches.
Cavan Biggio (who had hit a solo home run of Cole earlier in the game with Higashioka catching): Strikeout on six pitches.
Rowdy Tellez: Groundout on three pitches.
Marcus Semien: Groundout on six pitches.
Bo Bichette: Groundout on four pitches.
Six up, six down on 25 pitches, 19 of which were strikes to preserve a one-run lead.
As I have written and said all along, no catcher makes Cole great, he's great all on his own. And because of that, unless he starts a day game after a night game that Sanchez had caught, it's time to give up on the idea that Higashioka deserves any bit of credit for his success.

8. The Yankees recently designated Mike Ford for assignment. This led to the Yankees trading Ford to the Rays for cash considerations and a player to be named later. There's a 100 percent chance this move will backfire on the Yankees.
I liked Ford. He was an easy guy to root for, had strong left-handed power and great plate discipline. He hadn't been put in the best of situations this season and last with the Yankees' poor roster construction and management, but he was someone I felt confident with at the plate becuase I knew he would put together a competitive at-bat. I can't say the same for Rougned Odor, who is somehow still a Yankee, and will undoubtedly bat in the top half of the order and play every day if Gleyber Torres needs to miss time following Thursday's injury.
The Rays have no money, so the idea that they were willing to give money to the Yankees to acquire Ford should tell you everything you need to know about this deal. If the Rays want one of your players, you know you're missing something. The Rays rarely ever screw up in player evaluation and it won't surprise me to see Ford batting fourth, fifth or sixth for them in the coming weeks and helping them win the AL East, while beating the Yankees in the process. I don't want the Rays to do well, but I want Ford to do well. Here's to missing his in-between-pitch routine and that sweet left-handed swing.
9. The eight-game road trip is over and the Yankees went an underwhelming 5-3. Now it's home for six games, starting on Friday night against the A's with a capacity crowd allowed at the Stadium for the first time since the Yankees won Game 5 of the 2019 ALCS.
James Kaprielian starts for the A's in the series opener against Taillon. The matchup couldn't be a better way to sum up Brian Cashman's inability to trade for and away starting pitching in his tenure as general manager. The Yankees picked Kaprielian in the first round of the 2015 draft and traded him to Oakland in 2017 to acquire Sonny Gray. The Yankees traded Kaprielian, Dustin Fowler and Jorge Mateo for Gray. They ended up trading Gray after 2018 to the Reds for Shed Long. They then traded Long to the Mariners for Josh Stowers. Stowers was traded to the Rangers for Odor. The Yankees used Kaprielian (2.51 ERA and 35 strikeouts in 32 1/3 innings for first the first-place A's) to acquire Gray (3.14 ERA and 1.148 WHIP in 52 starts for the Reds) and all they have to show for it is the .195/.267/.376-hitting Odor who the Rangers are paying $27 million to not play for them.
10. The A's are good. Very, very good. They started the season 1-7 and have gone 42-20 since. They come to the Bronx riding a six-game winning streak and have won eight of nine. If it were October, I might not be scared of the Yankees playing the A's, but right now, when the Yankees need wins and a lot of them more than ever, the A's are a horrible matchup for the Yankees.
It was nice to see the Yankees' offense go off in Buffalo, where every offense goes off, but this weekend against the A's, a true contender, will be a great litmus test for the Yankees to see if the last three days against the Blue Jays were an anomaly or if the Yankees have finally turned the corner Boone has been searching for since April 1.
---
Subscribe to the Keefe To The City Podcast. New episode after every game during the season.
---
My book The Next Yankees Era: My Transition from the Core Four to the Baby Bombers is now available as an ebook!