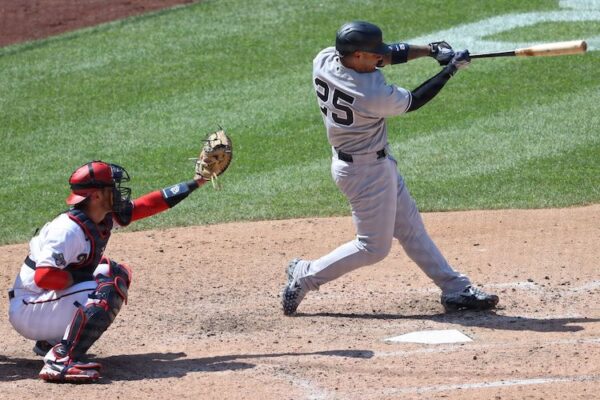 The Yankees went to Washington D.C. and took two out of three from the defending champion Nationals. The return of baseball has been enjoyable, though there have been times (like the first five innings of Sunday) when I didn't miss the increased blood pressure and frustation over lineup choices, poor at-bats and comical bullpen management. Thankfully, Gleyber Torres saved the Yankees from losing the rubber game and from starting the season off in disappointing fashion.
Last season, I wrote the Off Day Dreaming blogs on every off day, but this season there aren't many off days. There aren't many games. So instead, I have decided to use the Off Day Dreaming format following each series.
Here are 10 thoughts on the Yankees.
1. It's rare when I agree with an Aaron Boone lineup or whoever in the front office actually creates the lineup, so I wasn't surprised at myself for getting upset about the first lineup of the season. This season, every game counts as 2.7 games and it needs to be played that way. So why was Brett Gardner batting fifth on Opening Day? Why? Because he bats left-handed and Max Scherzer throws with his right arm, as if that matters even the slightest bit when you're talking about a future Hall of Fame pitcher? Did the Yankees not learn their lesson in the postseason when batting Gardner third took away at-bats from Gleyber Torres in key situations? I have no problem with Gardner playing, but the highest he should ever be batting is seventh. Not fifth. Not ahead of Gary Sanchez (even if Sanchez looked like he drank a six pack in the clubhouse before the game at the plate this weekend). Stop trying to make Gardner into something he's not and don't be fooled by last year's "super ball" stats and the artificial 28 home runs. Gardner batted ninth on Saturday (where he belongs) and Aaron Hicks was batting fifth (as a lefty against a right-handed starter), so it's obvious the Yankees will bat a lefty fifth no matter what. Any left-handed bat, no matter their ability will bat fifth.
2. Continuing the gripe about unnecessary rest, there's no reason DJ LeMahieu couldn't have been in the Opening Day lineup. Sitting on the bench and watching baseball isn't going to get him the at-bats and live game action he needs after missing a large portion of Summer Camp. Even if LeMahieu weren't at his best, it would have been no different than having Aaron Hicks lead off against Max Scherzer. Aaron Boone claimed LeMahieu needed more baseball activities before being in the starting lineup, and I guess on Friday's off day, he magically went from not ready to play to leading off on Saturday.
3. The Yankees played Game 6 of the ALCS on Oct. 19. Their next real game was on July 24. That's more than nine months between games and then there was another day off before the second game of the season. After playing only two games with more than nine months off, Gardner, Hicks and Gary Sanchez were all out of the lineup on Sunday. If you want to say Sanchez was out because of the day game after the night game, OK. I mean it's not OK, but I can accept it. Hicks and Gardner were replaced by Miguel Andujar and Mike Tauchman. Andujar needs the at-bats, but Tauchman? A left-handed hitter against Patrick Corbin? If this was a scheduled day off for the three then this is the most egregious scheduled day off of all time given the amount of games played over the last nine months and the amount of games in the 2020 season. If the three were given the day off because of their poor performance in the first two games, then the Yankees can never cite "sample size" again as a reason or excuse for making any decision. Sure enough, all three of the everyday Yankees eventually found their way into the game anyway, nullifying the rest they were being given.
4. The Yankees chose to send Clint Frazier down rather than Tauchman before Sunday's game, even though they were facing the left-handed Patrick Corbin and were prepared to let Tauchman face him. Tauchman went 0-for-2 with two strikeouts. The Yankees have essentially admitted Frazier is a major league player who they don't have a roster spot for. But they do have a roster spot for him, they're just choosing not to give it to him. Frazier's inability to be healthy at the right time over the last few years and his defensive miscues cost him a chance at a starting role and I don't see how he ever gets playing time in 2020. He's blocked by Hicks, Gardner, Aaron Judge, and Giancarlo Stanton (if he's allowed to play the outfield). And then the Yankees obsession with Tauchman and their wanting to play Andujar in the outfield has him blocked as well. Frazier is either the sixth or seventh outfielder on the depth chart depending on how Stanton is viewed and while the Yankees' injury history suggests their depth will be tested, it's going to take 2019-like injuries for Frazier to play.
5. Before Luis Severino went down with Tommy John surgery, the Yankees had the best team in baseball on paper. Even without Severino, the Yankees were still probably going to have the best team in baseball on paper, just not as good as they would have been with him. But for as talented and deep this Yankees roster is, starting pitching is once again the team's glaring weakness. It's enough of a weakness that the team went into the season with a bullpen game lined up for the third game of the season. James Paxton better figure out how to regain the arm extension he says he's missing because the Yankees can't go into the postseason with Gerrit Cole and Masahiro Tanaka and then hope that J.A. Happ will be his 2018 self or that Jordan Montgomery will worthy enough after coming back from surgery. Paxton's second inning on Saturday was painful to watch as he couldn't put any hitters away with diminished velocity, allowing all five hitters in the frame to reach base. If not for Michael King's performance to clean up the bases-loaded, no-out mess, Paxton's ERA might have never recovered in a shortened season in which he will make at most 12 starts. The Yankees need Paxton to figure it out for their championship chances and he needs to figure it out for his own bank account as an impending free agent.
6. Sunday's game felt like a game the Yankees were destined to lose. Every Yankees line drive was finding a glove and every Nationals dribbler was turning into a base hit. When Asdrubal Cabrera beat out the closest bang-bang play of all time at first base in the ninth, I had a feeling the Yankees were going to blow what was going to be an unexpected comeback win. The game showed the Yankees aren't going to be managed with urgency in a 60-game season. They're going to play the same way they would if this were a six-month season. The lineup proved it and using David Hale after Jonathan Loaisiga proved it.
7. Before Adam Ottavino entered Sunday's game, the Yankees had used Hale twice, Jonathan Holder, Ben Heller and Luis Avilan before using Ottavino, Chad Green, Tommy Kahle or Zack Britton this season. Can we stop with Triple H (Hale, Holder and Heller)? (Heller was sent down, so we can stop with him for now.) Clarke Schmidt or Deivi Garcia aren't better roster choices than Hale or Holder? If the Yankees were keeping them at Scranton in the event of needing a starter, wouldn't one of them have started on Sunday? I don't care about roster limits since there are more than enough people eligible to lose their spot (I just named three). The Yankees should have the best overall roster to win now. As Michael Kay mentioned on Sunday, the Yankees are the second oldest team in the league after the Nationals. The difference is the Nationals won in their championship window and the Yankees haven't, and the Yankees aren't going to get any younger or less expensive in the coming years.
8. The days between Cole starts feel as long as this spring and early summer felt, and this feeling is coming after a Cole start in which he didn't even look good. And his version of not looking good is one run and one hit over five innings. (For other pitcher's versions of not looking good, see Paxton's start in D.C.). Cole's next start will be against the Phillies and then he will get his first taste of Yankees-Red Sox. It will be a small taste since he will be in New York and without fans, but it's a taste nonetheless. As I wrote on Friday, it feels good to once again have a pitcher who, when given any sort of lead, has essentially won the game before the game has ended. The Yankees haven't had that in more than two years when Luis Severino was the best pitcher in the league for the first half of 2018, and before Severino, the Yankees hadn't had that since the first four seasons of Sabathia's Yankees career. But for as good as Severino was that season and has been at times and for as great as Sabathia was from 2009-2012, it feels different with Cole. While, the other two felt like sure-thing wins every fifth day, Cole feels like an automatic win every fifth day, with the game being played out as a formality.
9. I hate the eight-team format. More than half of the teams in the league will make the playoffs now and there's no advtantage for the higher seeds to host entire first-round, best-of-3 series at home in an empty stadium. I also hate it because I have a feeling it will be here to stay. Once the league and owners cash in on having an expanded postseason field, they're not going to go backwards and settle for less money. The owners proved they don't actually care about the sport or the integrity of the game over the last few months. If it were up to them, they would let every team in the postseason and just play one enormous and ridiculous tournament. If you think the "this is only for 2020" line holds any weight, then you must have forgotten which sport and league we're dealing with: a sport and league that announced these changes seconds before the first pitch of the season.
10. Life is starting to feel somewhat normal again with baseball back. On Opening Night it felt weird watching baseball after having not watched a real, meaningful game in more than nine months, and the off day after the rain-shortened opener didn't help. But with games on back-to-back days this weekend, the first day game after a night game and no off days for a while, baseball is becoming part of everyday life again. It feels right.
***
My book The Next Yankees Era: My Transition from the Core Four to the Baby Bombers is now available as an ebook!