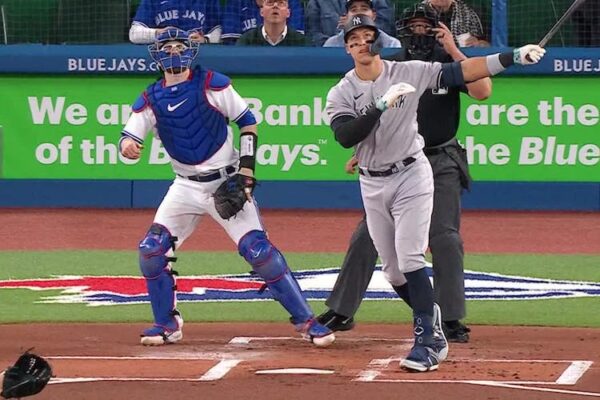 It was a wild and weird four days in Toronto for the Yankees, but they return to the States with a series win, having pulled themselves into a virtual tie in the standings with the Blue Jays.
Here are 10 thoughts on the Yankees.
1. The Yankees went to Toronto and embarrassed the Blue Jays. Not only by winning three of four despite using an opener in the first game in Jimmy Cordero (who last started a game in 2013 in Rookie ball), losing Domingo German to a foolish foreign substance ejection after three innings in the second game and being shut out and losing Gerrit Cole's start in the third game, but they also embarrassed them from a trash talk, pointing fingers and public relations perspective.
The Blue Jays whined about the Yankees stealing signs from Jay Jackson who admitted he was tipping his pitches on Tuesday. They whined to Major League Baseball asking for some kind of punishment for the Yankees. They whined about the positioning of the Yankees base coaches. They called Brad Wilkerson "fat boy" as if the the Blue Jays' own manager doesn't look like a camper from Camp Hope. The only Blue Jay who showed up was Chris Bassitt, and aside from him, the Blue Jays rolled over and lost to a Yankees team missing their starting third baseman, their designed hitter, three-fifths of their rotation and three elite relievers. (Not to mention the Yankees don't have an actual left fielder.) I feel bad Don Mattingly is associated with that mess. And he likely does too, as he wasn't visible during any of the shots of the Blue Jays dugout losing their shit over their own pitcher giving away his pitches.
2. The Yankees are playing much, much better than they were two weeks ago, and it's pretty much all because of Aaron Judge. Since Judge returned to the lineup on May 9, the Yankees are 7-3. Judge is irreplaceable. He's the most important player on the team and it's why him getting hurt trying to steal third and unnecessarily get into better scoring position in a game the Yankees were up by five runs was so frustrating. It was a foolish decision and it cost him missing 10 games, a 10-game span in which the Yankees went 4-6.
Judge single-handedly carried the Yankees to their series win in Toronto over the last four days. He went 6-for-14 with four home runs, seven RBIs and five walks in and missed a fifth home run by an inch at the farthest and highest point of the oddly-designed Rogers Centre wall. He was accused of cheating as if he were a member of the 2017 Astros and responded by beating the Blue Jays nearly all by himself. He now has 12 home runs in 36 games, which is one off the American League lead despite him missing 10 games.
As Judge goes, the Yankees go. That's been the case since his rookie season. When Judge produces, the Yankees win. When he doesn't play or plays like he did in the ALCS last October, well, we know what happens.
3. We also know what happens when Aaron Boone is given the freedom to make the lineup card, which Brian Cashman has adamantly and publicly said during Boone's managerial tenure.
"In terms of the lineup and in-game strategies, those are the manager's. It always has been and as long as I'm the general manager, it never will be different," Cashman said after the 2020 ALDS loss to the Rays. "I know there's that narrative about the manager being a puppet and none of that's true. I've never ordered a manager to do anything specifically and Aaron would be able to testify to that as well as Joe Girardi and Joe Torre. They've never been directed at any time by me or our front office to do something they didn't want to do."
As long as Boone is the manager of the Yankees, you're going to get wildly illogical choices like having Jake Bauers (a player who wasn't good enough to be a Yankee over Aaron Hicks, Franchy Cordero or Willie Calhoun two weeks ago) suddenly leading off for the Yankees. Thankfully, that experiment has come to an end and Bauers is back in the bottom half of the lineup when he does play. In a week's time, Boone moved Anthony Volpe out of the leadoff spot, batted the Yankees' top prospect behind Isiah Kiner-Falefa and made Bauers the leadoff hitter. But those lineup choices pale in comparison to Boone's bullpen management.
3. The Yankees nearly missed out on yet another opportunity to win a series against a good team because of their own manager. The Yankees were clinging to a 3-1 lead when Boone pulled Nestor Cortes after a leadoff walk in the seventh for Ryan Weber. I don't say this jokingly or with any hint of sarcasm: Weber is the worst pitcher in Major League Baseball. He throws a sinker and changeup at nearly the same speed and a curveball. He either misses away or lands middle-middle with all three pitches. There is no velocity to get away with missed location and because he can't miss any bats, his entire goal on the mound seems to be to hope the 115-mph line drives he allows to nearly every batter are directly at a fielder. Putting him on the mound with the tying run at the plate and no outs was as irresponsible as irresponsible gets. Even for Boone, it was surprising. When Weber allowed a first-pitch, frozen-rope single, I figured the lead would disappear within minutes.
Somehow, some way, Weber only allowed the inherited runner from Cortes to score, and the Yankees were able to hold a 3-2 lead. The following inning, still holding a 3-2 lead, Boone then turned to Albert Abreu. Here is what I wrote about Abreu earlier this week:
It was a beautiful day on April 2, 2022 when the Yankees traded Abreu for Jose Trevino. It was a bad day when they picked him back up off waivers after on June 21, 2022 after the Rangers had traded him to the Royals and the Royals put him on waivers. Abreu should not be a Yankee, but Brian Cashman is still trying to prove he won the trade when he acquired Abreu by sending Brian McCann to the Astros in November 2016. That trade can never be won by the Yankees as they paid McCann to play two seasons for the Astros and were paying him when he hit the game-changing double in Game 7 of the 2017 ALCS.
Abreu has a 4.73 ERA and 5.11 FIP in 83 2/3 innings as a Yankee (4.56 and 5.55 career). He has allowed an earned run in his last three appearances and has allowed 83 percent of inherited runners to score this season. Let him go be some other team's problem, and maybe the Yankees will face him along the way and get back some of the runs he has allowed for them.
As long as Abreu is a Yankee, Boone is going to use him, and there will be times when he uses him when he shouldn't because that's what Boone has always done with Abreu. The only way to prevent it is by removing Abreu from the roster.
Like Weber miraculously not blowing he lead, Abreu didn't either. He pitched a scoreless 1-2-3 eighth with two strikeouts and Michael Kay called the inning as if Mariano Rivera were in to close out a World Series. The good news is Abreu protected the lead. The bad news is that outing bought him at least another two months on the team and a multitude of future chances to ruin games for the Yankees.
4. After the game, Boone joked that he used "Nestor and the Funky Bunch." Boone made horrific choices, but got the right result, like a drunk person choosing to drive home and making it home safely and then laughing about it once they are home, so he believes he made the right choices on Thursday.
Why were Weber and Abreu used in a game in which the Yankees held a two-run lead with nine outs to go against a division rival? Because of the needless "Bullpen Budget" and it's worthless rules, that's why.
5. The Yankees won't use a reliever three days in a row, no matter how many pitches they threw the previous two days. Wandy Peralta pitched on Tuesday and Wednesday, but only threw 13 pitches total. He can't pitch the following night because of 13 pitches? And they won't use Michael King on back-to-back days.
These rules have been in place for a while now (since at least the beginning of the Joe Girardi era). There were the "Joba Rules" to protect Joba Chamberlain, who eventually underwent Tommy John surgery after the "rules" failed to protect his elbow. The Yankees have done everything to protect Luis Severino and he has made 22 starts in four years due to injuries, including Tommy John surgery. They couldn't protect Jordan Montgomery. They couldn't find a way to keep James Paxton healthy. They have done nothing to keep Jonathan Loaisiga healthy. They couldn't keep Tommy Kahnle from needing Tommy John surgery in 20220. Last season, the "Bullpen Budget" didn't care for Chad Green when he was lost to Tommy John surgery. It didn't prevent Scott Effross from needing shoulder surgery and it didn't keep Lou Trivino's elbow intact either.
The Yankees treat their "Bullpen Budget" and their made-up reliever rules as if they are a proven and perfect science. It's as if the Yankees have discovered an unquestioned method to keep their pitches healthy, when in actuality, they are arguably the worst team in the league at keeping their pitchers healthy (and arguably the worst at keeping their position players healthy as well).
6. Who's to say Peralta or King or Clay Holmes will be needed on Friday or Saturday in Cincinnati? With the Yankees' luck, Boone will end up using them in a lopsided game on Sunday just to "get them some work" when the work they needed to get was on Thursday night in Toronto. That same thing has already happened once this season when King was passed over to due the meaningless restrictions placed on his usage, only for him to then pitch in a game that was already over just to "get some work."
The only way to prevent a pitcher from getting hurt is not have them pitch. Don't throw a baseball overhand at 90-plus mph and you won't need elbow or shoulder surgery. Other than that, there is no science to keeping any pitcher healthy. And if there is, the Yankees certainly aren't aware of it.
7. There's apparently no way to keep Josh Donaldson healthy either (though it's not like I'm longing for his return). After suffering one setback during his rehab already, Donaldson cut his finger putting something together at home and his return and has now been delayed again. Between Donaldson's bizarre injured list stint, Carlos Rodon having mystery symptoms and Giancarlo Stanton saying he's in "disbelief" that he's hurt again, the Yankees continue to be pioneers when it comes to injury prevention and sports medicine. "We're doing everything right," Hal Steinbrenner told Meredith Marakovits in spring training about the Yankees' handling of injuries.
With the positive news of Luis Severino starting this Sunday and Tommy Kahnle finally commencing a rehab assignment, there has to be some negative injury news to even things out. Ian Hamilton, who had become a trusted Boone reliever is now on the IL with a groin issue and Jose Trevino joins him with a hamstring issue. Get a couple of guys back, lose a couple of guys. That's how it goes for the organization that "does everything right" when it comes to injuries.
Severino's return is incredibly important. With moron German suspended, Clarke Schmidt unable to give the Yankees anything close to resembling a quality start and the Yankees needing to use an opener when Jhonny Brito pitches, this team isn't going anywhere with only Cole and Cortes. The Yankees don't just need Severino, they need Severino at the best of his abilities. They need strong starting pitching to make up for the shortcomings of the offense and overworked bullpen. They need length. They need quality starts. They need the kind of pitching they dreamed of having going into the season after deciding to disregard upgrading the offense.
8. If there are anymore pitching issues, they will need to turn to the trade market, which will be saturated with teams looking for starting pitching help. That would likely mean trading away Gleyber Torres. I hopped off the Torres bandwagon long ago, requesting he be traded for the last two years. While I wouldn't be sad to see him go, the Yankees can't really afford to lose major-league-caliber bats given how many non-major-league-caliber bats they are forced to play daily. Maybe Stanton and Donaldson will return and turn back time five years, making a Torres trade more acceptable. I certainly won't miss his zero Baseball IQ that constantly leads to poor decisions like on Tuesday when he made four in one game as he ran into two outs on the bases, tried to start a double play in the field that wasn't there allowing all runners to be safe and then bunted into an out without moving the runner over with the game tied at 3 in the eighth.
The Yankee tried to trade Torres last summer and in the offseason, but held back. If the pitching injuries keep piling up, they will finally have to move the players who four years ago looked like he would become the most important player for the franchise over the next decade. How things have changed.
9. And how things have changed for Alek Manoah. For the last two years he was the No. 1 pitcher I feared the Yankees facing the most. He owned the Yankees. Not anymore. Not after the disastrous start he has had to 2023 and not after the Yankees rocked him on Monday. I welcome Manoah starting against the Yankees now. I want Manoah starting against the Yankees. I'm sure this won't come back to haunt me when the Yankees and Blue Jays meet in the best-of-3 wild-card series and Manoah starts.
10. The Yankees have improved their chances of not having to play in the best-of-3 of late. That's not to say they are close to leading the division, but they are getting closer. The Rays are regressing. They just lost back-to-back games to the Mets, who couldn't beat the Nationals, Rockies or Reds. Their rotation has lost Jeffrey Springs and Drew Rasmussen, and eventually their entire lineup won't have .900-plus OPS. (At least I don't think it will.) The Rays missed out on a chance to put the Yankees away in their recent seven head-to-head games as much as the Yankees missed out on a chance to now be three back in the loss column to the Rays.
The Yankees can't miss out on the chance that lies ahead of them this weekend: a three-game series against the Reds. The Reds are a bad team on pace to finish more than 20 games under .500. Last year, the Yankees lost two of three at home to a 100-loss Reds team (and their only win was a 10th-inning walkoff). That can't happen here.
That can't happen because the rest of the AL East is taking care of business against the league's worst, especially the Rays. Every team in the AL East is over .500, and the last-place Red Sox at 24-20, would be tied for first in the AL Central and 2 1/2 games back in the AL West. Hold your own against the East and beat up on the bad teams needs to be the Yankees' plan, and that means beating up on the Reds this weekend.
---
Subscribe to the Keefe To The City Podcast.
---
My book The Next Yankees Era: My Transition from the Core Four to the Baby Bombers is available as an ebook!