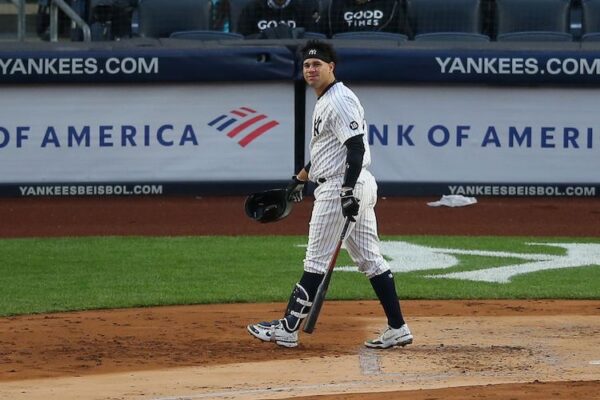 The Yankees won a game and then lost a game. They don't need a win, they need a winning streak, and a long one at that if they plan on saving their season before it can't be saved.
Here are 10 thoughts on the Yankees.
1. Things are bad. Really, really bad. The Yankees are 6-11, have the worst record in the American League and have scored 18 runs over their last seven games, losing six of them. The team has 17 home runs in 17 games. Gleyber Torres (1), Clint Frazier (1) and Brett Gardner (1) have as many RBIs combined (3) as Jay Bruce, who retired on Sunday and was barely playing after the first week of the season. Giancarlo Stanton is hitting .158. Aaron Hicks is hitting .154. Frazier is hitting .175. Gardner who has supposedly played so much better than Frazier is hitting .214. Kyle Higashioka has had 16 plate appearances and has as many home runs (2) as Hicks, Torres, Frazier, Gardner, DJ LeMahieu, Mike Tauchman and Mike Ford combined.
The Yankees have recently turned to the Mikes (Ford and Tauchman) to save their season despite Ford not being good enough to make the team over Bruce three weeks ago and Tauchman not being good enough to play much at all to this point. The Yankees tried to revive Rougned Odor's career, but are seeing exactly why the Rangers are happily paying him $27 million to not play for them (.120/.185/.240).
Anyone who thinks Luke Voit coming back (whenever that actually happens) is going to save the season is kidding themselves. This team isn't one player away from going on a run. They are an entire lineup away from going on a run.
2. On Tuesday, in the first of two games against the Braves, Hicks wasn't in the lineup. Aaron Boone said Hicks would have the two-game series off to work on "mechanical adjustments." The same Hicks who Boone laughed at the media for asking about moving out of the 3-hole after the first weekend of the season. The same Hicks who Boone said would be fine "over the long haul." After 15 games, he was being benched.
Hicks entered the game in the eighth inning as a pinch hitter. It only took him seven innings to make those "mechanical adjustments." He was back in the lineup on Wednesday night as well, but batting seventh. What happened to him being the No. 3 hitter? What happened to needing a left-handed bat to bat third to separate the right-handed hitters?
The Yankees called up Ford to play first base, so that three-time Gold Glove-winning second baseman LeMahieu could play his natural position. Last September, the Yankees sent Ford down, deeming him not good enough to be a Yankee in the regular season, but in October, he was on the postseason roster and used as a pinch hitter over Frazier and Gary Sanchez in the ALDS with the season on the line. Not good enough to be a Yankee in September, but good enough to pinch hit in October.
On Tuesday, Ford was batting sixth. Not good enough to be a Yankee over Bruce on April 1, but good enough to bat ahead of Sanchez and Frazier on April 21.
3. Just two days ago I wrote Aaron Boone Has Excuse for Every Loss and listed the excuses Boone had made for each of the team's 10 losses to that point. Well, the loss total is now 11.
I have watched a lot of Boone press conferences in his time as Yankees manager. I watched him come up with a bullshit excuse for leaving Luis Severino in Game 3 of the 2018 ALDS (after he didn't know the start time) to load the bases with no outs with the Red Sox hitting every ball hard. I sat through him trying to find something that made sense for why he went to Lance Lynn to get out of that bases-loaded jam. I struggled through him saying he let CC Sabathia go through the entire Red Sox' lineup a second time in Game 4 of that series just so he could face No. 9 hitter Jackie Bradley. I watched in disbelief as he tried to walk the media through his 2020 ALDS Game 2 strategy. I never thought a press conference could top those, but Wednesday's night might have. At worst, it's a first-ballot Aaron Boone Postgame Press Conference Hall of Fame inductee.
4. Corey Kluber wasn't good again, failing to get through five innings for the fourth time in as many starts as a Yankee. What did Boone think of his No. 2 starter?
"I thought the stuff was good."
How could the stuff have been good? Kluber pitched only 4 2/3 innings and allowed two earned runs and walked four. You know who had good stuff? Braves' starter Ian Anderson. The New York native has now embarrassed the Yankees in his two career starts against them: last night and his major league debut last season.
Things unraveled for Kluber in the fifth inning. What happened to Kluber that inning?
"I think, obviously, it being cold and windy, I think at times and a little bit tough getting a feel," Boone said. "It might have had a little bit to do with the weather."
Boone has officially run out of excuses. He's now using the weather to defend his team. I guess there were ideal weather conditions in the bottom half of each inning when Anderson was on the mound shutting down the Yankees (6.2 IP, 4 H, 0 R, 0 ER, 4 BB, 4 K, 0 HR).
5. At 62 pitches and three outs away from getting 15 outs for the first time as a Yankee, Kluber allowed a line-drive single to Pablo Sandoval. He struck out Dansby Swanson and then walked No. 8 hitter Austin Riley. He followed that by walking No. 9 hitter Guillermo Heredia. No teams walks 8- and 9-hitters like the Yankees. Boone stayed with Kluber with the bases loaded and he allowed a sacrifice fly to Ehire Adrianza to give the Braves a 1-0 lead. Boone left Kluber in to face Freddie Freeman of all people, and Kluber, either too scared to make a pitch or unable to know where the ball was going (likely the latter) walked Freeman on four pitches. Bases loaded.
Boone had seen enough. He went to the mound to get the ball from Kluber. Knowing his team's offensive struggles since Opening Day and knowing how big of a spot in the game this was, Boone called on … Nick Nelson. What? That's right, Nick Nelson.
After the game, Meredith Marakovits asked Boone why he went to Nelson there and did he consider using Darren O'Day, who is a proven elite reliever and automatic against right-handed batters.
"No, not O'Day," Boone replied to Marakovits with a sarcastic, cocky tone. "Not at that point in the game."
Not at that point in the game? The game was on the line. It was a high-leverage situation regardless of the inning, yet Boone continues to manage to the inning and not the situation.
6. Nelson isn't good. He wasn't good last year, and he hasn't been good this year. On Opening Day, the Yankees used him for the 10th inning with the runner on second and no outs. The Yankees lost in the 10th inning. In the first game in Tampa, leading 4-2, Boone went to Nelson to relieve Kluber with the bases loaded. His first pitch was a ball, and the next pitch was a two-run double to tie the game. When the Yankees inexplicably didn't have a starting pitcher for the 13th game of the season against the Rays, they decided to go with an opener. That opener was Nelson. Three batters into the game, the Rays had a 2-0 lead and hadn't made an out. So why wouldn't Boone go to Nelson with the game on the line on Wednesday night? All he has done in his career is prove himself time and time again.
Nelson walked Ozuna on four pitches to walk in a run. These weren't borderline calls that just missed and it wasn't like Nelson was getting squeezed. The four pitches were either short of home plate or in the other batter's box. If you told me Nelson was a left-hander throwing with his right arm, I would have believed it, that's how bad he was coming into the game.
Nelson might as well be Jonathan Holder or Ben Heller or Brooks Kriske or Luis Cessa or Johnny Barbato or Nick Goody or Anthony Swarzak or Esmil Rogers or Branden Pinder or Chris Martin or David Carpenter or Nick Rumbelow or any other incapable right-hander the Yankees have let destroy games over the years. Nelson, Cessa and Kriske are all in this list and they all pitched on Wednesday night. The Braves scored a run off each of them.
7. Ultimately (Boone buzz word!), the pitching didn't matter. The Yankees could have allowed one run or 100 runs, they were going to lose on Wednesday. The only run they scored came in the ninth inning because the Braves didn't hold Hicks at first base and he moved to second on defensive indifference and scored on a Frazier bloop single over first. Congratulations to Frazier on his first RBI in Game 17 of the season!
The offense hasn't shown it's coming out of its slump. Even in the win on Tuesday, the Yankees only won because the Braves gift wrapped an eighth inning rally for them. They had the bases loaded with no outs and needed a wild pitch and walk to score two runs as Torres and Frazier both popped up. The scary thing is this is no longer a slump. A slump is a series or a week. It's April 22 and 11 percent of the season has been played. This isn't a small sample size.
Stanton has been awful, but unsurprisingly awful since he's a complete guess hitter and hasn't been guessing right. Hicks has been horrible, but unsurprisingly horrible because he isn't good. Frazier has looked lost, but unsurprisingly lost because he plays sporadically and this isn't the sport to play sporadically. The one player who I'm surprised and who truly worries me is Torres.
8. Torres hasn't been good since the 2019 ALCS. Last year, he reportedly came to Spring Training 2.0 out of shape and unprepared, but what's the excuse for this year? He was supposed to evolve into the Yankees' best player, a franchise shortstop who could bat third for years to come. His defense isn't major league caliber and he might as well not go to the plate with a bat and hope the pitcher throws four balls before three strikes (it works for Hicks sometimes).
On Wednesday, Torres check swung on a pitch and it ended up going in play. He jogged to first the way you would jog if you were seconds away from being home and it started to rain. Torres most likely wasn't going to beat the throw anyway, but the effort wasn't there, and running hard to first is the easiest thing any major leaguer can do.
"I think any time that kind of situation where a guy's gotta get out off the mound, you gotta get after it," Boone said. "I think initially the check-swing, he just probably in his mind (thought) foul ball right away and then it's, 'Oh no, I gotta get going.'"
Boone did say, "Sure, yeah," when asked if he would talk to Torres about the lack of hustle. Hustle is easy to do and demonstrate. When you're going as bad as Torres, it's a must. I'm very worried about Torres and his future.
8. It's not just Torres though, it's everyone. LeMahieu is hitting every ball on the ground to short and third. Judge can only get hits and hit home runs when the bases are empty. Stanton is never on base. Hicks is never doing anything. Sanchez's comeback story has stalled out since the first two games of the season. Frazier is a mess. Urshela might be the Yankees' best hitter of late and he has a .311 on-base percentage. Odor is a lost cause the Yankees will continue to try to save. Gardner has been arguably worse than Frazier, who he continues to play over. The mustache isn't bringing Ford any success and Tauchman is still the 30-year-old with six good weeks to his name in his major league career.
"I believe in our guys," Boone said, yet again. "I know who they are. I know we're gonna mash."
Boone knows who his guys are. That's good. It would be awkward if he didn't know his own players or their names now in his fourth season as manager.
"So it's frustrating that it doesn't happen tonight or every game you go out there," Boone said. But is it hard to stay positive? Not at all."
I don't know how anyone could be positive about this team. They have six wins in 17 games. Their six wins: two Gerrit Cole starts, a Jordan Montgomery start, a Bruce bases-loaded bloop single, a Odor bloop single and a gifted rally from the Braves. That's it. That's how the Yankees have won their six games.
"I know we're walking out there with heavy artillery each and every night," Boone said. "We just gotta unlock it right now and we will."
Boone keeps saying the team is going to be successful and is going to get it going and is going to hit and is going to mash. Except he doesn't know when they might be. It might not happen.
10. This Yankees team lost 15 of 20 games last year. They were 10 games above of .500 and then they were .500. In a 60-game season, they were seven games worse than the Rays. They are already 1-5 against the Rays this season and 3-9 against the Rays and Blue Jays.
Now the Yankees will see the Indians for four games. The same Indians that gave away Francisco Lindor and Carlos Carrasco in the offseason and have cut so much payroll, it has Hal Steinbrenner jealous of the way they operate.
The Indians aren't good, and they aren't going to be good. They are the perfect opponent for the Yankees right now. The problem is the Yankees are the perfect opponent for everyone else.
---
Subscribe to the Keefe To The City Podcast. New episode after every game during the season.
---
My book The Next Yankees Era: My Transition from the Core Four to the Baby Bombers is now available as an ebook!