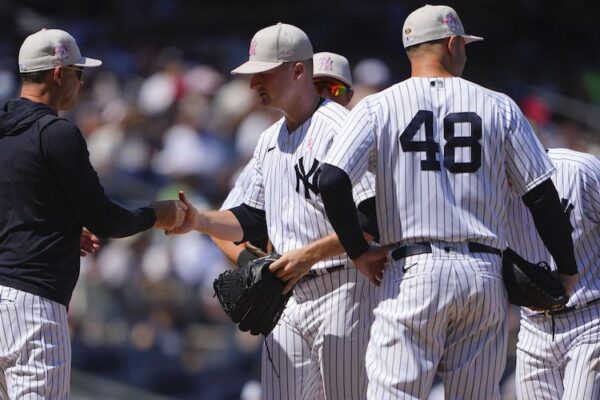 For the second straight weekend the Yankees had a chance to win a series against the Rays. Instead, they split the four games, made up no ground in the division and are 3-4 against the Rays this season.
Here are 10 thoughts on the Yankees.
1. It was another wasted weekend for the Yankees. Just like the previous weekend, the Yankees had a chance to win a series against the Rays, and they failed to do so. The Yankees are now 3-4 against the Rays this season, when they could easily be 5-2, and now they only have six head-to-head games left.
Friday night's game was the only game the Yankees didn't have a chance in. They didn't get a runner into scoring position until the ninth inning, and by then it was 8-0. The Yankees had a chance to keep it a game at one point, but when Ron Marinaccio failed to hold the Yankees' deficit at one, Aaron Boone decided to give up on the remaining innings and let a combination of Albert Abreu and Ryan Weber turn it from a close game into a laugher.
2. The following night looked like it would be another disaster. The Yankees took a 4-2 lead into the eighth inning before Michael King turned into Jonathan Holder.
After pitching a scoreless, 12-pitch inning seventh, King allowed a leadoff single to Harold Ramirez in the eighth, then a single to Isaac Parades and a three-run home run to Josh Lowe. King has been so good since the first days of the season that he was due for a clunker, and unfortunately, that clunker came against the Rays. He gets a pass.
Following the go-ahead home run from Lowe, Boone let King to face two more hitters and put another on base before pulling him in typical Boone fashion. A 4-2 lead had become a 5-4 deficit and it looked like the Yankees would go from evening the four-game series at a game apiece to losing another late lead to the Rays. Thankfully, Anthony Rizzo had other ideas. After Jason Adam walked Aaron Judge with one out in the eighth. Rizzo hit his eighth home run of the season to give the Yankees a 6-5 lead.
Boone had already used King and Clay Holmes, so the job of protecting a one-run, ninth-inning lead was given to Wandy Peralta. Peralta struck out Brandon Lowe and Ramirez before allowing a two-out single Paredes. He closed out the game with by getting Manuel Margot to ground out.
3. Unfortunate clunker aside, I trust King the most of any Yankees reliever then Peralta. I would put my current Order of Trust Reliever Rankings like this:
Michael King
Wandy Peralta
Ron Marinaccio
Ian Hamilton
Jimmy Cordero
Clay Holmes
No, those aren't all the Yankees reliever, those are just the ones I trust even a little bit.
4. On Saturday, the Yankees trailed the Rays 6-0 with Shane McClanahan on the mound in the fifth. If there was ever a time to do something else with your Saturday, this was it. But as we have learned in the season series between these two teams, no lead is safe and no game seems to ever be over.
The Yankees were in a 6-0 hole because Nestor Cortes was horrible. Cortes put nine runners on in 4 1/3 innings and allowed a grand slam. His ERA now sits at 5.53 on the season and his FIP, while lower, still sucks at 4.61. He's allowed seven home runs in 42 1/3 innings after allowing just 16 in 158 1/3 innings last season. His hits allowed per nine innings (9.1) is well above his career average (7.8) and his strikeouts per nine (8.9) is below his career average (9.4). Cortes looks like the pitcher the Orioles didn't want then the Yankees didn't want then the Mariners didn't want and nothing like the All-Star who finished eighth in Cy Young voting in 2022. Cortes' eight inconsistent starts would be less of an issue if Carlos Rodon and Luis Severino were healthy and pitching, but they aren't, and when three-fifths of the rotation is a combination of Clark Schmidt, Domingo German, Jhonny Brito and openers, the Yankees can't afford to have pre-2021 Cortes.
5. The offense let Cortes off the hook by staging their biggest comeback in more than 11 years. The Yankees plated four runs in the fifth to make it a 6-4 game and then added five more in the sixth to take a 9-6 lead. This is how those two innings unfolded for the Yankees:
Walk
Home run
Walk
Home run
Double
Groundout
Popout
Flyout
Single
Lineout
Flyout
Walk
Home run
Single
Walk
Walk
Single
Strikeout
The Yankees sent 18 batters to the plate in two innings and scored nine runs. That's five (or sometimes) six innings of plate appearances for them at times and that can be a week's worth of runs for them as well.
Because the Yankees don't make anything easy, Marinaccio and Holmes tried to give it all back immediately, but the Yankees held on to win 9-7. And for the second day in a row, Peralta was asked to close out the game in the ninth.
6. For a second straight Sunday, the Yankees missed out on an opportunity to win a series against het Ryas. This time it wasn't Cole blowing a six-run lead, it was just Schmidt doing his usual not-a-major-league-starter routine. Schmidt put the Yankees in an early 3-0 hole. They climbed out to make it 4-3. But in the fifth, still holding that 4-3 lead, Boone let Schmidt turn over the lineup for a third time. The result was loading the bases with one out for Randy Arozarena.
Boone always lets his current pitcher load the bases and leave zero margin for error for the next pitcher, so that wasn't a surprise. Incompetent, but not a surprise. What was a surprise was Boone let Schmidt face Arozarena for a third time with the bases loaded and the Yankees leading. Arozarena crushed a ball to center field and if anyone other than Harrison Bader had been playing center field, it would have been a three-run double. Instead, it only lead to a game-tying sacrifice fly.
7. With two on and the left-handed Josh Lowe up, Boone would now go to the bullpen after having let Schmidt blow the lead. Or so I thought. Instead, Boone let Schmidt face a lefty despite lefties having a 2.000 OPS against Schmidt. Schmidt walked Lowe to reload the bases.
OK, now Boone would go to the bullpen and bring in someone capable of getting a strikeout in a big spot to keep the game tied. No, no he wouldn't. Instead, he would go to someone capable of ruining a game in the blink of an eye: Abreu. With the bases loaded and Taylor Walls up, it took Abreu four pitches to destroy the game as Walls hit a go-ahead grand slam. For the second day in a row, Yankees pitchers had given up a grand slam.
Why was Abreu pitching in a tie game against the Rays? Why was Abreu pitching in a game against the Rays at all? Boone let the inning dictate his decision and rather than attempt to protect the lead (by taking out Schmidt before he blew it) or hold the Rays at 4 (by not bringing in Abreu) he went with the "Oh well, we play 162 of these" approach. The same approach that has the Yankees in the deficit they have in the division. The same approach that has gotten the Yankees just two division titles in Boone's five season to date (and it's likely to be two in six) and has gotten them zero postseasons with home-field advantage throughout. Boone played for tomorrow, and Abreu sent the Yankees to tomorrow. How is Abreu still a Yankee?
8. It was a beautiful day on April 2, 2022 when the Yankees traded Abreu for Jose Trevino. It was a bad day when they picked him back up off waivers after on June 21, 2022 after the Rangers had traded him to the Royals and the Royals put him on waivers. Abreu should not be a Yankee, but Brian Cashman is still trying to prove he won the trade when he acquired Abreu by sending Brian McCann to the Astros in November 2016. That trade can never be won by the Yankees as they paid McCann to play two seasons for the Astros and were paying him when he hit the game-changing double in Game 7 of the 2017 ALCS.
Abreu has a 4.73 ERA and 5.11 FIP in 83 2/3 innings as a Yankee (4.56 and 5.55 career). He has allowed an earned run in his last three appearances and has allowed 83 percent of inherited runners to score this season. Let him go be some other team's problem, and maybe the Yankees will face him along the way and get back some of the runs he has allowed for them.
As long as Abreu is a Yankee, Boone is going to use him, and there will be times when he uses him when he shouldn't because that's what Boone has always done with Abreu. The only way to prevent it is by removing Abreu from the roster.
9. It was bad enough Boone opened the series by dropping Anthony Volpe down to seventh in the lineup, but batting him behind Isiah Kiner-Falefa is a fireable offense. I wish I could say that was the only idiotic lineup choice of the weekend for Boone, but on Sunday, he had Jake Bauers leading off. The same Jake Bauers who has a negative career WAR and wasn't good enough to be a Yankee two weeks ago is now good enough to play every day and lead off. I don't know why it's so hard for Boone to have a single day where he makes only logical decisions. It's not hard. It really isn't. And yet he makes it so hard by always trying to do these quirky things to prove he's intelligent. We know he's not intelligent. We watched him in the broadcast booth on ESPN. We hear him every day in pre- and postgame press conferences. We have seen his lineups and in-game decision making for now six years. Just make the easy, right, logical choices. For once.
10. When the Yankees scored three runs to make it 8-7 in their eventual 8-7 loss it hurt even more knowing they missed out on a chance to win a four-game series against the Rays, and take two games off the Rays' lead. The Rays came to the Bronx for four days and left having lost zero games on the Yankees in the standings and took four of their remaining 10 head-to-head games off the schedule. The difference between the two Sunday losses for the Yankees was going 3-4 against the Rays or 5-2. It's the difference between being eight games back on May 15 or four games back.
---
Subscribe to the Keefe To The City Podcast.
---
My book The Next Yankees Era: My Transition from the Core Four to the Baby Bombers is available as an ebook!