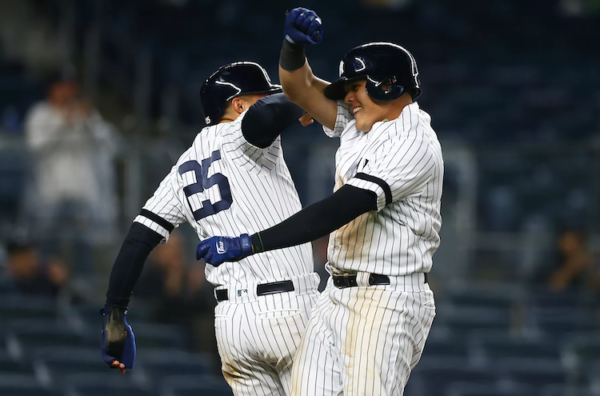 I feel bad for Miguel Andujar. He successfully dodged trade rumors in both 2017 and 2018 and then went on to bat .297/.328/.527 with 27 home runs and 92 RBIs as a 23-year-old rookie, finishing second to in Rookie of the Year voting to an unprecedented freak who's both dangerous at the plate and dominant on the mound. His defense was more than questionable at times with his cannon-like arm unable to make up for his sloppy footwork and poor positioning. His inconsistent and untrustworthy defense forced him to the bench in the late innings as the season progressed and out of the lineup completely in the final game of the 2018 Yankees season.
With Manny Machado no longer a long-term option for the Yankees, Andujar was going to be the guy in 2019 and beyond, and he spent the offseason working to prove he could handle the hot corner. Both he and the Yankees desperately want his future to be at the hot corner and not at first base or in left field or simply as a designated hitter. Three games into thus season, he dove back to third base (why he was leading so far off third base with two outs to begin with is a story another day) and tore the labrum in his right shoulder. The initial diagnosis was possible season-ending and career-altering surgery, and just like that, all of his hard work in the offseason would possibly be erased.
Andujar and the Yankees went the rehab route, and 34 days after he tore his labrum, he was back in the lineup, playing third base and batting fourth. He beat Aaron Hicks (hurt his back on a 35-minute bus ride on February 27), Giancarlo Stanton (bicep strain on March 31) and Troy Tulowitzki (calf strain on April 3) back to the team despite having what one would think is a much more severe injury.
During Andujar's 34-game absence, the Yankees called up Gio Urshela, the former Cleveland and Toronto defense-first infielder. Now 27, Urshela is no longer a prospect, and after batting .225/.274/.315 in 167 major league games had been type-casted as a utility infielder or late-game defensive replacement. Urshela claimed he fixed his approach and mechanics at the plate over the offseason to make himself a more well-rounded player, but how many other hundreds or thousands of baseball players have claimed the same only to maintain the numbers on the back of their baseball card?
Whatever Urshela actually did in the offseason worked. While Andujar was getting healthy, Urshela batted .338/.405/.492 and played Gold Glove defense at third base. Since Andujar's activation from the injured list, Urshela hasn't slowed down, going 5 for 10 with a double , a home run and 2 RBIs. That home run, of course, being the ninth-inning, game-tying, two-run home run to Monument Park on Tuesday night. Meanwhile, Andujar has looked like a player who missed more than a month at the plate (2 for 15) and a pair of errors in his only start at third since his return.
Now, the same way a lot of Yankees fans turned on Gary Sanchez last year, calling for Austin Romine to be the team's starting catcher (a group of people I refer to the as the Romines), there is the same call for Urshela to be the Yankees' starting third baseman, even when the entire roster is back at full strength, if that ever happens.
For now, injuries make it possible for both players to play with Andujar DHing and Urshela starting at third most of the time. But if the Yankees do ever get 100 percent healthy, there will come a time when there are too many players and not enough spots in the lineup and on the roster. I realize that's a great problem to have, and we might never be presented with it with the way the injuries have piled up and keep piling up this season and the way the Yankees slowly bring back their players.
If the 2019 Yankees were 100 percent healthy, here is who would be the candidates for a spot on the 25-man roster.
Gary Sanchez
Luke Voit
Gleyber Torres
Miguel Andujar
Didi Gregorius
DJ LeMahieu
Gio Urshela
Troy Tulowitzki
Aaron Judge
Aaron Hicks
Giancarlo Stanton
Brett Gardner
Clint Frazier
Cameron Maybin
Austin Romine
Luis Severino
Masahiro Tanaka
James Paxton
J.A. Happ
CC Sabathia
Domingo German
Jonathan Loaisiga
Aroldis Chapman
Dellin Betances
Adam Ottavino
Zack Britton
Tommy Kahnle
Jonathan Holder
Luis Cessa
That's 15 position players and 14 pitchers for 29 total players, which means four players would have to go.
Despite my love for Johnny Lasagna, he would go back to Triple-A and remain a starting option.
Unfortunately, even though I have always been a Cameron Maybin fan and feel he's a better player than Brett Gardner in 2019, he would also lose a roster spot.
I think the Yankees would cut ties with Troy Tulowitzki, considering he's on a one-year deal at the league minimum and is barely hanging on to a career.
Since the Yankees seem so set on having a 13-man pitching staff (though I have no idea what would happen with their rotation since you can't demote German to the bullpen or minors with the season he's had, so I guess they would go to a six-man rotation, which might be helpful given the fragility of their rotation), then the last roster spot would get taken from a position player, and I have no idea who that player would be.
Even deeper than that, how would you fill out a lineup card? How do you not play LeMahieu? Who plays third? How do you keep Frazier out of the lineup? Who becomes the DH?
The Yankees could potentially have a great problem with too many players worthy of a 25-man roster spot, and not enough spots for everyone. Thankfully, this decision doesn't have to be made today, and it most likely will never have to be made. If it does have to be made, I hope the roster and lineup decisions are based on performance and not history, money owed or seniority.
***
My book The Next Yankees Era: My Transition from the Core Four to the Baby Bombers is now available as an ebook!