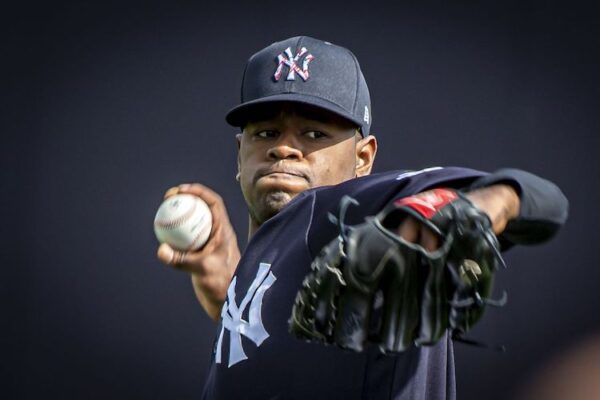 A year ago this week, I was sick over the Yankees' announcement that Luis Severino would need Tommy John surgery. The surgery meant the Yankees would be without him until sometime during the 2021 season, and now we're almost at that sometime as Severino is expected to return in the coming months.
The next time Severino pitches in a game for the Yankees, it will be just the sixth time he has done so in more than two years. Since his 2018 ALDS Game 3 start, Severino has made just five starts, sandwiched between a shoulder injury and a lat injury for most of 2019 and his most recent elbow injury (suffered in 2019), which turned into needing Tommy John surgery (in 2020).
Severino is working his way back for a midseason return and is currently playing catch at 90 feet with that distance set to increase to 120 feet this week. From there, he will need to move to a mound and increase his velocity and arm strength, which will take a few months. A realistic return for him would be around the All-Star break in mid-July, but trying to put a return date on a Yankees injury is a foolish game to play, given the way the last two seasons have gone.
Severino spoke on Monday about where's he at in his rehab and his eventual return to the Yankees.
On his rehab status.
"Mentally and physically, I feel good. I hope to be back sooner [than summer], but that's not something that I have an exact date. The most important thing is that I feel really good, and I'm just taking it day by day. We're close to throwing bullpens, so well see how I feel and how the progress is going."
On March 5, 2019, Severino was scratched from his first spring training start after saying he experienced a "pull" in his right arm. The following day, he was diagnosed with rotator cuff inflammation and was shut down for two weeks. The right-hander told the media it's "nothing bad" and that he would be able to begin a throwing program after a two-week shutdown. A little over a month later in early April, he suffered a lat injury, and while rehabbing the lat injury in June, he suffered a setback.
What does that have to do with his current rehab? A lot, actually. Less than two years ago, Severino had an injury at virtually the same time on the calendar that he does right now, and that injury turned into a second injury, which turned into a setback, and he didn't pitch in a game until September. Knowing Severino's rather significant recent injury history, he needs to be brought along extra slowly this time. Forget his idea of "hoping to be back sooner than the summer." Plan to bring him back after the All-Star break because even then, things might not go perfectly.
On the depth of the Yankees' rotation.
"Our rotation is going to be great, man. We're going to have six, seven, eight guys that would be good pitchers on any team. I hope nothing happens to one of those guys, but if somebody goes down, we've got somebody else there."
Severino spoke too soon, as Clarke Schmidt was shut down for the next three to four weeks following a tendon strain on Monday. It only took six days for the 2021 Yankees to suffer an injury, and it happend to their top pitching prospect, who has an elbow injury-riddled past.
As for the six, seven, eights guys, I'm guessing Severino is talking about himself (when healthy), Gerrit Cole, Corey Kluber, Jameson Taillon, Jordan Montgomery, Deivi Garcia and Schmidt. That's seven. I'm not counting the scumbag, who's inexplicably still on the team despite his own teammates openly questioning his place on the roster, or Jhoulys Chacin, who Aaron Boone continues to mention at every available opportunity. (This is all Boone setting up to giving Yankees fans a steady diet of Chacin this season in some role.)
I named seven starters. Severino isn't still close to returning, so that means six. Schmidt is now down for the next month, so that leaves five. Five starters. The "depth" of the Yankees' rotation is greatly exaggerated.
On how confident he is he'll be his old self.
"I'm sure that I'll be back to what I was in the past. I feel pretty strong. When I get the chance to be back in New York, I'll be myself again."
The Yankees don't just need Severino back with all of their starting pitching injury questions and concerns, they need Severino back in the way he talks about coming back: as the pitcher he was in the past.
If Severino is his old self in 2021, the Yankees have the best 1-2 punch in the American League, and arguably in all of baseball, with Cole and Severino. If the Yankees are able to get pre-2019 Kluber production from the new Yankee and keep Taillon healthy then I will be saved a lot of heartache, pain and frustration over the next (hopefully) eight months.
If the Yankees are able to hit on all of those things, it's going to lead to a lot of wins this season. Unfortunately, they're still a long way from getting any of it.
---

---
Subscribe to the Keefe To The City Podcast. New episodes every Monday and Thursday during the offseason.
---
My book The Next Yankees Era: My Transition from the Core Four to the Baby Bombers is now available as an ebook!