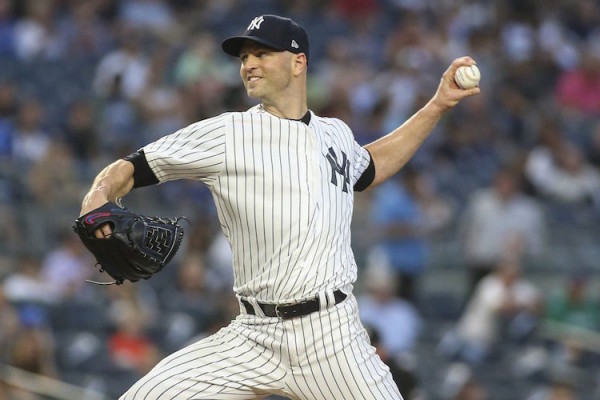 The best starting pitcher on the free-agent market is gone. Patrick Corbin signed a six-year, $140 million deal with the Nationals after the Yankees wouldn't go to a sixth year with the left-hander and now the Yankees find themselves in some trouble.
There is still the possibility the Yankees could pull off another trade for a starting pitcher the way they did for James Paxton in November, but without their best trade chip in Justus Sheffield, the dream of Corey Kluber or Carlos Carrasco in pinstripes will most likely never be anything more than that: a dream.
I'm happy Corbin is not a Yankee though that is contingent on the Yankees using the $100-plus million they would have given him to use on Bryce Harper and/or Manny Machado (emphasis on the "and" there). I still believe the Yankees should sign both Harper and Machado, and not one or the other, given that they are both 26 years old and are either in their prime or might have not even entered it yet (which is scary). But Hal Steinbrenner is unlike his father was, and the penny-pinching son of the former owner, who would have never let the team go through the month of August with Shane Robinson playing every day, is more likely to give Yankees fans a back-end starter and an elite reliever and call it an offseason than he is to sign the two biggest free agents available.
I'm holding on to the idea that the Yankees didn't throw away 2018 to get under the luxury tax threshold for this offseason only to come away with Brett Gardner, CC Sabathia, a back-end starter and an elite reliever. I'm holding on to the idea that the Yankees don't think they can essentially throw the same team out there for a third season in a row and think 2019 will end any differently than 2017 or 2018 did. I'm holding on to the idea that the Yankees are still the Yankees who use their financial prowess to their advantage. Maybe I'm just kidding myself.
Corbin wasn't going to be the No. 1 or No. 2 starter that Yankees fans envisioned after an offseason of hype, considering he has had one really good Major League season and just two years removed from an ERA above 5. But he would have fit nicely into the rotation along with Luis Severino, Masahiro Tanaka and James Paxton and would have been a better starting option than the depth the Yankees currently have. All Corbin was going to cost was money. No prospects. Just money. And the Yankees balked at a sixth year for him, thinking they could make better use of that sixth year and $20 to $25 million by spending it on someone else. Someone like a 36-year-old J.A. Happ.
Happ was everything you could ask for from a trade deadline acquisition, pitching only one stinker as a Yankee in the regular season before laying the biggest of eggs in Game 1 of the ALDS in Boston. Happ came to the Yankees as a durable, veteran lefty who knew the AL East well and had dominated the Red Sox in his career. Unfortunately, when the Yankees needed him to dominate the Red Sox as a Yankee, he missed the pivotal early August series with a rare illness and then would have been better off missing his one postseason start as well.
I'm not about to dismiss Happ for what he did in the ALDS because his body of work as a regular-season Yankee was outstanding. Without him, the Yankees might have lost out on the first wild card (which in hindsight I wish they had or I wish they had at least lost to Oakland in the wild-card game to prevent the embarrassment of the ALDS). However, he is now 36 and relying on someone at that age to continue to take the ball every fifth day, not only next season but the year after (since it will likely take at least a two-year deal to sign him) is risky. And when you're in a championship window, which the Yankees are in, it might not be the most sound decision. Now it's their only decision.
The Yankees could have solidified their rotation with money: the thing they make more of than any other team in the league. They could have added a younger lefty with the ability to miss more bats, but they were scared away by the dollar signs and the thought of paying a potentially worthless Corbin six years from now when their current window will most likely be closed. Aaron Judge, Gary Sanchez, Gleyber Torres, Giancarlo Stanton, Miguel Andujar and Luis Severino aren't going to be young forever. And aside from Stanton whose deal is locked in, the others aren't going to be cheap forever. So now with Corbin off the board, unless Brian Cashman has the greenlight to sign Machado and then flip Andujar in a deal for someone like Kluber or Carrasco, the only satisfying way to complete the rotation is to sign Happ, and they can't be scared of spending because he's the last worthy free-agent starting pitching option.
The Yankees were willing to throw away last season to get under the luxury tax, and for what? To sit back and piece together a team to try to get over the hump of the last two seasons? Are they really not going to use their financial muscle on the most talented free-agent class in history? They already passed on Corbin, and if they don't sign Happ, we'll have our answer.
***
My book The Next Yankees Era: My Transition from the Core Four to the Baby Bombers is now available as an ebook!
The book details my life as a Yankees fan, growing up watching Derek Jeter, Mariano Rivera, Andy Pettitte, Jorge Posada and Bernie Williams through my childhood and early adulthood and the shift to now watching Gary Sanchez, Luis Severino, Aaron Judge and others become the latest generation of Yankees baseball. It's a journey through the 2017 postseason with flashbacks to games and moments from the Brian Cashman era.
Click here to purchase the book through Amazon as an ebook. You can read it on any Apple device by downloading the free Kindle app.