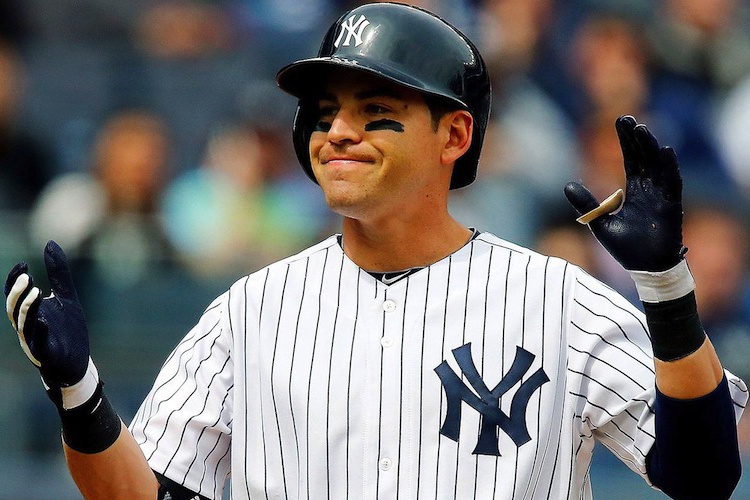 Jacoby Ellsbury became a Yankee in the same free-agency class as Masahiro Tanaka, Brian McCann and Carlos Beltran. Five years after spending $423.5 million on Mark Teixeira, CC Sabathia and A.J. Burnett following a postseason-less season, the Yankees spent $438 million on Ellsbury, Tanaka, McCann and Beltran following another postseason-less season, which ended with a Red Sox championship.
The Yankees let Robinson Cano go to Seattle after lowballing their homegrown superstar and then used the money they should have used for a new deal to re-sign him to overpay for a 30-year-0ld center fielder, a 30-year-old catcher and a 37-year-old right fielder. And in the first season with the three new position players on the rosters, the Yankees went 84-78 and missed the playoffs for the second straight season.
Ellsbury hit .271/.328/.419 with 16 home runs and 70 RBIs in 149 games. McCann hit .232/.286/.406 with 23 home runs and 75 RBIs in 140 games. Beltran hit .233/.301/.402 with 15 home runs and 49 RBIs in 109 games. All three had bad seasons and that's before you factor in their salaries and that they made $53.1 million combined. But in a year in which the Yankees finished only six games over .500 and missed the playoffs and somehow had a worse offensive team than the miserable 2013 Yankees, Ellsbury's subpar season (in which he finished lower than his career averages in batting average, on-base percentage and slugging percentage) was somehow considered "good". Despite playing nowhere near that of a $21.1-million-per-season center fielder in his prime and posting a slash line nowhere near his 2013 season and nowhere even close to his 2011 season, Ellsbury was given a free pass for 2014, and apparently that free pass doesn't expire because he's been given one again to start 2015.
The Yankees didn't need any of the three, but that didn't stop them from signing them and putting more bad contracts on the books. (Thanks, Brian Cashman!) It's still ridiculous that the Yankees were willing to give $153 million to an inferior player in Ellsbury while maintaining their stance and not willing to budge on their own Cano at $175 million. The Yankees didn't and don't need Ellsbury. They already had Brett Gardner, who is the cheaper version of Ellsbury. They did need Cano. And without signing a luxury, not a necessity, in Ellsbury, they would have been able to up their seven-year, $175 million offer to Cano (even though they're the Yankees and they could have upped it anyway).
On Monday night, the Yankees trailed the Tigers 2-1 in the eighth inning with Chase Headley and Didi Gregorius on first and one out. Gregorius had just singled and chase Alfredo Simon from the game and Brad Ausmus went into his miserable bullpen and called on Joba Chamberlain to face Ellsbury. (Ellsbury has seen Chamberlain more than any other place in the majors since Joba's 2007 debut.) After fouling off a first-pitch fastball, Ellsbury hit a second-pitch fastball into a 4-6-3 inning-ending double play. Rally over. Inning over. Game all but over as the Yankees would go on to lose 2-1.
It was the 13th game of the season for the Yankees and the 12th game of the season for Ellsbury. He finished the game 1-for-4 with his 15th hit of the season, 14 of which are singles with the other being a double, with zero home runs and zero RBIs.
On Tuesday night, Ellsbury went 0-for-4 with a walk, maintaining his one extra-base hit total for the season and once again failing to drive in a run. Even Gregorio Petit has one RBI this season and it's shocking when he is able to make contact at the plate and a miracle when he puts the ball in play. But the Yankees won 5-1 on Tuesday thanks to contributions from players not named Jacoby Ellsbury, so he was able to get by for another night.
What if A-Rod, who is making $100,000 less than Ellsbury this season, was entering the 15th game of the season with one extra-base hit, no home runs and no RBIs? I'm sure Twitter and the Post and the Daily News and ESPN would leave him alone and let his performance go unnoticed and give him time to turn it around. But for some reason, no one is talking about Ellsbury's lack of run production. It's not like the Yankees are off to some impressive start and therefore no reason to complain about anything or be worried or concerned about the team. They're a .500 team through 14 games and their second-highest paid position player (Mark Teixeira is first at $22.5 million this season … and next!) this season has been invisible offensively.
I didn't want Jacoby Ellsbury on the Yankees. I didn't want a 30-year-old center fielder on a seven-year, $153 million, who's biggest part of his game is his speed, knowing that speed won't last forever. I didn't want to watch 37-year-old Ellsbury as a platoon player making $21.1 million in 2020. (The Yankees will have to pay him $5 million to not play for them in 2021.) But he's here, and he's for this year and at least the next five years after this one. And since he's here, his performance needs to be treated accordingly.