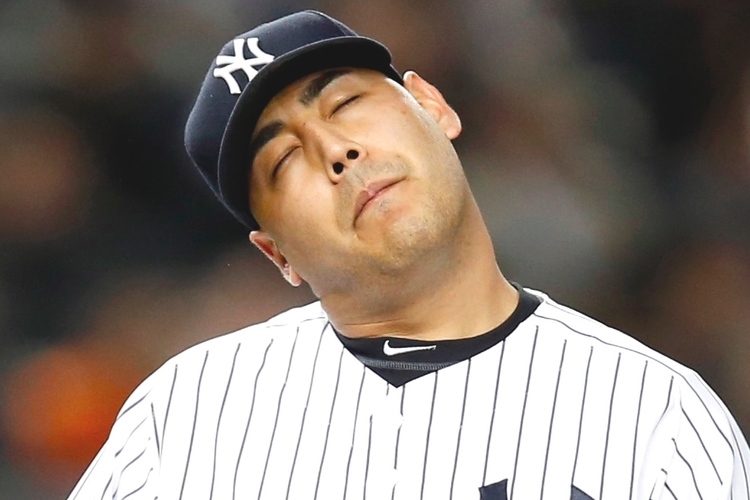 The Rangers overcame a 3-1 series deficit to beat the Penguins and advance to the Eastern Conference finals and the Yankees lost two games in a row at home to the Mets and have now lost six in a row to the Mets going back to last year. Is it 2014? Is this real life?
Two years ago I did a Subway Series Diary for the Yankee Stadium portion of the rivalry to recap what I watched over the three-game series and I said:
I feel weird calling this a diary since I have never had a diary before. I remember in elementary school when we were forced to have a "journal" in one of those black-and-white Mead notebooks.
Well, here we go again.
MONDAY
With the Mets losing eight of their last nine and looking ripe for their annual free fall, I didn't think there was a chance the 2014 Subway Series could go the way the 2013 Subway Series went. But when Monday started off with Mark Teixeira not being in the lineup due to "fatigue" and "tired legs" and the $23.5 million-per-year and $138,888-per game first baseman said, "I was on the bases a lot this week. Just a little tired. I'll be fine," doubt started to creep in. When the Mets took a 1-0 first inning lead and held that lead into the second and the Yankees loaded the bases with no one out only for Kelly Johnson and Brian Roberts to fail to drive a run in, the doubt grew larger. Then Brett Gardner saved Johnson and Roberts by hitting a grand slam to give the Yankees a 4-1 lead and I was relieved that order had been restored in the Subway Series. I thought "The Mets are the Mets" and started to think about winning three of four in the series, if not sweeping the series. And then the seventh inning started.
Alfredo Aceves' second tour with the Yankees is going about as well as Javier Vazquez's second tour with the Yankees went. Sure, Alfredo Aceves 2.0 is averaging 9.3 K/9 and 2.8 BB/9, but he's ruined the last two games he pitched in (he blew Saturday's game in Milwaukee and Monday's game) and he's only pitched in four games (he did pitch 5 1/3 scoreless innings against Tampa Bay on May 4 and maybe that's the sign the Yankees need to put him in the rotation). But Aceves wasn't the only wrong button that Joe Girardi pushed with a 7-5 lead and nine outs to go in the game. Here are the lines for the bullpen:
Alfredo Aceves: 0.2 IP, 2 H, 2 R, 2 ER, 1 BB, 2 K
Matt Thornton: 0.2 IP, 2 H, 2 R, 2 ER, 0 BB, 0 K
Preston Claiborne: 1.2 IP, 3 H, 1 R, 1 ER, 0 BB, 3K
Everyone loves to praise Girardi for how he uses his relievers and how he manages their workloads (he did a great job giving Mariano Rivera extended rest in his final season last year, so he could throw pitches to WFAN's Craig Carton this week at Yankee Stadium), but Girardi's biggest bullpen problem this season hasn't necessarily been managing workloads as much as it has been determining who should pitch when. It's not completely his fault since the entire league has dictated the idea of set bullpen roles, so that someone like David Robertson can no longer be the escape artist he once was when it comes to escaping jams for others. Because Robertson is the closer, he can now only escape his own jams. And that's why Robertson was standing in the bullpen on Monday night ready to enter the game, but because it wasn't the ninth inning and because the Yankees weren't winning or the game wasn't tied, he stayed in the bullpen watching the 2014 version of The Goof Troop light the game on fire like my great grandmother burning her trash in the backyard as if it were no big deal. If there are going to be set bullpen roles (and there are), then David Robertson pitches the ninth, Dellin Betances pitches the eighth and Girardi can mix and match the other innings and outs with his binder. That is the only acceptable pecking order after six weeks.
Even after watching the bullpen punch out early and after giving up nine runs, the Yankees had a chance to tie the game in the ninth with Derek Jeter on first with one out for pinch hitter … Mark Teixeira!
"All year long, they looked to him to light the fire, and all year long, he answered the demands, until he was physically unable to start tonight — with two bad legs."
That's how Vin Scully started his famous call of Kirk Gibson's 1988 World Series home run and I thought Michael Kay might start to rattle something similar off, not because Kay likes to overdo it with drama more than any other baseball play-by-play man (which he does), but because it was nearly a miracle that hours after taking a seat on the bench due to tired legs, Mark Teixeira was hitting in the ninth.
And Teixeira got the job done with a single to right to put the tying run on base and the winning run at the plate in Brian McCann. But then McCann hit into the predictable game-ending double play and the Subway Series picked up right where it left off last May.
TUESDAY
For someone fighting for their job, Vidal Nuno basically did the equivalent of showing up to work an hour late wearing shorts and a T-shirt, streaming Netflix in your cube, taking a two-hour lunch, scrolling through Facebook pictures for the remainder of the post-lunch day and then accidentally forwarding an email containing a pornographic link to a company-wide list at 4:02 p.m. before leaving for the day. Nuno was given a golden opportunity to make a case that he could be a reliable starter in the rotation and replace Ivan Nova this year and also to throw his name in the mix for a spot in the rotation next year when Hiroki Kuroda leaves or if Nova still isn't health. But Nuno has followed up every promising start with an A.J. Burnett-like egg and if it weren't for CC Sabathia also landing on the disabled list, Nuno would probably be getting his seat back in the bullpen. Here is how Nuno has done over the last three weeks since joining the rotation:
April 20 at TB: 5 IP, 3 H, 0 R, 0 ER, 2 BB, 6 K
April 26 vs. LAA: 4.1 IP, 5 H, 3 R, 3 ER, 2 BB, 4 K
May 2 vs. TB: 4.2 IP, 5 H, 4 R, 4 ER, 3 BB, 2 K
May 7 at LAA: 6.1 IP, 4 H, 1 R, 1 ER, 1 BB, 3 K
May 13 vs. NYM: 3.1 IP, 4 H, 7 R, 5 ER, 4 BB, 1 K
Sean Henn would have been proud of Nuno's performance on Tuesday night, letting the Mets hang a 4-spot before the Yankees could even bat for the first time and then continuing to let the Mets add on to their lead with the offense trying to erase the deficit. The problem isn't just Nuno, it's that the Yankees needed two starters to replace Nova and Michael Pineda and Nuno and David Phelps have proven to be coin flips in their short stints in the rotation. And now the problem is even bigger with Yankees asking Chase Whitley to take CC Sabathia's spot in the rotation on Thursday. The last time someone named Chase started a game for the Yankees, I was sitting at Fenway Park wondering if I wanted to watch baseball ever again.
After watching Aceves blow Saturday's game and then Monday's game, there he was again on Tuesday being called upon to stop the bleeding and give the offense a chance to get back in the game and there he was again ruining a game. Aceves gave up four earned runs in 1 2/3 innings before handing off the ball to Matt Daley, who actually did his job this time after taking part in the April 19 disaster in Tampa Bay.
Standing between a four-game losing streak and a seven-game Subway Series losing streak is Masahiro Tanaka and I'm happy he's standing there. Right now, Tanaka's not only the one Yankees' starter who can be trusted, he's the only Yankees' starter who can win.