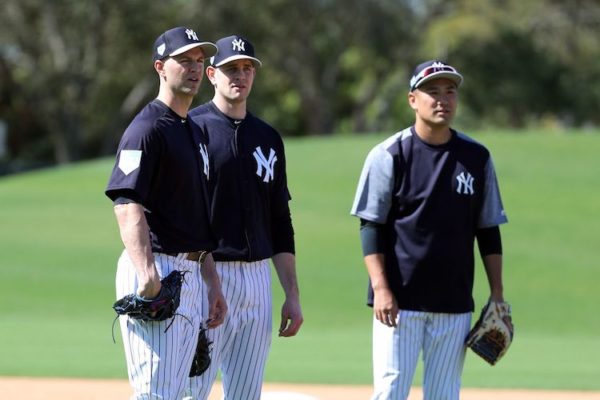 Spring is here! Sure, the high in New York City is 45 today and it's been gray outside for days and the temperature on Friday is expected to get close to single digits, but spring is officially here. Not spring in the sense of 60-degree days, outdoor happy hours and walking your dog without the fear of frostbite, but spring in the sense that baseball is back.
Pitchers and catchers report today in Tampa and that means the start of the season. There will be a meaningless baseball game to watch next week and a meaningful game to watch in six weeks. Welcome back, baseball!
Here are 10 thoughts on the Yankees as usual.

1. It felt like minutes after I published last week's Spring Cleaning the James Paxton injury announcement was made. It wouldn't be a Yankees season without an injury to start the season and really before the season even started since today is the first day of the season. While it isn't ideal that Paxton underwent a back procedure and will miss at least the first month of the season, I'm not upset about it. Paxton gets injured, that's what he does. He has never pitched a full season in the majors with his career-high innings coming two years ago at 160 1/3. Paxton's injury history is the No. 1 reason why I was skeptical about the trade for him and he proved me right when he missed a month of last season with a knee injury then pitched through that knee injury all summer before hurting his back in his final start of the season in Texas. I already planned on Paxton missing time this season, it just happens to come at the beginning of the season. But as long as he returns healthy and effective then this early-season obstacle won't matter.
2. The Paxton injury means J.A. Happ is now the No. 4 starter. That is problematic. Happ had the worst year of his career last season and is now a year older with another year of innings on his arm. If the ball is the pre-2019 regular-season ball and more like the 2019 postseason ball, Happ has a chance to rebound and be the pitcher the Yankees traded for in 2018 and signed as a free agent before last season. I don't think we're going to see the guy from 2018 that went 7-0 in 11 post-trade deadline starts for the Yankees, pitching to a 2.69 ERA and 1.052 WHIP, but he doesn't need to be that guy anymore. He just needs to not be a four-inning, bullpen crusher like he was last year. But if the super ball is used again in 2020, well, bet the over anytime Happ starts and at least make some money off of his career decline.
3. Unfortunately, Gerrit Cole is going to have to answer a lot of questions about his time with the Astros. Even though he wasn't part of the 2017 championship team, he was part of the 2018 and 2019 teams, and even though he's a pitcher, he's still going to be asked if he knew about what was going on. Cole knows this is coming and the Yankees know this is coming and they have had a month to prepare for it. I could care less what Cole knew or didn't know and don't expect him to give any real insight into what went on in Houston. I only care about what he does for the next nine years. Whatever happened in Houston is over with and isn't going to bring back the Yankees' chances at winning a championship for the first time since 2009.
4. I saw a picture of Mike Ford showing up at spring training on Tuesday and without the caption I wouldn't have known it was Ford. It just looked like some big (and I mean big), sloppy guy standing in front of the Yankees' Tampa complex for a picture to post on social media. Nope. It was the Yankees' only left-handed power bat on his way to work. I love Ford. He's the easiest of guys to root for, made even easier by his .259/.350/.559 line last season and his 12 home runs in 143 at-bats. He should have been in the postseason lineup when it was evident Edwin Encarnacion was either injured or rusty and an automatic and Giancarlo Stanton was taking himself out of the lineup due to injury. Instead, the Yankees left a left-handed.909 OPS off the postseason roster in favor of a laughable amount of strikeouts. But this is the same team that thought it was a better idea to have Chase Headley and Jacoby Ellsbury share DH responsibilities in the 2017 postseason rather than carry Clint Frazier on the postseason roster. Right now, the only left-handed bat in the Yankees' lineup is Brett Gardner, and no one benefited more from the super ball than Gardner in 2019, resurrecting his career and getting another year from the Yankees for it. Aaron Hicks won't return until the middle of the season at best, and knowing Hicks' injury-recovery history, if you think you're seeing him back when expected, you probably though he would be back in time for the second series of last season as reported. I think Ford is going to be part of the Opening Day roster even if he's limited as only a first baseman/designated hitter.
5. It's either Ford is on the Opening Day roster or both Frazier and Mike Tauchman are on the roster. With Tyler Wade presumably being on the team on March 26, I can't see the Yankees carrying both Frazier and Tauchman since Wade can play the outfield. Here's my first prediction at the Opening Day roster:
Gary Sanchez
Luke Voit
DJ LeMahieu
Gio Urshela
Gleyber Torres
Giancarlo Stanton
Brett Gardner
Aaron Judge
Miguel Andujar
Mike Tauchman
Tyler Wade
Mike Ford
Kyle Higashioka
Gerrit Cole
Luis Severino
Masahiro Tanaka
J.A. Happ
Jordan Montgomery
Aroldis Chapman
Zack Britton
Adam Ottavino
Chad Green
Tommy Kahnle
Jonathan Loaisiga
Luis Cessa
Jonathan Holder
(Unfortunately, the Goof Troop duo of Cessa and Holder are back for another season.)
6. Now that Austin Romine is no longer a Yankee, the Rominers (his fan club) will have to hitch their wagon to Higashioka in their quest to have Sanchez replaced and removed from the Yankees. I have been a Higashioka fan and he is deserving of finally getting a chance to be the team's full-season backup catcher. But I can already see the stories calling for him to be the starting catcher with the first Sanchez passed ball or slump. The Rominers will now be the Higashiokians.
7. We're going to hear a lot about Andujar and how he looks at first base and in left field, especially over the next week. There has already been video of him taking grounders at third and position players haven't even had to report yet. Andujar is one of three Yankees players who generate negative responses whenever they are mentioned with the other two being Stanton and Sanchez. The dislike for a player who hit .297 with an .855 OPS and 27 home runs as a rookie because of his fielding is one of those things that will never make sense. After listening to other third baseman talk about how they had to grow defensively from where they were early in their careers, it seems like Andujar could as well. Unfortunately, most Yankees fans have already given up on him as a third baseman as if he's a six-year veteran who has been unable to improve. I'm rooting for Andujar to win back his position.
8. With pitchers and catchers reporting all across baseball on Wednesday, it's the Astros' chance to actually seem apologetic for their sign-stealing schemes which resulted in their manager getting fired despite the commissioner calling it a "player-driven" operation. I highly doubt any Astros pitcher or player is ever going to really say anything even remotely interesting about the whole thing. I'm sure their communications team has been working nonstop for a month to make sure each player in camp knows exactly what to say and how much to say. Astros like Justin Verlander, Jose Altuve, Alex Bregman, Carlos Correa and George Springer and now hated everywhere outside of Houston and that's not going to change no matter what they say. The hate will only grow if they continue to give nonsensical answers like Altuve and Bregman did last month. The Astros will hear about it from the fans and be asked the questions about it in all 81 road games and any success they have will be questioned like their last few seasons are. The Astros don't play in Yankee Stadium until a four-game series from Sept. 21-24. So just when the season is winding down and they after six-plus months of hearing about it and answering about it, they will have to hear about it and answer for it more than they have all season in Games 156, 157, 158 and 159. That's too bad.
9. Mookie Betts and David Price are officially no longer Red Sox. I was getting nervous for a few days there that the Red Sox had backed out of the deal after getting crushed by the media and their fans since the initial trade was announced. But rather than back out of a deal to trade possibly the second-best player in the sport and a No. 2 or 3 starter, the Red Sox went through with it, acting like a small-market team and waving the white flag on 2020. The Red Sox front office can say all they want that they expect to be competitive in 2020 as if there's anyone dumb enough in New England to believe them, but they're not going to be competitive. They will once again win in the mid-80s and will likely finish somewhere around 20 games out in the division. The Red Sox will still be paying a portion of Price's contract and they owe Nathan Eovaldi three more years and $51 million and Chris Sale five more years and $145 million. So long, Red Sox. See you in a few years.
10. I wrote about the idiotic playoff format which was leaked on Monday, and I'm still not over it. I'm even more angry about it the more I think about it. Even if this format never comes to fruition, and I don't see how it could with the negative feedback and backlash it has endured since coming out, just the idea that the league sat around and worked on it enough that is was worthy enough of being leaked is disturbing. If you're the Mariners, you probably love the idea of seven playoff teams since it might be the only way for them to erase their postseason drought. If you're an owner who pockets the team's revenue sharing money and doesn't invest back into his team, you probably love the idea since you can continue to not spend and hope to be .500 and sneak into the playoffs and make even more money. A team like the 2020 Red Sox would be a perfect candidate for either that third or fourth wild card. What better way to reward the Red Sox for trading their best player and being able to get some finacial help on the remaining money from a $217 million than to give them an undeserved postseason berth!
***
My book The Next Yankees Era: My Transition from the Core Four to the Baby Bombers is now available as an ebook!