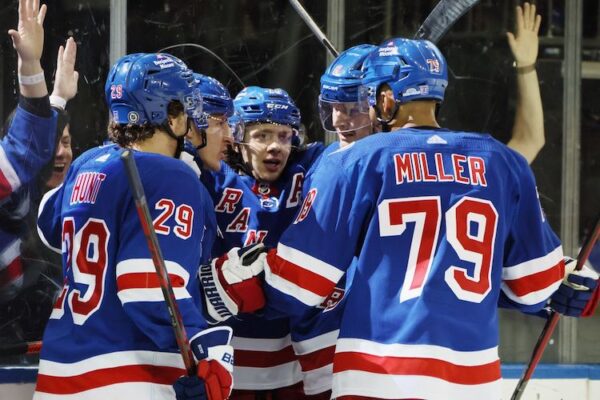 The Rangers nearly followed up their disappointing weekend with a second straight disappointing loss. But after blowing a two-goal lead against the Blues in two minutes and 14 seconds, the Rangers rebounded to win a game against a tough opponent.
Here are 10 thoughts on the Rangers.
1. Alexis Lafreniere scored again on Wednesday. I don't get it. I don't understand how a former first overall pick could have so much success playing top-six minutes alongside two actual NHLers. It doesn't add up. It's almost as if playing under 10 minutes per game with fringe NHLers and career two-wayers isn't productive to the growth and progression of a player with an elite playmaking skillset. Who would have known? Certainly not David Quinn last season, and certainly not Gerard Gallant for the majority of this season to date.
Lafreniere scoring yet another 5-on-5 goal since he isn't allowed to play on the power play (it's a rule not Gallant's choice) means he now has has many 5-on-5 goals as Connor McDavid through their first 108 games. Luckily for McDavid he was drafted by a true last-place team and given top-line minutes and infinite power-play time right away, while Lafreniere has spent most of his NHL career playing third- and fourth-line minutes with players like Filip Chytil, Julien Gauthier and Kevin Rooney.
2. Ryan Strome scored his 12th of the season at 16:36 of the second, and the Blues had the Rangers right where they wanted them. Despite going on a Rangers-esque run by not having a shot for nearly 10 minutes in the first, a two-goal deficit against the Rangers was a good omen for the Blues, the way it has been for several other teams this season.
Igor Shesterkin had been perfect (yet again) through the first 37:30 of the game, but then the wheels fell off, and they fell off in seemingly a blink of an eye. For those at the Garden who wanted to get a headstart on the second intermission concession line or wanted to get in and out of the bathroom before the end-of-the-period rush, they missed out on watching the Rangers implode.
3. After Chris Kreider turned the puck over just outside the Rangers' zone, the Blues quickly regrouped in the neutral zone. Brandon Saad and Ryan O'Reilly were able to evade the combination of a half-assed backchecking attempt by Mika Zibanejad and Ryan Lindgren coasting through his own zone to generate a 2-on-1 below the top of the circles. Saad made a nice pass around Adam Fox for O'Reilly to slide into the net.
4. One minute and seven seconds later the game was tied. Ivan Barbashev took a long outlet pass from Jordan Kyrou and broke down the left side, rifling a perfectly-placed shot over the left shoulder of Shesterkin. It was the only place Barbashev could shoot to potentially score from his angle and he did so.
Then with 16 seconds left in the second, Gallant had his fourth line on the ice against the Blues' top line, and it wasn't by accident as for the last week Gallant has opted to use his fourth line to defend against the opposition's best line. Does it make sense? No. But neither does suggesting Filip Chytil should play like Mika Zibanejad, which is what Gallant did prior to the game.
O'Reilly camped out behind the net, an homage to Wayne Gretzky during what was a TNT-televised game. Fox, Lindgren and Ryan Reaves all got caught in the slot puck-watching like a trio of pylons and David Perron slid in to the left of Shesterkin untouched to bang in a one-timer from O'Reilly.
5. The three Blues goals came in a span of two minutes and 14 seconds and on three consecutive shots. Scoring on three consecutive in any game is improbable. Doing so against Shesterkin would seem impossible. It's like Greg McKegg scoring a hat trick. Scratch that. It's like McKegg scoring a goal.
6. New father Patrik Nemeth tied the game with 12:33 to go after Ville Husso found himself sprawled out on the ice out of the crease after from defending a Dryden Hunt-Strome partial 2-on-1. Nemeth sent a loose puck at the top of the zone toward the empty net to make it 3-3. (At that point the Rangers' in-game money line was +105, and you better believe I took it.)
A little over four minutes later, the Rangers got a gift power play when Colton Parayko shot the puck over the glass for a delay of game. With 48 seconds left on the man advantage, Gallant wisely called a timeout to give his first unit a rest and a chance to score the go-ahead goal. The timeout worked brilliantly as Artemi Panarin took the puck to the left half-wall and fed Fox for a one-timer. Kreider beautifully tipped in Fox's shot to give the Rangers the lead.
7. After assisting on the Strome and Fox goals, Panarin scored one of his own, an empty-netter to put away the Blues and clinch a 5-3 win. It was Panarin's 80th home game as a Ranger and the 38th time he has posted a multi-point game (47.5 percent). Jaromir Jagr had 47 multi-point home games in 138 games as a Ranger.
8. There was a lot of talk on TNT on Wednesday night about whether or not the Rangers should "go for it" this season and trade away some of their abundance of assets and use up some of their abundance of cap space. The answer from everyone should be an unequivocal yes. The Rangers haven't reached the postseason in five years. (Sorry, the 2020 bubble doesn't count.) It's been four years since The Letter. Just because they have experienced an inordinate amount of success this season (thanks single-handedly to Shesterkin) doesn't mean it's going to happen again next season. The Rangers wouldn't even have to regress as a team in 2022-23 to not be a postseason team. They would just have to have Shesterkin be a superstar rather than have one of the best seasons a goaltender has ever had in the history of the league.
When given an opportunity like the Rangers have, a team should always "go for it." There's no trade or roster shuffle that will guarantee the Rangers anything in the postseason, but not doing anything will enhance their chances at a short-lived postseason even if Shesterkin continues to play at an unprecedented level all spring and into the summer.
9. There's no guarantee because there's no postseason series in the East that will be anything other than a tiring battle, and there isn't one team in particular any of the eight teams in the conference would want to play in any round. Whichever team comes out of the East this season will have truly earned it. It won't be like three years ago when the Bruins were able to get by the Maple Leafs and then had a Blue Jackets team who had just won their Stanley Cup by sweeping the 1-seed Lightning, followed by facing a young Hurricanes team that arrived early and was more occupied with planning their next postgame center-ice celebration. The Rangers don't have the fortune of playing in the West where six of the eight teams currently holding a playoff spot have as many or fewer points than the East's current 8-seeded Capitals.
10. There will never be a perfect time to go for it. Now is as good of a time as any and as good of a season as any for the Rangers to "go for it." They aren't a juggernaut or the juggernaut in the league because right now there really isn't one, unless you consider the Avalanche to be that team, when this Avalanche core hasn't won anything and has lost in the second round for three straight years. It's unfortunate the Rangers' rebuild has coincided with the Hurricanes evolving into a force, the Penguins retooling on the fly, the Panthers emerging as a contender and the core of Maple Leafs entering their prime. Not to mention the Lightning coming off a second straight championship and sitting atop of the Atlantic.
The Rangers will always be able to find a reason to not go for it or to wait until their young roster is a little older or a little more experienced, but they would be doing themselves and their fans a disservice.