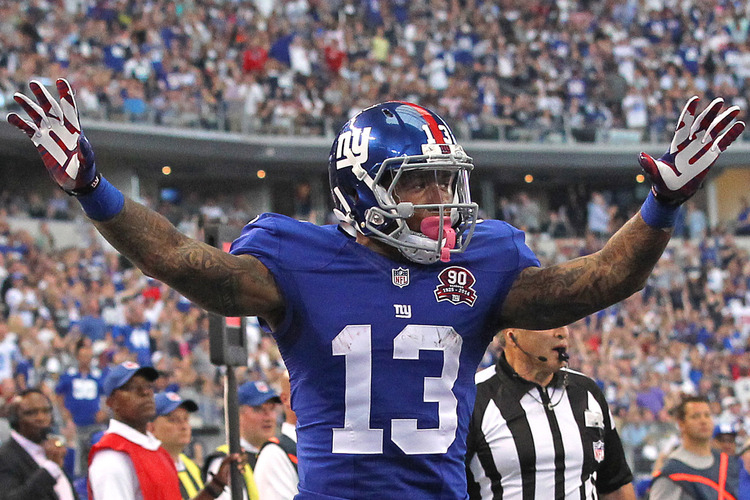 The Giants desperately needed a bye this week to get healthy and get things in order before starting a crucial, season-deciding four-game stretch against the Colts, 49ers, Seahawks and Cowboys. And I desperately needed a bye week from the Giants because I just don't know if I could handle watching them this Sunday after what I went through watching last Sunday's performance in Dallas.
No Giants this week means no worrying about losing a game they can't afford to lose or turning in a lackluster effort with the season on the line. I can just focus on the 30 teams and 15 games in Week 8 with a clear head and finish what is nearly the first half of the picks regular season on a winning note.
(Home team in caps)
DENVER -9 over San Diego
The road team on Thursday Night Football has the worst disadvantage of any team in the league other than the Raiders in any game they play. After watching three of the six Thursday games from Weeks 2 to 7 result in blowout wins for the home team, you would think things couldn't get any worse for the traveling team in these poorly played games. But think again. The Chargers will have to travel from San Diego to Denver and play against Peyton Manning on a short week, which isn't exactly a promising situation on a normal week let alone on three full days rest.
Detroit -3.5 over ATLANTA
Another London game except this one is actually exciting for American fans whose team isn't playing in it because it will be played at 9:30 a.m. Eastern Time on Sunday. I have always wondered what it would be like to permanently live on the West Coast where NFL Sundays start at 10 a.m. and Yankees games are on at 4:05 p.m. on weeknights and 10:05 a.m. on the weekends. This is a little taste of that lifestyle.
Minnesota +2.5 over TAMPA BAY
The 2014 Vikings have been dealt a bad hand. After an impressive 34-6 Week 1 win over the Rams, Adrian Peterson was suspended two days before hosting the Patriots, changing the team's entire offensive game plan and resulting in a 30-7 loss. Matt Cassel was injured in Week 3 against the Saints and then in Week 4, after leading the Vikings to a win over the Falcons, Teddy Bridgewater was injured. Christian Ponder was forced to start against the Packers in the embarrassing 42-10 loss, which included the worst display of quarterback play I have ever seen. Bridgewater returned in Week 6, but threw three picks against the Lions in a loss and then in Week 7 with a 16-9 lead in Buffalo, the Vikings defense couldn't stop the Bills on fourth-and-20 to end the game in what would be a last-second (there was actually one second left on the clock) loss.
If the Vikings had entered the season with Bridgewater as their starter and utilized Cordarrelle Patterson better through the first seven weeks and Adrian Peterson hadn't put his life in its current position then who knows where the Vikings might be with their offensive weapons and their strong defense?
Chicago +6 over NEW ENGLAND
I want no part of the 2014 Bears and picking for them. The 2014 Bears have been as bad to me and my picks and my parlays and my teasers as any team has ever been. I actually think I hate the 2014 Bears as much as I hate the Eagles and Cowboys (of any year, not just 2014). But even though I now despise the Bears and want them out of the NFC playoff picture, I can't bring myself to pick the Patriots against a team that has an abundance of offensive options, considering what their Week 7 performance against the Jets.
KANSAS CITY -7 over St. Louis
Last week's win over the Seahawks was the Rams' Super Bowl for the season and a road trip to Arrowhead against the Chiefs' defense in front of a raucous Kansas City crowd and a fan base that could be looking at winning the World Series on the same day of this game if everything goes according to plan is a recipe for disaster for a team looking to build on a significant win.
Seattle -5.5 over CAROLINA
I thought I knew who the Seahawks were. I have never known who the Panthers are. Now I don't know what either of these teams are or where they're going. Usually when I'm faced with a situation like this I take the points, but this time I'm taking the defending champions with the notion that they will make up for their back-to-back losses.
NEW YORK JETS -3 over Buffalo
The six-week gauntlet for the Jets is over and they went 0-6 in it. Jets fans, like my friend Tim Duff, told me he wanted at least 3-4 out of the Jets over the first six games to keep them in the playoff hunt and they didn't exactly meet his minimum requirements. The Jets are currently tied with the Jaguars for the second-worst record in the league (Oakland is 0-6) and they still have Buffalo twice, Miami twice, New England, Kansas City, Pittsburgh, Minnesota and Tennessee on the schedule. I'm thinking the Jets finish at 4-12.
Miami -6.5 over JACKSONVILLE
Somewhere someone who isn't a Jaguars fan or a Dolphins fan or isn't from Florida is going to bet on this game and watch it in its entirety. Think about that.
Houston -3.5 over TENNESSEE
Another one?
Somewhere someone who isn't a Titans fan or a Texans fan is going to bet on this game and watch it in its entirety. Think about that.
(The Titans have become the go-to team for these.)
CINCINNATI +2 over Baltimore
Since the Bengals went to the New England with a chance to prove they are part of the AFC's elite, they were run out of Gillette Stadium in a 43-17 loss, blew a late three-point lead to the Panthers at home in an eventual tie and then were shut out 27-0 at Indianapolis. The Bengals haven't won a game in over a month and they are coming off a game in which they recorded eight first downs and had 135 total yards. So why am I picking them? Because that's how badly I want the Ravens to lose.
ARIZONA -1.5 over Philadelphia
Is there any doubt that the Week 17 Giants-Eagles game will decide a playoff spot in the NFC? OK, maybe that sentence would have been better suited to be written in 2008 or 2009 or 2010, but if I'm going to keep the Giants' playoff hopes alive that means they are going to need the Eagles to start losing. I can be a Carson Palmer fan for a Sunday. Let's go Cardinals!
Indianapolis -4 over PITTSBURGH
I'm still not sure what the Texans were doing or trying to accomplish in the final minutes of the first half of Monday Night Football in Pittsburgh. The Texans led 13-0 and were going to receive the ball to start the second half, but instead of sitting on their lead, they blew it by allowing 21 points in the final 1:27 of the first half to the Steelers. The Texans gave the game away and it shouldn't change the perception of the Steelers.
Oakland +7 over CLEVELAND
JOHN-NY FOOT-BALL! CLAP CLAP, CLAP CLAP CLAP!
After getting the Browns off to a 3-2 start and pulling off the historical comeback against the Titans, Brian Hoyer bought himself two bad games before the option of Johnny Manziel starting could be realized. Last week, Hoyer went 16-for-41 passing with 215 yards against the winless Jaguars for the first of those bad games. And now with the possibility of the Browns giving both the Jaguars and Raiders their first wins of the season in back-to-back weeks, Hoyer won't survive back-to-back bad games against the worst two teams in the NFL and I'm rooting against him and for Manziel.
JOHN-NY FOOT-BALL! CLAP CLAP, CLAP CLAP CLAP!
NEW ORLEANS -1.5 over Green Bay
A home game for the Saints? Let me say it again:
The Saints' last home loss with Sean Payton as head coach came in Week 17 in 2010 when they had nothing to play for. Including the playoffs, with Payton as head coach, the Saints have won all of their home games since that loss and here are their margins of victory in those games: 6, 11, 25, 18, 3, 32, 18, 21, 24, 6, 17, 28, 29, 14, 25, 11, 55, 7 and 17.
DALLAS -10 over Washington
This line is too high and I originally typed "Washington +10 over DALLAS" until I remembered that Colt McCoy is starting for the Redskins. Colt McCoy. That's Colt McCoy. I'm going to take the Cowboys here and make Colt McCoy beat me. Go ahead, Colt, beat me.
Last Week: 8-7-0
Season: 51-54-1