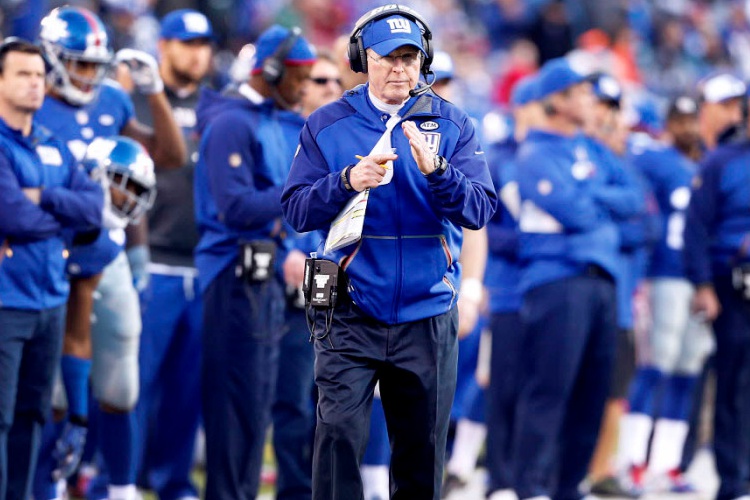 The Giants took care of business in Miami even though it looked like we were going to see yet another last-minute loss. The problem is that they didn't care of business against the Cowboys, Falcons, Saints, Patriots, Redskins and Jets and now they need to win out and beat the undefeated Panthers as one of their winning out games. This season will likely be remembered as the "What Could Have Been" season unless they knock off the Panthers, go to Minnesota and win and then finish off the Eagles at home. I'm not holding my breath.
Tampa Bay +1 over ST. LOUIS
Nothing says Thursday Night Football like a good 6-7 Buccaneers vs. 5-8 Rams matchup. If this were earlier in the season I would be all over the Rams because this line would be incredibly low, but then again, if it were earlier in the season, this line wouldn't be this low. That was back when the Rams were OK and could be trusted somewhat. I got out on the Rams when they were embarrassed at home by the Bears in Week 10, losing 37-13. Including that game, the Rams scored 36 points in a four-game stretch before beating the Lions last week. I don't want to back Jameis Winston and have to root for him to win, but watching Case Keenum play has left me no choice.
New York Jets -3.5 over DALLAS
Is this line too low? It feels like it is. This is either because the Cowboys are a nationally-bet team or because it's the ultimate trap game for the Jets, who are looking like they will have to win out to get into the playoffs, or a combination of the two. The Jets aren't as good as they look against the Titans, or when they pulled out a win over the Giants, or when they beat up on the Dolphins. Don't forget, three weeks ago this team was coming off back-to-back losses to the Texans on the road and the Bills at home. I don't trust the Jets, but I trust them more than the Cowboys, and the Jets are better than this line suggests.
JACKSONVILLE -3 over Atlanta
I hate the Falcons. I hate them. I hate that they overcame that two-score deficit in Week 2 to beat the Giants in a game the Giants desperately need right now. I hate that they were overhyped when they started 5-0. I hate the way they use Devonta Freeman. I hate that Matt Ryan was built up to be something more than he is for so long. I hate how many picks they have cost me this season. I hate that they blew a 17-point lead in the 2012 NFC Championship Game to cost me a 10-to-1 parlay with the Ravens. To say I have enjoyed watching this team go 1-7 in their last eight games is the biggest understatement of 2015. I have loved every second of it and now I can only hope they lose out and finish 6-10.
Houston +1 over INDIANAPOLIS
It's terrible that someone has to win the AFC South. No one wants to see the Texans or Colts or Jaguars host a first-round playoff game and get run over by the Chiefs. I guess the same could be said about the NFC East since there's a three-way tie for first place right with three 6-7 teams, but at least those teams have a chance of winning a postseason game and won't serve as a red carpet to the second round for the 5-seed. The AFC South winner WILL NOT win a playoff game. Let the odd-man out from the Chiefs, Jets and Steelers get that spot and save us all from wasting an NFL playoff game watching the AFC South winner lose.
KANSAS CITY -7 over Baltimore
Once upon a time, the Chiefs were 1-5 and hosting the Steelers. Fortunately for the Chiefs, Landry Jones made the first start of his NFL career that day in place of Ben Roethlisberger. Since then, the Chiefs have won seven straight, sit at 8-5 and finish against the Ravens, Brown and Raiders. The Chiefs are going to go from 1-5 to 11-5 and make the playoffs and then go on the road and play the AFC South winner. You can pencil in the Chiefs for a road game at New England, Denver or Cincinnati in the second round now because it's happening.
Buffalo -1.5 over WASHINGTON
I don't really know if Buffalo can or will win this game. After their infuriating performance in Philadelphia last week, which would have helped the Giants immensely, I'm not exactly counting on the Bills to win an important December game because that's not what they do and it's certainly not what Rex Ryan does. In order for the Giants to get in the playoffs, they're going to need the Redskins to lose in the final three weeks. So if it doesn't come this week, it's going to have to come next week against the Eagles or in Week 17 against the Cowboys. Let's not leave it up to Week 17. Let's Go Bills!
NEW ENGLAND -14 over Tennessee
The Titans have faced two actual postseason-worthy teams this season (disregarding the Texans, Colts and Jaguars) in the Panthers and Jets. They lost to the Panthers by 17 at home and lost to the Jets by 22 on the road. The Patriots don't just beat the worst teams in football when they play them at Gillette, they thoroughly embarrass them, like they did earlier this year when they beat the Jaguars 51-17. If this line was New England -21 I would still take it.
NEW YORK GIANTS +5 over Carolina
I hate that I have a very good feeling about this game and that I'm overly optimistic about the Giants' chances in beating the 13-0 Panthers because it likely means they will either get blown out or lose in excruciating fashion the way they have done in six of their seven losses this season. A Giants win over the Panthers and a Redskins loss to the Bills would put the Giants back in control of their own fate for a postseason berth with the Week 17 game against the Eagles and it would temporarily undo the damage they did in their losses to the Cowboys, Falcons, Saints, Patriots, Redskins and Jets. Here I go again believing in the Giants finishing the season 9-7 and going on a postseason run. This won't end well.
MINNESOTA -5.5 over Chicago
The Vikings are the most underrated playoff team in the entire league. I know because I live with my girlfriend who is a Vikings fan and she tells me every day and because I pick them every week, and when they win, they cover.
SEATTLE -15 over Cleveland
Good luck to Johnny Football in Seattle.
Green Bay -3.5 over OAKLAND
I hate fantasy football. I really do. But every year I continue to play it because I like gambling and I can't say no. I have never won a fantasy football championship. Never. Not even close. Though that might have to do with me loading up on Giants for years. The only way that changes is if Aaron Rodgers goes to Oakland and torches the Raiders.
SAN DIEGO -2 over Miami
Somewhere someone who isn't a Chargers fan or a Dolphins fan is going to bet on this game and watch it in its entirety. Think about that.
Denver +6.5 over PITTSBURGH
There's nothing like a quarterback controversy when it doesn't involve your team, but does involve arguably the greatest quarterback of all time. Let's keep it going!
Cincinnati -6 over SAN FRANCISCO
I first picked San Francisco to cover because A.J. McCarron is making his first career start and the Bengals don't have a running game. But then I thought about how the 49ers would score on the Bengals' defense if McCarron doesn't turn the ball over at his own 20 and I didn't have an answer.
Arizona -4 over PHILADELPHIA
The Cardinals are getting all of the hype they didn't get the last two season under Bruce Arians and I'm a believer. But if this team can't go into Philadelphia and beat the Eagles and help the Giants out in the NFC East race since the Giants can't help themselves out then I'm out on the Cardinals. I want to like you, Cardinals. I really do. Let's make this easy.
NEW ORLEANS -3 over Detroit
I need Matthew Stafford to have a horrible game in New Orleans, which means I need the Superdome Saints to show up for me on Monday Night Football. I know the Superdome Saints no longer exist and they can't be trusted to dominate at home the way they used to, but maybe on national TV, they can turn back the clock once and not let Stafford throw for 500 yards and six touchdowns against them.
Last week: 10-6-0
Season: 113-90-5