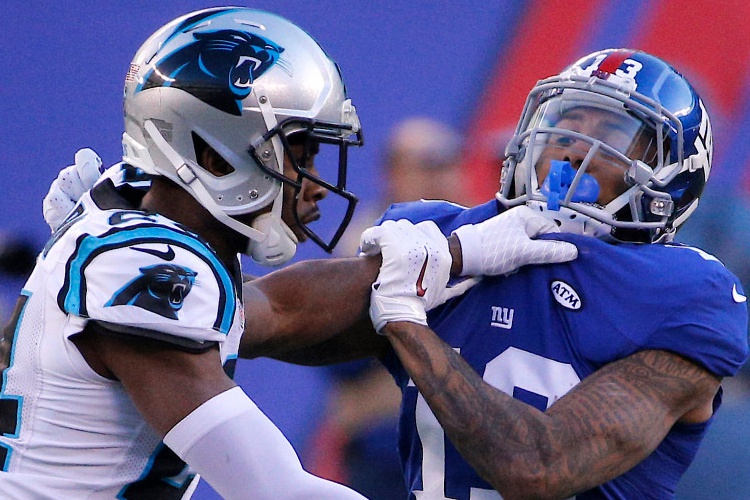 Another week, another last-second Giants loss. It's actually become funny at this point the way Louis CK talks about how being broke becomes funny at some point. Just when you think it can't get any worse it does. The Giants couln't just lay down and continue to get blown out when already down 35-7 in the third quarter to the Panthers. They had to fight and claw their way back to a 35-35 tie game only to have their defense let yet another team march down the field in the final minute and win the game.
Here is another installment of "Monday Mentions" focused on a mix of questions and comments from Twitter about the Giants' 38-35 loss to the Panthers, which all but eliminated the Giants from reaching the playoffs for the fourth straight season.
@NeilKeefe chances were there for us and we squandered them. Game over. #NYG

— Dan Fango (@DanielFango) December 20, 2015
This tweet came in long before the Giants overcame a 35-7 deficit to tie the game before suffering another excruciating last-second loss. But the Panthers' 35-7 lead never happens if the Giants don't give away chance after chance to put the game away and none bigger than Dominique Rodgers-Cromartie's dropped interception that would have gone for a touchdown and given the Giants a 14-7 lead and would have completely changed the momentum of the game. Instead, DRC drops the easiest interception of his career and the Panthers follow by going down the field with ease and scoring a touchdown to go up 14-7 and create a 14-point swing the other way for the Giants.
The idea that that play or any missed opportunity didn't matter once they were down 35-7 is as insane of an idea as the rules in the NFL that change in the final two minutes of a half as if the final two minutes of a half are any more important than the first two minutes of a game or any two minutes at any time of a game. Every play and every second of every game matters in the outcome of the game. The Giants proved that when they were able to overcome a 28-point deficit when it looked like they might lose by 50. The DRC dropped interception changed the entire game, comeback or no comeback.
@NeilKeefe same old garbage from this team.

— kevin™ (@kj_young_reezy) December 20, 2015
Unfortunately, losing must-win games and losing in the last minutes or last minute or last second has becoming the usual for the Tom Coughlin Giants. If you look at the 2004, 2005, 2006, 2008, 2009, 2010, 2012, 2013, 2014 and 2014 seasons, it's nearly the same story every season. It's either a story about a second-half collapse or a story about what could have been. Outside of the 2013 season, which started with six straight losses before the Giants played for a chance to lead the division in November against the Cowboys, the Giants have been a team that has been in contention for a playoff spot in the final weeks of the season every year. The problem is they have "finished' (Tom Coughlin's favorite phrase) just once in the last seven regular seasons. The Giants have played five playoff games in the eight years since winning Super Bowl XLII and four of those came in the same year (2011).
@NeilKeefe Orleans Darkwa gains 10 yards every time he runs the ball. Too good for Coughlin.

— S. C. (@Shane_Corey) December 20, 2015
Rashad Jennings has had a very sub-par two seasons with the Giants. Last season he only played in 11 games and this season his early-season performance forced him into a four-man rotation (a four-man running back rotation is the equivalent of a baseball team using an eight- or nine-man rotation). But in the last two games as the main back, Jennings has rushed for 81 yards and 107 yards in back-to-back games, which can only make one wonder why he wasn't the go-to option all season. In 14 games this season, he has had single-digit carries five times. I like the idea of Orleans Darkwa becoming the Giants' out-of-nowhere star, but it's unlikely to happen, so I need to know why Jennings wasn't used more all season.
@NeilKeefe But at least the Giants still had all of their timeouts.

— Matt Higgins (@MattHiggins80) December 20, 2015
Tom Coughlin's clock management this season has made me question whether he had an incredible amount of money spread across Vegas at every sportsbook on the Giants' under for wins because some of his decisions make no sense. Whether it's the season-opening losses to the Cowboys or Falcons or his decision to go for it against the Jets, he always seems to make a decision that doesn't work out and then gives sports radio five days of content to beat on 24 hours a day. His decision to not use any of his timeouts while the Panthers marched down the field for a game-winning field goal was his latest blunder.
Did Coughlin think using his timeouts would help out the Panthers' offense more than it would his own if the Panthers kicked a field goal. Did he think the Panthers might go three-and-out against his defense that hasn't made a game-winning stop all season (outside of Miami if you can even count that) and that he would need his timeouts for his offense to go the other way? Or did he think he could exchange those timeouts at the end of regulation to force overtime? I'm open to ideas because I have no idea what he was thinking.
@NeilKeefe Ok, 2 games it is.

— Go Yankees (@gooyankees) December 21, 2015
The back and forth between Odell Beckham Jr. and Josh Norman on Sunday was entertainment. The helmet-to-helmet hit from Beckham was dangerous and an unnecessary play, but everything else that happened on the field was fine with me. Beckham's personal foul penalties offset with Norman's and the one time they didn't, the Giants were so backed up it didn't make a difference. But the idea that Beckham is going to get suspended while Norman gets a joke of a fine and a slap on the wrist is absolutely ridiculous. If one gets suspended, they both should get suspended for the sum of their actions.
The best part about the whole situation has been people saying that their play was disgusting and has no place on the football field. This is football we're talking about. The most violent and dangerous sport. Some pushing and shoving and taking swings at helmets and facemasks are the least of the NFL's worries. People who are horrified that two FOOTBALL players could possibly act the way Beckham and Norman did probably shouldn't be watching football because outside of Beckham's unnecessary run at Norman, nothing either of them did was a real issue.