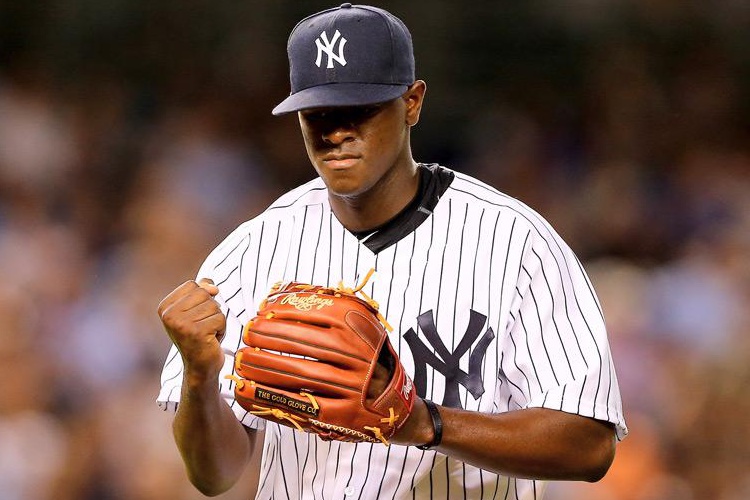 The Yankees blew their seven-game lead in the AL East and might have been left playing for a wild-card spot over the final seven weeks of the season if not for their performance in Toronto. The Yankees were able to regain first place in the division, but they will have to hold off the Blue Jays the rest of the way to avoid going from the ALDS to a one-game playoff.
Here is another installment of "Monday Mentions" focused on questions and comments from Twitter about the Yankees after their near collapse in the AL East.
@NeilKeefe im in full panic mode. is it justified?

— Robie Baker (@baker_fake) August 12, 2015
When this tweet was written, yes, it was completely justified. I spent last Sunday after the Blue Jays swept the Yankees at Walmart stocking up on bottled water, flashlights, batteries, and non-perishable foods for when the Yankees blow the division and either end up in the wild-card game (for which I will buy a respirator) or out of the playoffs completely.
However, since then, the Yankees won the series finale in Cleveland and managed to win two out of three in Toronto to get back on top in the division. When the Yankees trailed 3-0 late in Toronto on Friday night I was in bad place, but with the biggest win of the season and the win on Saturday, I have stopped adding to my Blown Seven-Game Lead Emergency Survival Kit. For now, we're safe. That could change with any sort of losing streak at this point in the season.
@NeilKeefe thoughts on severino so far? Also is there a more frustrating player to watch in baseball than Ellsbury?

— Zach Yaeger (@zyaeger) August 12, 2015
I have enjoyed all three of Luis Severino's start and am still upset that the official scorer in Toronto gave Troy Tulowitzki a double on a ball that Carlos Beltran lost in the sun and deflected off his body. Severino should have finished the game with six innings and no earned runs, but instead he was charged with three earned runs. Even with that he has now pitched 17 innings, allowing six earned runs and if he had any sort of run support, he would be 3-0. Instead he is 0-2 with a no-decision, while Nathan Eovaldi keeps on racking up the wins with the most incredible run support ever. Severino has made me believe in the future when it comes to the rotation that includes an already-torn elbow in Masahiro Tanaka, the oft-injued Michael Pineda, the recently-retuned-from-surgery Ivan Nova, the frustrating and inconsistent Nathan Eovaldi and the Ghost of CC Sabathia.
I have never been a fan of Jacoby Ellsbury. I think that's well documented. It would be hard to find a nice thing I have written about the $153 million man, who obviously would never live up to that deal in its entirety, but he won't even live up to it for one season. If I'm Brett Gardner, I'm holding out for $101 million and three more years on my contract to be equal to Ellsbury, who is an inferior player to Gardner.
@NeilKeefe apologize to Sir Didi for hating on him until July

— B-ROE (@Mr_B_Roe) August 13, 2015
Unfortunately, it's going to take more than a few good weeks for an apology to ever come, and it will likely never come. Any player that is given infinite chances will eventually succeed. Look at Stephen Drew. He has hit 15 home runs this season because he's had 345 plate appearances. Given his average and on-base percentage, he should have been designated for assignment or benched a long time ago. It shouldn't be a surprise when he occasionally hits a home run and it shouldn't be treated as if he might finally turn it around. He has sucked for just about two full seasons now for a reason: because he sucks.
@NeilKeefe Cashman not giving up Eduardo Nunez for Lee will always be the worst, always.

— Kevin (@kevinmurraysays) August 15, 2015
I'm not sure if I will get over this. Maybe when the Yankees win the World Series again I will, but even then, I will always think about what could have been in 2010. If Brian Cashman includes Eduardo Nunez in the trade for Cliff Lee, the rotation is Lee, CC Sabathia, Andy Pettitte and Phil Hughes. The Yankees lost Game 3 of the 2010 ALCS to Lee. If Lee's on the team, that game doesn't happen and A.J. Burnett never pitches Game 4 and loses. The Yankees at least get to the World Series, and once there, who know what could have happened?
Boone Logan, the gift that keeps on giving #Mets (cc: @NeilKeefe)

— Alex Pabst (@ACP79) August 12, 2015
After A.J. Burnett, I think the player I have written the second-most words about is Boone Logan though Stephen Drew is making his move up the all-time words list. It puts a smile on my face when Logan gives up a big hit or blows a game even now two years removed from him being on the Yankees. Unfortunately, the Yankees don't play the Rockies this season, so we won't get the chance to see him give back one of the games he cost them over four seasons.
@NeilKeefe Do you think the Yankees make the playoffs? If yes, do they win the AL East, 1st wild card or 2nd?

— Brock_You (@RPospisil) August 12, 2015
Yes, the Yankees make the playoffs. As for the second part of this question, well, they better win the division.
I don't care what people thought of them before the season or where people thought they would finish. None of that matters. What matters is this is a team with a $217 million payroll that is expected to contend every season. And once they got out to a seven-game lead, anything other than winning the East and going straight to the ALDS is unacceptable. If this team has to play in the wild-card game, I don't even know how I will mentally, physically and emotionally handle it. I haven't even really given it a lot of thought yet because I don't want to and I hope I don't have to.