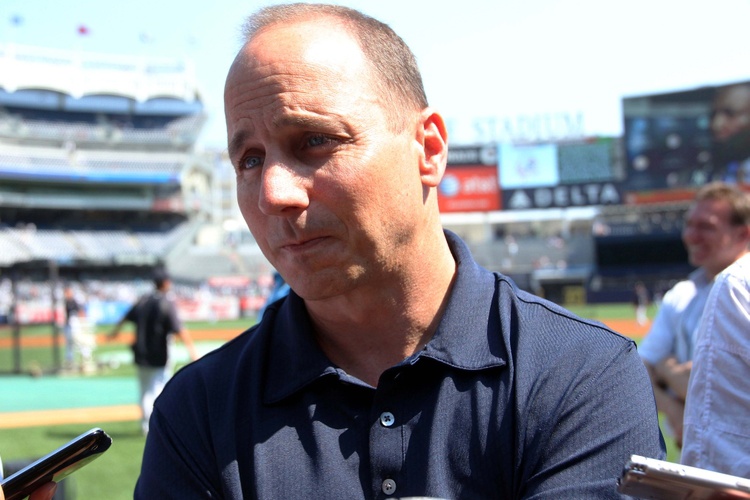 Sometimes on Twitter I get asked a question that 140 characters won't do justice to so, I decided I might as well use the space on Keefe To The City to answer some of the questions more in depth.
Here is the first installment of "Monday Mentions" focused on questions and comments about the Yankees with the trade deadline this Friday.
@NeilKeefe why would you want either? Just so they could find a reason to move like Nova to the pen and yet again still keep starting season

— Alex (@GrushNYC) July 26, 2015
I want either David Price or James Shields on the Yankees for the same reason I want rent in the Upper East Side to go down instead of up and for my dog to be able to walk himself in the winter and for the 4 train to Yankee Stadium to be express all the way to the Stadium: because it would make my life better.
Right now the Yankees' postseason rotation is Masahiro Tanaka or Michael Pineda in Game 1, Masahiro Tanaka or Michael Pineda in Game 2 and then either Ivan Nova, CC Sabathia or Nathan Eovaldi in Game 3. I would go Tanaka then Pineda then Nova, but who knows what the Brian Cashman and Joe Girardi are thinking? As long as CC is healthy and on the team he is going to get consideration for a postseason start and my nerves going into a potential CC Sabathia postseason start in 2015 will be way worse than they ever were for any A.J. Burnett postseason start.
But let's say the entire Yankees rotation makes it through this week healthy leading up the trade deadline. If the Yankees trade for a front-end starter then someone has to go to the bullpen between Nova, Sabathia or Eovaldi or either Nova or Eovaldi has to be traded. It would be ridiculous to go to a six-man rotation for the rest of the season, but ridiculous is how Cashman and Girardi like to do things, so it wouldn't be that much of a surprise.
The Yankees don't need to trade for a starting pitcher. Their rotation is good enough to hold off the rest of the AL East during the regular season and win in the postseason. Here are the playoff rotations for the last five World Series since the Yankees won in 2009:
2014: Madison Bumgarner, Jake Peavy, Tim Hudson, Ryan Vogelsong
2013: Jon Lester, John Lackey, Jake Peavy, Clay Buchholz
2012: Barry Zito, Madison Bumgarner, Ryan Vogelsong, Matt Cain
2011: Chris Carpenter, Jaime Garcia, Kyle Lohse, Edwin Jackson,
2010: Tim Lincecum, Matt Cain, Jonathan Sanchez, Madison Bumgarner
A combination of Tanaka, Pineda, Nova, Sabathia and Eovaldi is just as good as all of those and probably even better than all of them.
@NeilKeefe Road trip to Detroit to pick up Price?

— jesse foster (@JD944) July 27, 2015
Road trip? I'm willing to ride a bicycle, scooter or skateboard there. I would walk there and carry Price back if needed. According to Google Maps, it's 618 miles from Yankee Stadium to Comerica Park and by car it would nine hours and 31 minutes to get there. It's only a 588-mile walk there, but it would 194 hours, which is a little over eight days. However, for me to do any of those things, Dave Dombrowski and the Tigers would have to agree to not ask for any of the Yankees' top prospects.
I'm against the Yankees trading Luis Severino, Aaron Judge, Greg Bird, Jorge Mateo and even Rob Refsnyder. At some point the organization needs to develop a young core again and they are close to doing that now. The 2015 Yankees are currently hitting the massive parlay they didn't in 2013 and 2014 to stay relatively healthy and have older player produce. Unfortunately, this carriage could turn back into a pumpkin next season the way the Red Sox have since winning in 2013 and it would be devastating if this season didn't end with a World Series and the Yankees sacrificed their future for Price, Shields Cole Hamels or another high-priced starter.
Nate The Great? @NeilKeefe

— Brian Rappaport (@BRappy55) July 26, 2015
Yes, I wrote "Nathan Eovaldi Is Far From 'Nasty'" on June 17 and said that trading for him is a mistake. And yes, he pitched eight innings on Sunday, allowing two earned runs on eight hits with five strikeouts and one walk to improve to 10-2 on the season.
The idea that Eovaldi is as good as his 10-2 record suggests is comical. He has a 4.27 ERA and 1.478 WHIP. He has made 20 starts and failed to pitch six innings in 11 of them. He only has 80 strikeouts in 111 2/3 innings despite having a fastball between 97 and 100 mph and he has allowed the sixth most hits in the majors. Eovaldi's record is solely the product of his run support, which is 5.31 runs per game on average.
Since we're talking trade deadline, when it comes to Eovaldi, it's a complicated situation. He's still young at 25, but he's also with his third team in the majors at just age 25 despite possessing that can't-teach fastball. He's under team control through 2017 and it's obvious Cashman and the Yankees are high on his ability and potential and wouldn't think about putting him in the bullpen. But if the Yankees are to trade for another starter and a better starter, someone has to get bumped from the rotation, or traded and that leaves either Eovaldi or Nova.
If Eovaldi can pitch to the low-4 ERA he has in 20 starts for the rest of the way, he is valuable at the back of the rotation. I wouldn't give him a postseason start and wouldn't trust him in a postseason game, but I guess I can deal with him every fifth day for the rest of the regular season.
@NeilKeefe does it ever make you wonder if David Robertson ever stayed, that trio whoa

— Tony Rojas (@TonyRojas30) July 22, 2015
I wanted the Yankees to re-sign David Robertson and also sign Andrew Miller. I thought if they didn't then they were making a mistake even though they had traded for relievers in Justin Wilson, David Carpenter and Chasen Shreve. Fortunately, Shreve turned out to be the best of the bunch, which made up for Carpenter being awful and eventually DFA'd, or the bullpen would be Betances and Miller and multiple trips to the liquor cabinet every night.
Here is what I said about the Yankees' decision to not sign Robertson after the Winter Meetings in December:
The idea of having Robertson and Betances and Miller to lock up games after the sixth and asking a rotation that aside from Masahiro Tanaka has trouble going past the sixth inning anyway is such a beautiful idea that it makes me physically sick to think that it could have happened and now it won't. And it could have easily happened. The White Sox gave Robertson four years and $46 million. The Yankees gave Andrew Miller four years and $36 million. So for $46 million, the Yankees could have had the best on-paper bullpen in the entire league and arguably their best bullpen since … well, ever. If you think $46 million is a lot of money to give to someone to pitch about 65 innings, just remember that last year, the Yankees gave a five-year, $85 million deal to Brian McCann with catcher being the deepest position in their farm system, three years and $45 million to a then-36-year-old Carlos Beltran and oddly enough he broke down, couldn't throw a baseball and played in only 109 games and seven years, $153 million to Jacoby Ellsbury, which was money that could have been used to re-sign Robinson Cano. The Yankees could have re-signed Robertson, they just didn't want to, and I'm not sure why.
The Yankees have a dominant bullpen with Betances, Miller, Shreve and Wilson right now and if Robertson were part of it, or if they make a move for Craig Kimbrel, it will be stupid. Stupid in a good way.
@NeilKeefe yeah, we'll take… wait, you don't have anyone that's really that good. how are you in first place?

— Jared Carrabis (@Jared_Carrabis) July 21, 2015
It was only 17 days ago that the Yankees started a three-game series at Fenway Park and Red Sox fans thought their team had a chance of getting back into the race. "If the Red Sox sweep the Yankees, they will be three games back in the loss column with the whole second half to play," was what I kept hearing from my friends and enemies in Boston. The Yankees won two of three to extend their lead over the Red Sox and before Monday night's games, the Yankees' lead over the Red Sox had grown to 12 games (13 in the loss column).
Boston fans shouldn't wonder how the Yankees are winning because their team did it two years ago. The 2013 Red Sox championship is the most amazing championship in the history of sports. All sports at any level ever. Everything they needed to go right went right, no one got hurt and they got timely hit after timely hit in the postseason, winning with a rag-tag rotation.
The 2015 Yankees haven't even been close to as fortunate as the 2013 Red Sox. The Yankees' arguably best starter (Masahiro Tanaka), position player (Jacoby Ellsbury) and reliever (Andrew Miller) weren't all healthy at the same time from April 24 to July 7, yet the team somehow managed to get to first place. Chase Headley has been bad, Stephen Drew has been the worst, CC Sabathia has been horrible, Nathan Eovaldi has been frustrating and Carlos Beltran has been inconsistent. If not for the resurgence of A-Rod and Mark Teixeira, the rebound of Brian McCann, the revival of Chris Young and the always streaky Brett Gardner having an extended hot streak, the Yankees would be in a bad place right now. But for the first time in three years, things are going their way and it feels great.