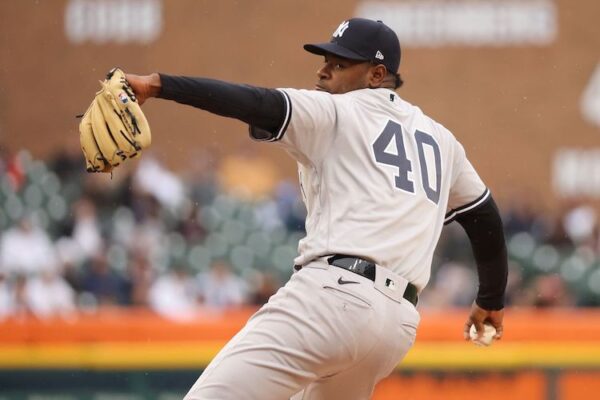 Back in the win column. After the eight-day winning streak was broken on Friday, Saturday was a perfect 4-0 day.
Here are the bets for Sunday, May 1.
Yankees-Royals Under 8.5 (-120)
The books continue to drop the unders. Saturday was another magical performance for unders (11-4) and it seems like the books have had enough. The 8.5s are on the brink of extinction, and even 8s are becoming endangered species. For instance, Max Scherzer and Zach Eflin on Sunday Night Baseball is a 6.5 That's the kind of line you would have seen for Clayton Kershaw vs. Madison Bumgarner a decade ago. Now we're getting it for a Hall of Famer against Eflin? In order to continue to find value with unders, the overs are going to have to start hitting. I just pray it's not on games in which I have money on the under.
The Yankees scored 12 run against the Royals on Friday and three on Sunday. On Sunday, they will face a lefty in Daniel Lynch, so that means a right-handed heavy lineup for the Yankees with Anthony Rizzo likely being the only lefty in it (if Aaron Boone doesn't inexplicably give him the day off). It's the kind of matchup in which the Yankees could cover this number on their own. But the Yankees have won eight straight, and 10 of 11, and they are heading out of town for a crucial three-game series in Toronto beginning on Monday. I don't want to say the Yankees will look past the Royals on Sunday and we'll get a two-and-a-half-hour game with a lot of quick at-bats, but I have seen that type of performance from the Yankees in similar circumstances in the past.
Luis Severino has been very good this season, while the Royals' offense is last in runs scored in all of baseball. Rizzo has two fewer home runs than the entire Royals team. This is the only under I trust on Sunday.
Angels -110 over White Sox
Dallas Keuchel is starting against the Angels. If this were five, six or seven years ago, that would have meant something and it would have meant: don't bet on the Angels. But 2022 Keuchel is bordering on being the left-handed version of 2017 Jered Weaver who was an automatic wager against every time he took the mound. Couple Keuchel with the White Sox' horrible offense and this line is too good not to take even if I don't believe in the Angels and their hot start.
Yankees -195 over Royals
Cardinals -200 over Diamondbacks
Dodgers -275 over Tigers
(+209)
The Yankees are too hot to not bet on right now, though at -195 it's hard to take them on their own. I refuse to take 1.5 lines, so it forces me to pair them with another team. Because it's the end of what has been a big week I'm pairing them with two teams: the Cardinals and Dodgers.
The Cardinals have lost the first two games of their three-game home series against the Diamondbacks, scoring two runs on Friday and getting shut out on Saturday. Nolan Arenado will be back from his suspension on Sunday, the Cardinals' offense is due and their past success against Zach Davies is hard to pass up.
The Dodgers were shut down on Saturday, losing 5-1 to the Tigers. Freddie Freeman, Trea Turner, Max Muncy, Justin Turner and Cody Bellinger combined to go 0-for-17 with three walks. On Sunday, the Dodgers have Walker Buehler going against Eduardo Rodriguez. While I hate betting against Rodriguez from past history against the Yankees, like the Cardinals, the Dodgers are due, especially righties in Mookie Betts (.730 OPS), Trea Turner (.724 OPS) and Justin Turner (.526 OPS), and a matchup against a second straight lefty is just what they need.
---
Subscribe to the Keefe To The City Podcast.
---
My book The Next Yankees Era: My Transition from the Core Four to the Baby Bombers is now available as an ebook!