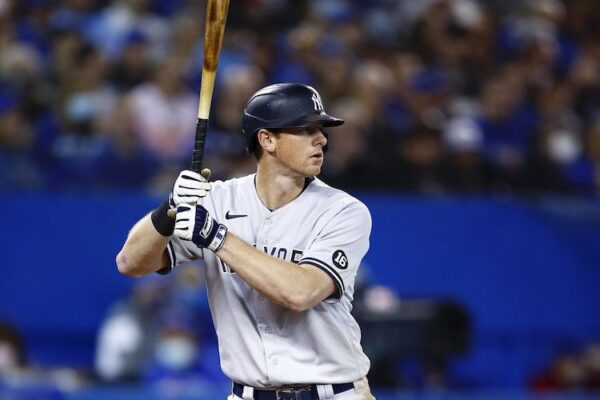 A new winning streak has officially started. After the eight-day winning streak ended on Friday, back-to-back winning days on Saturday (4-0) and Sunday (2-1) have started a new streak. And with that nice three-team parlay hitting at +209 on Sunday, it was really an even better than 2-1 day.
Here are the bets for Monday, May 2.
Yankees-Blue Jays Under 8.5 (-115)
Finding an 8.5 these days is like finding a four-leaf clover. Finding a 9 or more is like winning the lottery. This line opened at 8 and has since moved to 8.5. I was tempted to take it at 8, so of course I took it at 8.5. I don't have a great deal of confidence in this pick. A year ago this game would have been a 9.5, but in 2022 where two average starting pitchers going against each other are getting a 7, an 8.5 will have to do.
Ross Stripling isn't very good. The only positive here is that he's a righty and the Yankees' best hitters are all right-handed. Aside from Anthony Rizzo, the only other left-handed bats he will see will be Joey Gallo (if he returns to the lineup following his groin injury) and Aaron Hicks.
Jordan Montgomery against a heavy right-handed lineup is fearful. Considering the first three batters he will face will be George Springer, Bo Bichette and Vlad Guerrero Jr., this pick could be in peril before the end of the first. Every first inning is important when betting unders, but this one will be even more so since Montgomery will be trying to produce soft contact against those three rather than blow them away and any missed location could end this game from an under standpoint as quickly as it starts.
Astros -135 over Mariners
Jake Odorizzi vs. Marco Gonzales. This same pitching matchup happened back on April 15, and Odorizzi got lit up, while Gonzalez allowed one run over seven innings.
The Astros have extremely good numbers against Gonzales. Alex Bregman, Michael Brantley, Yuli Gurriel, Yordan Alvarez and Kyle Tucker each have an OPS of least .800 against him. The Mariners' careers numbers aren't nearly as good against Odorizzi.
Gonzales was hit on his wrist by a 109 mph line drive in his last start, which forced him out in the first inning. He was hit on his pitching wrist, and while he has been cleared to make the start, I would be surprised if we get the same result from the last time he faced the Astros two-plus weeks ago.
---
Subscribe to the Keefe To The City Podcast.
---
My book The Next Yankees Era: My Transition from the Core Four to the Baby Bombers is now available as an ebook!