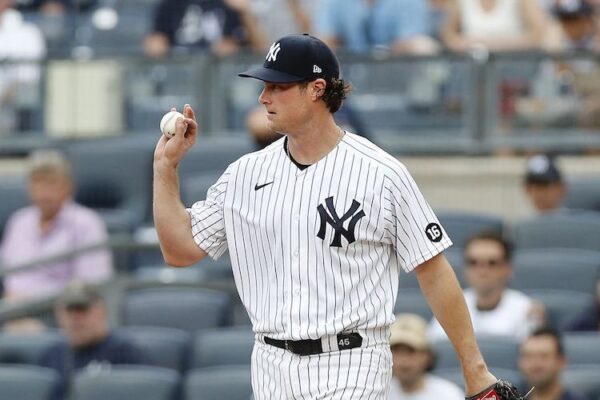 It's Opening Day! (For the Yankees that is, and that's all that matters, right?) OK, so it's Opening Day 2.0. (To me, it's the real Opening Day.) There are 13 games on the Friday schedule before we get our first full 15-game slate of 2022 on Saturday.
Here are the bets for Friday, April 8.
Yankees -170 over Red Sox
If I weren't a Yankees fan, I would be all over the other side of this pick. But I am a Yankees fan and it's Opening Day, so there's no way I'm sitting this one out, even though I don't have a good feeling about this game (just like I didn't have a good feeling about the same matchup in last season's wild-card game), and I'm going against my own rule of taking a team straight up at -170 just because it's the Yankees. I'm setting myself up for a very depressing Friday night if the Yankees lose since they will not only lose on Opening Day, but they will lose to the Red Sox of all teams, and cost me financially. Oh well!
Cole has always had trouble with the Red Sox dating back to his time with the Astros, and as a Yankee, whether he's been using sticky stuff or not, his troubles have continued against them. (To make matters worse, the Yankees' ace also has a problem pitching well against the Rays and Blue Jays. No big deal.) The last time he pitched against them was just over six months ago when he single-handedly ended the Yankees' season four batters into the first inning. Cole was thoroughly embarrassed in the last game the Yankees played, and injured hamstring or not, he chose to take the ball and has to live with the fact that his performance, both in September and in the one-game playoff ruined the Yankees' season. It was his September collapse that forced the Yankees into playing that one game on the road, and it was his one-game playoff performance that ended the season.
"Sick to my stomach," is what he said following the Yankees' elimination a little more than six months ago. He has had to wear that effort for the last half-year and now he has a chance to begin redeeming himself against the Yankees' rival. It doesn't mean he will, it just means he can, if he pitches well. And with his knack for deep counts and elevated pitch counts, and with an expected pitch count of about 75-80 on Friday, it's not hard to see Cole lasting only four innings in this game. Not great! (Again, this is a very ill-advised wager.)
I despise Nathan Eovaldi. He is the face of my last few All-Animosity Teams after a bust of a Yankees tenure that has led to him becoming the pitcher the Yankees thought they acquired from Marlins, except for the Red Sox. He has dominated the Yankees as a Red Sox, while also playing an important role in the Red Sox' 2018 championship. It makes me sick. Not metaphorically "sick to my stomach" like Cole said after Eovaldi outpitched him to end the 2021 season, I mean actually, violently sick. I get hives thinking about Eovaldi and body aches and fatigue watching him mow down the Yankees.
These Red Sox have owned Cole, and Eovaldi has owned these Yankees. It's foolish of me to know all of this, write all of this and still wager actual money on the other side of everything I think about this matchup, especially at -170 and especially with Cole supposedly not being allowed to get close to 100 pitches. But like I said, it's the Yankees and it's Opening Day, and I can't sit this one out, even if that's the sensible thing to do. If Cole only lasts four or five innings, at least the Yankees' bullpen is the biggest edge they have over the Red Sox.
Brewers -160 over Cubs
I'm not as high on the Brewers as most, especially projections, because their lineup leaves a lot to be desired. Yes, they have a very strong rotation and a solid bullpen, but the only hitter to fear is Christian Yelich, and it's going on three years since he has last been feared. Unless you fear ex-Yankee legend Jace Peterson who started at third base for the Brewers in their season-opening loss to the Cubs.
That season-opening loss to the Cubs is why I'm on the Brewers in Game 2 of the series. The Cubs are awful. They used their one good starter in Game 1, and used a Nico Hoerner two-run home run to help lead them to an unexpected win in a game started by Corbin Burnes. (Of course, Clint Frazier went 1-for-1 with a double in his Cubs debut. I will miss Frazier.) Back-to-back wins for the Cubs over the Brewers? I don't see it. Especially since no one outside of Andrelton Simmons (5-for-7) hits Brandon Woodruff. I don't expect Justin Steele to give the Cubs length on Friday (five innings would be his ceiling in an ideal scenario), so the Cubs will need at least four innings from their non-Mychal Givens/David Robertson relievers, and the Brewers will have many opportunities to win this one.
Mets -160 over Nationals
The Mets were the first bet of the season, and I wish I had wagered more. Sure, the Nationals have the best hitter in baseball in Juan Soto, but after Soto and Nelson Cruz (who I will always fear even if he's still playing at age 50), that's it. They are a really bad team destined for an abundance of losses and a last-place finish in the NL East. I will enjoy betting against them all season.
Dodgers -210 over Rockies
Braves -180 over Reds
Yeah, yeah, I know parlays are for suckers. Well, I'm a sucker on Opening Day. After six-plus months without Yankees baseball, five-plus months without any baseball and a three-plus month lockout that nearly destroyed this season, I'm putting together a parlay. I don't care.
The Rockies' roster is atrocious, like 90-plus losses atrocious. Charlie Blackmon has had exceptional success against Walker Buehler in 56 plate appearances (.385/.411/1.045), and Brendan Rodgers (.308/.308/.769) and C.J. Cron (.429/.429/.571) have done well against the right-hander in a limited 27 plate appearances, but that's it. The rest of the current Rockies team hasn't hit Buehler. Buehler hasn't pitched well in 65 career innings at Coors Field (4.98 ERA), but a lot of those innings came against a Rockies team that had Nolan Arenado and Trevor Story and still-in-his-prime Charlie Blackmon. The innings on Friday won't come against that Rockies team.
Kyle Freeland is a solid pitcher, who has a remarkable 4.20 career ERA in 654 innings given that he's only ever pitched for the Rockies. The problem for him is his inability to record strikeouts. It's not that a career 7.0 K/9 is something to scoff at (7.8 last season), it's that it's 2022 and in this era of baseball, not having a 1-to-1 strikeout-to-inning ratio as a starter is shocking. The Dodgers' collective team numbers against Freeland aren't anything special (.731 OPS), but the right-handed hitters have done well against him, and you can expect a right-handed heavy lineup against him. At most, Freddie Freeman, Max Muncy and Cody Bellinger will be the only lefty starters, and Bellinger has an .821 OPS against Freeland.
Even if Freeland is able to hold down the Dodgers' two times through the order, the hooks are going to be quick on all starters because of the shortened spring training and their inability to be fully stretched out. That brings in the Rockies' X-factor of manager Bud Black, who is arguably the worst manager in all of baseball. He makes Aaron Boone look like Joe Torre, and Black coupled with a bullpen that flat-out sucks at Coors Field is how you get a run total sat at 11.5 in a game started by Cy Young contender Buehler.
As for the Braves-Reds games, I have never liked betting on Braves game. They (along with the Cardinals) are the team that will screw me either way I go. But after losing their first game of the season to the Reds, I don't think they lose back-to-back to a Reds team that is horrible simply because their front office is actively trying to lose this season.
Dodgers-Rockies Under 11.5 -115
It seems like no Coors Field under is ever a good idea. I have been crushed many times on 13.5s there, but 11.5 is a lot of runs in a game in which Buehler will start. The Dodgers could cover this on their own against the Rockies' bullpen, but there's too much value in being able to 1.28 runs per inning with someone as good as Buehler pitching against a lineup as bad as the Rockies'.
Yesterday: 1-0