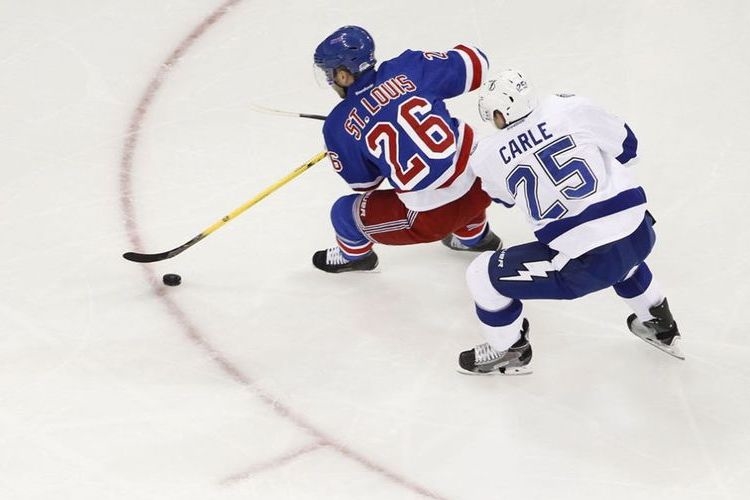 Stay afloat. That's what the Rangers' game plan has been through the first 18 games of the season thanks to injuries and that's what they had somewhat done up until 10 days ago. But in their last six games over those 10 days, the Rangers have gone 1-3-2, earning just four of a possible 12 points and falling back to .500 at 7-7-4. Outside of opening night, when they beat the Western Conference-leading Blues on the road, the Rangers haven't had their expected top-six defensemen in the lineup in the same game. And until Ryan McDonagh gets back, they won't. And until then, they are going to have to do a better job preventing five-goal games from happening.
Monday night against the Lightning was the fifth time this season the Rangers allowed at least five goals in a game (they only allowed five goals or more eight times last season) and it was the wrong time to fill Madison Square Garden with defensive brain farts and turnovers. It was the homecoming for Ryan Callahan (and to a lesser extent, Brian Boyle and Anton Stralman) and the first time the former captain who ran himself out of town with his absurd contract expectations and inability to compromise led to the trade for Martin St. Louis. And with that trade came the Rangers' first Stanley Cup Final appearance in 20 years. But for some people, like The Hockey News' Adam Proteau, the Lightning won a trade that is barely eight months old because right now the Lightning have a better record than the Rangers and that's all that matters in the sports world where every day we have to figure out who is the best player or who is the next champion or who is a Hall of Famer without letting things play out. I thought the hockey world was different from the other sports when it came to nonsensical debates and premature career projections, and maybe it is, but not when it comes to Proteau.
Proteau (the man who once tweeted that Matt Cooke has been victimized by hitting Marc Savard in the head and ending Savard's career and altering his life) wrote a "column" (I use this word loosely) titled "When he left the Lightning for the Rangers, Martin St. Louis made a huge mistake" in which the headline was nearly longer than the actual 545-word column, so let's look at Proteau's column (in italics).
After watching Martin St-Louis play his former teammates in Tampa Bay for the first time since the March trade that sent him to the New York Rangers for Ryan Callahan, and two draft picks, I'm pretty confident in saying this:
St-Louis made a huge mistake.
After reading the first 46 words, I'm pretty confident in saying this:
Adam Proteau made a huge mistake.
If the Rangers don't blow two-goal leads in Games 1 and 2 of the Stanley Cup Final or blow a third-period lead in Game 5 or if they had won any of the three overtime games in the series or if Chris Kreider could score on a breakaway or if Dan Girardi wasn't Dan Girardi then these words would have never been written by Proteau. (Actually, they probably still would have been.) But the Rangers lost the Stanley Cup Final, so in return we not only got a Rangers' Stanley Cup loss, but these 545 words from Proteau.
Yes, it's only one game, but the Lightning's thorough 5-1 pounding of the Blueshirts Monday was a demonstration of (a) all the things that make Tampa such a favorite of pundits this off-season, and (b) many of the things that make some of us question the Rangers as a serious Stanley Cup contender.
After watching one game (a pretty large sample size), I'm going to make a serious proclamation and then I'm going to say it's still only one game after I make that proclamation. That's quite the strategy for someone to try to prove their point.
St-Louis did score the home side's only goal at Madison Square Garden, but, in a sign from the hockey gods as to which side is likely to emerge over time as the ultimate winner of the trade, Callahan scored two goals for the Bolts.
St. Louis did score the Rangers' only goal on Monday, so that's good because if someone else had scored the Rangers' only goal then this "huge mistake" that St. Louis made would have been that much bigger. But he scored and not another Ranger, so it's only a "huge mistake" for now.
I wish I had known that the hockey gods would be giving us some foreshadowing at the Garden on Monday night because I could have accomplished a lot of other things between 7 and 10 p.m. instead of watching a poor defensive effort from a makeshift Rangers defense, highlighted by Dan Girardi taking a nice Sunday Skate in the neutral zone on what became a breakaway and then sliding and rolling around on the ice rather than clearing the front of the net on Ryan Callahan's first goal. But that goal wasn't Girardi's fault or him proving that his six-year, $33 million extension wasn't the best idea. That goal was the result of the hockey gods foreshadowing the eventual outcome of the St. Louis trade.
More importantly, the Lightning also got another banner night from Steven Stamkos, who scored once and added two assists while being the most dangerous player on the ice. Why St-Louis would want to leave a team with a young superstar for one that didn't have anyone comparable is head-scratching, to say the least.
Does Proteau really think St. Louis cares about Steven Stamkos, playing with Stamkos, not playing with Stamkos or playing for a team without Stamkos?
St. Louis is from Quebec. He went to school at Vermont. His wife is from Greenwich, Conn. where the family lives in the offseason and St. Louis runs a summer hockey camp at the Twin Rinks in Stamford, Conn. Madison Square Garden is about 31.7 miles from Greenwich and 45 minutes on Metro North.
Not only did St. Louis likely want to live in one location to be with his entire family year-round, but I'm sure his wife also had some impact on his decision making because it is his wife and I'm going to assume that she has some say in the decisions St. Louis makes. Is Friday Night Lights not available in Canada? Eric and Tammy Taylor could teach you a few valuable life lessons.
But it's more than just the presence of Stamkos that makes St-Louis' decision to leave Tampa Bay a regrettable one.
Again, I'm sure 39-year-old St. Louis, who has a wife and kids and whose home is about 31.7 miles from the Garden, really took into account the idea of playing hockey with a 24-year-old when weighing his family's own future.
The Rangers have had some serious injuries to deal with this season (including key cogs Derek Stepan and Ryan McDonagh), but even with those players in the lineup, the Lightning are deeper at forward and on defense and have more blossoming young talent (including Jonathan Drouin, Victor Hedman, Tyler Johnson and Nikita Kucherov, among others) than the Blueshirts.
Effing St. Louis! How could he have not known the Rangers would be dealing with injuries to Derek Stepan, Dan Boyle and Ryan McDonagh to start the season? How could he not have realized that the Rangers' best two defensemen and their first-line center would miss significant time to begin the season?
And with goalie Ben Bishop proving his superb 2013-14 campaign was no fluke, you can't even argue the Rangers have a significant advantage in net anymore – at least, not when star Henrik Lundqvist is struggling to find his consistency so far this year.
I originally thought Proteau using one game as a reason to decide who won the St. Louis was as bad it was going to get? But then he went and wrote that St. Louis should have put the notion of playing hockey with a 24-year-old over what's best for his own family and I thought that was as bad as it would get, but then that goalie comparison happened.
After Monday's loss, Henrik Lundqvist is 7-5-3 with a 2.68 goals-against average and .910 save percentage. No, those aren't Lundqvist-like numbers, but when you have Matt Hunwick playing in all but two games so far and Michael Kostka, Dylan McIlrath and Connor Allen dressing and playing because of injuries and John Moore deciding to Scott Stevens people then you're not going to have Vezina-like numbers. But if we're going to sit here and say Ben Bishop is better than Henrik Lundqvist because of six weeks of a season then I guess Jakub Voracek is a better scorer than Sidney Crosby, Patric Hornqvist is a better pure goal scorer than Alexander Ovechkin and Nick Foligno is a 1.13 points-per-game player.
At the time of the trade, many speculated St-Louis' relationship with Bolts GM Steve Yzerman over not initially being named to Canada's 2014 Olympic roster had deteriorated to the point he demanded to be moved, and perhaps that's true. As one of the greatest players in modern memory, he had accumulated enough power to ask out if he truly believed he didn't fit with the organization any longer. However, the circumstances surrounding St-Louis' departure have never been made fully clear. Until they are, all we can judge St-Louis on are the facts apparent to us.
The "circumstances surrounding St. Louis' departure have never been made fully clear" but I'm going to write a 545-word column about why he shouldn't have asked for a trade! The only thing we're missing from Proteau is the use of "having said that" in this masterpiece.
And right now, the fact is St-Louis left a team that looks to be a force with which to reckon for many years to come for a team whose leading scorer, Rick Nash, will be 31 years old next summer and whose backbone between the pipes will be 33 in March.
The Lightning finished 46-27-9 last year and were swept in the first round by the Canadiens, who the Rangers eliminated two rounds later. This year they are 13-4-2 and are currently second in the Atlantic and there's a good chance they will face the Bruins or Canadiens or both in the first round this year. Then I guess we'll find out about the reckoning. (The Lightning also have to play 63 games before they get to that point before they can show off their "force".)
At 39 years old, he wants to win now, but does anyone see the Rangers as a serious threat to win the Eastern Conference again this year? At this stage, there's no guarantee they'll even be in the post-season.
I think Proteau needs to get the idea that St. Louis "wants to win now" out of his head. I'm sure he would like to win and is doing everything he can to win, but if he retires without winning again, he will retire with his name on the Cup, over 1,000 career points (he's at 995 now) and at least one Hart, one Lester B. Pearson, two Art Rosses, three Lady Byngs and six All-Star appearances.
There's no guarantee the Rangers will be in the postseason this year. There's also no guarantee the Lightning will either. Or the Canadiens. Or the Blackhawks. Or the Kings. Or the Blues. Or any team.
St-Louis has had a Hall-of-Fame worthy career, but even Hall-of-Famers make mistakes. And thus far, his choice to leave Stamkos & Co. behind looks to be the worst move he could've made.
Martin St. Louis helped lead the Rangers to the Stanley Cup Final in June and gave Rangers fans their best season in two decades. He lives in Greenwich, Conn. with his wife and kids. He is making $5 million this year to play hockey for a living and gets to do his job at Madison Square Garden. If demanding a trade to get all of these things is the worst decision he could have made then I need to start making bad decisions.