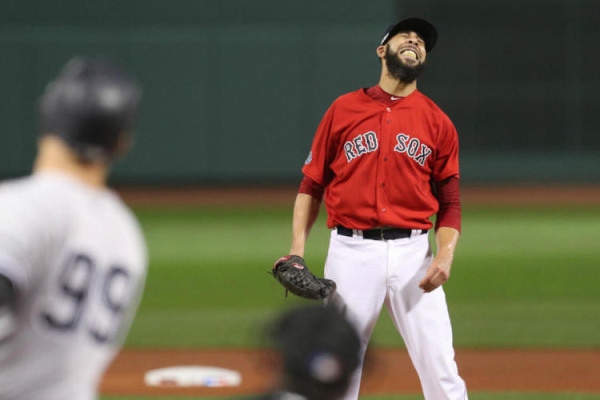 The Yankees took care of business in Boston by winning one of the first two games of the ALDS and now return to Yankee Stadium and have home-field advantage in what is now best-of-3.
Everything is in the Yankees' favor and if they screw it up, it will be a complete letdown. They have favorable starting pitching matchups in Games 3 and 4, they have the deeper lineup and bullpen and they have the raucous Stadium crowd that can see the clear path to a second straight ALCS set up for them.
Now that the ALDS is tied up, I decided to email Michael Hurley of CBS Boston for one of our usual email exchanges.
Keefe: I remember reading a story about Derek Lowe's car getting destroyed after he blew a save as Red Sox closer. I have to imagine there was extra security surrounding the Red Sox players' parking lot following Game 2 of the ALDS. Or maybe, David Price was smart enough to get a ride to Fenway Park the other night.
I know there is a big movement around the idea that "being clutch" isn't a real thing or doesn't exist, but as a Yankees fan who lived through the David Ortiz Red Sox era, no stat, data or mathematical or scientific fact will ever be able to get me to believe that "being clutch" isn't real. It's not a coincidence that great players and pitchers can be great throughout the regular season and in the days right before the start of the postseason and then suddenly be unable to perform. October is different. It's 100 percent different. Just ask Ortiz or Derek Jeter or Scott Brosius or Curt Schilling, and on the other end, ask Alex Rodriguez or Nick Swisher or Mark Teixeira or Clayton Kershaw or Bryce Harper, or in this case Price.
There's no way Price can have any fans or supporters left in Boston. He wasn't unable to win a postseason game with the Rays, Tigers or Blue Jays, and still hasn't with the Red Sox, despite saying in his introductory press conference in Boston that he had saved all his postseason wins for this team. Game 2 was his latest postseason failure as he was pulled after five outs, forcing his bullpen to get 22 outs and handing over home-field advantage to the Yankees.
Unfortunately, I had to leave Boston early in the morning on Sunday, but I would have liked to stay around for the day-after breakdown of Price by Red Sox fans in the city. What's the mood in Boston after Game 2?
Hurley: Well first of all, David Price drives a car that is the closest thing a civilian can get to an armored tank. Come to think of it, I suppose that's not a coincidence.  but we need not worry about his safety, so as long as he drives that thing. (Seriously, Google it.)
The mood in Boston is, I think, the way it feels in any city after a playoff loss. That is to say, it feels like it's the end of the world, that there's no hope, and that it's all over. A hundred-and-eight wins for nothing. What a waste.
All of that will obviously change significantly if the Red Sox can roll into Yankee Stadium and take back the series lead in Game 3. But based on that atmosphere from the wild card game, doing that doesn't feel like it'll be easy.
As for Price, what a disaster. Just, what an unmitigated disaster. The Red Sox traded Jon Lester after knowing that he was nails. From April through October, nails. Helped you win two World Series. But had to get rid of him because you don't pay pitchers premium money when they're over 30. But, whoops, a second straight last-place finish, and maybe it's time to give the richest pitcher contract ever to David Price, eight months shy of his 30th birthday. Let's see how that works out. Brilliant.
I agree with you on clutch, but what I find fascinating is that Price was able to close out Game 7 of an ALCS as a reliever, and he's been really good as a postseason reliever (he threw 6.2 scoreless innings last October). But he's just crumbled as a starter. I've always thought of it as a "you have it or you don't" type of thing when it comes to ability to perform in huge moments. But David Price is just a unique individual. He's got a unique elbow, and he's got some unique psychological factors going on.
Keefe: I have never thought this Red Sox team was as good as their record. Yes, they won 108 games and are the "best" regular-season team in Red Sox history, I just don't see it.
The top of the order with Mookie Betts, Andrew Benintendi and J.D. Martinez is the best 1-2-3 in the majors, but the rest of the lineup? Sure, Steve Pearce is the right-handed Ortiz against the Yankees, but he doesn't hit like that against the rest of the league. Xander Bogaerts? He's OK. Mitch Moreland? Eduardo Nunez? Ian Kinsler? Sandy Leon? Jackie Bradley Jr.? They are all average to bad hitters.
The rotation has Chris Sale, who is one of the best pitchers in the league when healthy, and David Price, who is a great regular-season pitcher. But Rick Porcello is just OK, I saw enough of Nathan Eovaldi as a Yankee to know he's awful and Eduardo Rodriguez wasn't good enough to beat out Eovaldi for a postseason start. Where is Drew Pomeranz?
The bullpen has Craig Kimbrel and … um … that's it. Craig Kimbrel.
I think the Red Sox are all the proof anyone needs to know that winning 100 games in 2018 was no great accomplishment. The majority of the league was just so, so bad this season and the Red Sox were able to get fat off the Orioles and interleague, which is why they won the division and the Yankees didn't. But the best Red Sox team in history? No way.
Hurley: Yeah, that's generally true. You're off the mark about Xander Bogaerts, who led all AL shortstops in OPS, doubles, and RBIs. But the rest of that assessment is pretty accurate.
I've looked at this year as just having some inflation with regard to the win totals. I guess with masterminds like Buck Showalter running baseball teams, it's been easy for good teams to rack up victories. I don't know the exact equation, but I think you can safely lop off 10 wins from the good teams to compare them to teams from years past. 
This would probably be a good opportunity to rant and rave about how the 91-win Indians were gifted a trip to the ALDS despite playing 76 games against the awful AL Central while posting sub-.500 records vs. both the AL East and AL West, all while the 100-win Yankees and 97-win A's had to play a do-or-die exhibition game for TV ratings. BUT I WILL WITHHOLD FROM THAT COMPLAINT FOR THE TIME BEING.
Keefe: I think we are the only two people in the world who feel the current MLB postseason format is bad. Everyone seems to love it because it gives them two extra days of playoff baseball and it keeps more teams and cities involved during the regular season longer. You know what I love? The best teams playing for a championship. That's what I love. But hey, JUST WIN YOUR DIVISION!
OK, maybe I'm wrong about Bogaerts. Let's group him in with Betts, Benintendi, Martinez and Pearce. (Any non-Yankees fan has no idea why Pearce is being group in with All-Star players). Mitch Moreland, Eduardo Nunez, Ian Kinsler, Sandy Leon, Jackie Bradley Jr. and Rafael Devers are 4-for-29 with a walk so far in the series. That's not great.
The Red Sox are asking Nathan Eovaldi and Rick Porcello to go into Yankee Stadium and send the series back to Boston for a Game 5 on Thursday. I understand Eovaldi had some success since being traded to the Red Sox, but I saw 48 starts and 51 games from Eovaldi when he was a Yankee and I know he sucks. Red Sox fans have reminded me of his eight shutout innings against them in the August four-game sweep, but that Yankees lineup was without Aaron Judge, Gary Sanchez, Andrew McCutch and Luke Voit, who is 1998 Shane Spencer. Never trust a pitcher who throws 100 and at times over 100 and can't average a strikeout per inning. Eovaldi throws as hard as anyone in the league and 640 career strikeouts in 850 innings. He can't be trusted.
The more I look at these teams, and not just from the two-game sample size, but from a full-season standpoint, the more my opinion that the Yankees are a better team from top to bottom. Their lineup is deeper, their rotation is deeper and their bullpen is deeper. If the Yankees lose the series, Yankees fans should be upset because they lost to a lesser team. Red Sox fans will be upset because of the regular season they had and because it's the Yankees, but they would be losing to a better team. But if the Red Sox do lose, I don't think fans in Boston will look at it like that.
Hurley: I mean, I follow you on Twitter, so I know how you feel about most Yankees. So I'm not surprised to see how much you still hate Eovaldi.
I'm not going to sit here and say that Eovaldi is great by any stretch, but if you're going to bring up the August Yankee lineup, then you should at least mention the lineup on Sept. 18, when Eovaldi pitched six scoreless innings. That day featured everyone except 1998 Shane Spencer, and he pitched pretty well. It was the bullpen that blew that one.
I'm not sure I wholly buy that the Yankees are a better team. In spring training I went position by position. Some of the names in that story are ancient history — Hanley Ramirez, Dustin Pedroia, Greg Bird, Brandon Drury — but it was a pretty close comparison. I gave the edge to Stanton over Martinez, which was wrong. I gave the edge to Judge over Betts, which ended up being wrong. I gave the edge to Gregorius over Bogaerts, which was wrong. I think the only spots where you can definitively say the Yankees are better is at catcher, center field, third base, second base, and obviously the bullpen.
None of that really matters though, when Eduardo Rodriguez decides to just not cover first base in a playoff game. And none of it really matters when the bottom third of the Yankees' lineup reaches base five times, while the top four batters in the Red Sox' order goes a combined 2-for-15 with one walk. Going back to your first point about clutch, maybe the Yankees are just wired better for moments like this. Mookie Betts' career regular-season OPS is .888. Mookie Betts' career postseason OPS is .666. Not great! Meanwhile Aaron Judge is somehow muscling home runs to the opposite field on inside curveballs from Craig Kimbrel. (Seriously, how the hell did he do that?)
Keefe: It's not most Yankees, it's only Aaron Boone (during the regular season), Sonny Gray, Shane Robinson, A.J. Cole and Shane Robinson and none of them are on postseason roster. And Jonathan Holder too, but thankfully, he hasn't pitched yet in this series.
Judge is amazing. No one with his body type (well, no one close to having his body type since he's the only one to ever be built like that and reach the majors) has ever had his success and everything about the way he is built says he shouldn't be this good. But he is, and he seems to only be getting better. Betts and Martinez had incredible seasons and one of them (likely Betts) will be the AL MVP, but Judge should also get votes and attention. Look at how bad the team was from when he got hurt at the end of July until he came back near the end of September. And look at what he has done in the postseason so far.
I think everyone was on board with your idea that Stanton was better than Martinez outside of the true Red Sox homers, who likely have bricks with their name on it inside Fenway Park. But Stanton was a disappointment while Martinez filled the void left by Ortiz after 2016. There are a lot of Yankees fans who somehow defend Stanton's season (.266/.343/.509 with 30 home runs and 100 RBIs) while forgetting his salary and that he was basically Barry Bonds last year. I thought him playing 81 games in Yankee Stadium would enhance his 59-home run season, but I couldn't have been more wrong. You can count on one hand the amount of big hits he had this season with most of them coming when games were out of hand. I bet on a lot of baseball and saw him play a lot with the Marlins, but apparently not enough to realize that he's essentially just a bigger version of Starlin Castro with no plate discipline.
Stanton's true colors have shown up in the three-game postseason. He hit a mammoth solo home run when the Yankees were already well on their way to a win in the wild-card game, and in Boston, he struck out four times in Game 1 (once with the bases loaded and no outs) and weakly grounded out in a big spot in Game 2 (it would have been a double play if he actually hit it hard). Thankfully, he was saved by Gary Sanchez's home run, which landed in Back Bay.
I know the answer isn't Stanton, but which Yankees hitter are Red Sox fans most scared of in a big spot? For me and Red Sox hitters, it's Steve Pearce and then J.D. Martinez and then Eduardo Nunez. W
hy Nunez? Because he was an awful Yankee and at some point in this series will likely have a big hit.
Hurley: Judge is the obvious answer when it comes to frightening Yankees. That one speaks for itself.
But — maybe this is just me — but I also randomly put Brett Gardner on that list. He objectively stinks, and the fact that he's been a starting outfielder for the New York Yankees for like 10 years is amazing to me. Generally, hustle only gets you so far. 
Anyway. He's a pain in the ass at the plate. I know Kimbrel got him swinging in Game 1, but I feel like he's liable at any point to slap a perfect pitch the other way for a game-tying double, setting up the top of the order to win the game.
Friggin' Brett Gardner. I'm already annoyed by this inevitability.
I wouldn't worry about Nunez though. He was in the lineup over Devers for his defense. Didn't really work out.
Keefe: Before the series, I predicted the Yankees would win in four games. I thought they would lose Game 1 against Sale, rock Price in Game 2 and then return home to continue their home postseason win streak with Red Sox fans not getting to see the 2018 Red Sox play another game at Fenway Park.
So far, the series has unfolded exactly I envisioned, and the Yankees have a chance to win the series at home. It's unusual for me to be so confident about Yankees-Red Sox games, let alone Yankees-Red Sox postseason games, but I am. Maybe I will be let down and Eovaldi will shut them down in Game 3 and their season will end in Game 4, but I really don't see that happening (so now it will happen). Yankees in 4.
What was your prediction before the series and has it changed?
Hurley: I don't really make predictions. Not because I'm above them or anything. Just because I'm always wrong.
So I don't know what will happen in Game 3. But I'd say, if the Yankees win, the series is over. If the Red Sox win, the series is still not over. If that makes sense.
I don't give the Red Sox much of a chance of climbing out of a 2-1 hole. But I could easily see the Yankees winning Game 4 and the bumming everyone out at Fenway Park in Game 5.
***
My book The Next Yankees Era: My Transition from the Core Four to the Baby Bombers is now available as an ebook!
The book details my life as a Yankees fan, growing up watching Derek Jeter, Mariano Rivera, Andy Pettitte, Jorge Posada and Bernie Williams through my childhood and early adulthood and the shift to now watching Gary Sanchez, Luis Severino, Aaron Judge, Greg Bird and others become the latest generation of Yankees baseball. It's a journey through the 2017 postseason with flashbacks to games and moments from the Brian Cashman era.
Click here to purchase the book through Amazon as an ebook. You can read it on any Apple device by downloading the free Kindle app.