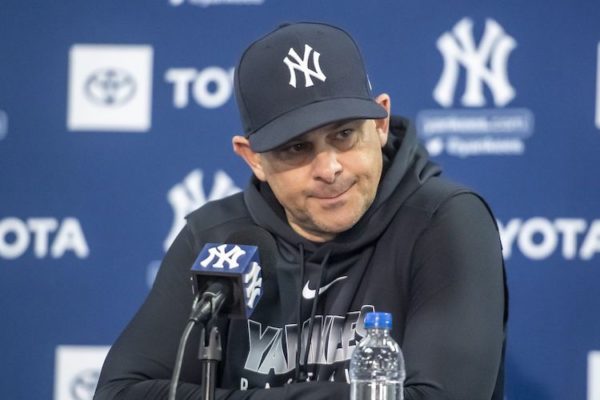 I was worried early on Tuesday morning when it was announced that Aaron Judge wouldn't be hitting on the first official day of spring for position players because of shoulder discomfort. Even if it is only Feb. 18, nothing good could possibly come from the team's best player having a shoulder issue of any kind. But my worrying level was a mild 4 out of 10 Later in the day when it was announced that Judge would be shut down completely for the next week, my worrying escalated to a 7.
Judge hasn't exactly been the most healthy player in his three-plus seasons as a major leaguer. He was shut down for the final two weeks of the 2016 season with an oblique injury. In 2017, he battled a second-half shoulder injury which cost him the AL MVP (along with Jose Altuve and his teammates knowing which pitches were coming). He missed one third of the season in 2018 after getting drilled by a pitch on his wrist, which certainly was a freak injury, and then he missed two months last season after suffering another oblique injury. Judge has missed 25 percent of the last three seasons due to injury. So when a player who had a signifcant shoulder injury two-and-a-half years ago complains of shoulder discomfort or soreness on the very first day of spring training workouts, you better believe I'm worried.
It's not so much that Judge has to be shut down in the Yankees' conservative effort to make sure whatever this is doesn't turn into somehing more the way every injury seemed to last season that has me worrying so much. It's more the way Aaron Boone has explained and reacted to Judge's inury that has me worried of Mike Tauchman or Clint Frazier now being an everyday player to begin the 2020 season with Brett Gardner already once again thrust into a season-opening everyday role because of Aaron Hicks' latest injury.
"Just dealing with some crankiness," Boone said rather nonchalantly about Judge. "I guess a little soreness in shoulder."
Boone's lack of emotion is a main reason why he is the Yankees manager and Joe Girardi is now with the Phillies. But when it comes to injury news, Boone's even-keeled temperment comes off as comical when injuries go from a player being day-to-day to missing two months, and that happened all of last season.
"I feel like it's a pretty minor thing," Boone said. "Probably in the next couple days, start ramping him back up."
I didn't think we would get our first "ramping" reference from Boone on Feb. 18, but here we are. "Ramping" became most used by Boone when talking about Aaron Hicks and Giancarlo Stanton last season.
Hicks, if you forgot, injured his back on a 35-minute bus ride on Feb. 27 during spring training last season. (The entire history of the injury is detailed here.) Boone said Hicks would be ready for Opening Day and that he would avoid an injured list stint before later changing the timetable to being ready for the fourth game and second series of the season. Hicks returned on May 15.
Stanton played in the first three games of last season before surprisingly going on injured list before the fourth. He wouldn't return until Game 72 on June 18 and was back on the injured list after being removed from a game on June 25. Stanton finished the season playing in 18 games and missing most of the ALCS. (The entire history of his biceps strain turned shoulder strain turned calf strain is detailed here.) Like Hicks, Boone constantly talked about Stanton being close to resuming baseball activities or "ramping" up his workload to return to the team. Each time it was delayed as the injury either was more serious than Boone led on or there was a setback along the way.
The word "minor" is what really got me. Nothing is "minor" when it involves the team's best player and nothing is "minor" with the Yankees until they prove they can accurately diagnose and successfully heal injuries. Not playing baseball since Oct. 19 and implementing sweeping changes on the team's medical staff didn't just erase what happened last season. A four-month layoff didn't magically build trust between the team's handling of injuries and the fans. So for Boone to describe this as "minor" then Judge better be 100 percent ready to resume every type of baseball activity in exactly one week since that was the timeline given for this "minor" thing. The botched timelines by Boone and the Yankees last season eventually led to Boone simply not giving timelines for any injured Yankees, and there were a lot of them as the team set the single-season record for most players to land on the injured list. In many of the cases, Boone made it seem like everything was fine only to have the player land on the IL later that day or in the following days. So when Boone refers to an injury as something "minor" and uses the word "ramping" to describe Judge, you better believe I'm worried.
"We did put him through a battery of tests," Boone said. "He had the MRI."
Normally, an MRI means an issue is significant enough to warrant an MRI, but not when it comes to the Yankees. The Yankees aren't worried about their players absorbing an abundance of magetic imaging. When I was in elementary school, the school nurse would take your temperature no matter. You could break your collarbone in gym class and the first thing she would be to take your temperature. Cut your knee open? "Let me take your temperature." That's sort of how the Yankees operate when it comes to MRIs. If a player speaks up about not feeling 100 percent, they're getting an MRI. I'm not overly worried that Judge had to receive an MRI. If anything, I'm more worried that Boone said, "It was kind of what his shoulder has always been" in regards to the MRI results, which made it seem like Judge's shoulder isn't great to begin with.
Spring training will continue for the next week without Judge. As long as this doesn't turn into what every seemingly minor injury last season, I will be OK. But for now, I'm more than worried.
***
My book The Next Yankees Era: My Transition from the Core Four to the Baby Bombers is now available as an ebook!