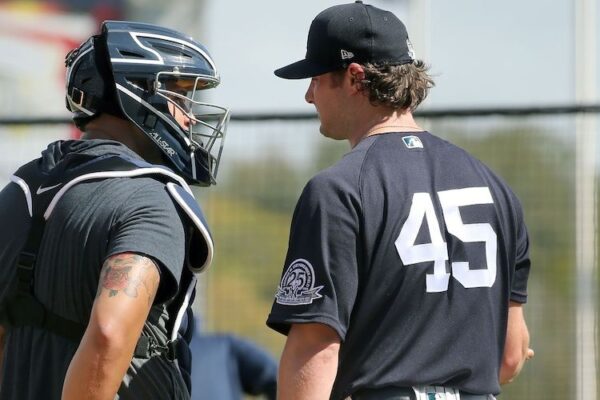 I already know when the first time Aaron Boone will affect my life during the 2021 season. I have it narrowed down to two possibilities.
One possibility is in Game 3 of the season, on Easter Sunday (April 4). The Yankees will have played the day before, so it will be their first time playing on consecutive days in the season, and with three games in three days following, Boone will inexplicably give guys a scheduled day off in the third game of the season after having played 67 games in the previous 17-plus months.
The other possibility is even before the third game of the season. It's on Opening Day. With Gerrit Cole scheduled to start the first game of the season, there's a good chance Boone will pair him with Kyle Higashioka and bench Gary Sanchez on Opening Day, a decision that will have severe consequences in Game 1 of 162.
On Monday, Sanchez caught Cole's first spring training start, and Cole said he thought the two "worked well today" and that they did "a nice job together" and called it "a good day."
Last season, Sanchez was pulled from catching Cole starts, and Higashioka was inserted as a personal catcher for the right-hander. It wasn't promising for the Yankees' ace to need a personal catcher a month into what will be nearly a decade with the team. The Yankees cited the smallest of sample sizes for their decision and as a backup, they used a high school relationship with the two being teammates more than a decade ago as a reason for the pairing. Higashioka had very little to do with Cole's success, if he anything to do with it all. There's a reason Cole is arguably the best pitcher in the world, and it's not because of a career backup catcher with 72 career games to his name.
Either Cole went to Boone and asked to have Higashioka catch him, or the Yankees made the decision and he didn't argue it. Either way, Cole allowed Higashioka to become his personal catcher, and he allowed an inferior player to start two playoff games, and Boone, on his own, had Higashioka start another three.
Boone has said Sanchez would have caught Cole's next start in the ALCS if the Yankees had won Game of the 5 ALDS, but I believe that as much as I believed Boone when he said he didn't pull Judge from a game last season due to injury and then the right fielder missed half the season.
Boone has very little idea what he's doing as Yankees manager. His in-game managing is detrimental to the team's success that he is at times more of an opponent for the Yankees than their actual opponent. His communication skills, which were praised upon his hiring, haven't been what they were hyped up to be. Under his watch, his 2018 ALDS Game 3 starting pitcher didn't know what time the game started in what resulted in the Yankees' worst home postseason loss in history; he has been as wrong as you can be about injury updates and return timetables; he blatantly lied about the health of Aaron Judge in the 2020 regular season; he benched the team's best catcher in the 2020 postseason without an explanation; most recently, he admittedly didn't "gauge the temperature" of his team when bringing a scumbag, who committed domestic abuse in front of his teammates, back into the clubhouse. Boone's best quality as a manager is that he appears to be a nice guy, and that's not nearly enough for someone whose job it is to manage a Major League Baseball team. I know a lot of nice guys. I don't want them in charge of the Yankees, allowed to pull Deivi Garcia after the first inning of a playoff game for J.A. Happ as part of a preconceived strategy.
Brian Cashman, in his end-of-the-season press conference, said Boone makes all lineup decisions (clearly not wanting his name attached to the disastrous ALDS Game 2 pitching strategy).
"In terms of the lineup and in-game strategies, those are the manager's," Cashman said in October. "It always has been and as long as I'm the general manager, it never will be different."
The decision to play Higashioka over Sanchez was Boone's. Just like it was his decision to pull Garcia for Happ, play Brett Gardner over Clint Frazier and use mike Ford as a pinch hitter instead of Sanchez or Frazier with the season on the line.
"I know there's that narrative about the manager being a puppet and none of that's true," Cashman also said. "I've never ordered a manager to do anything specifically and Aaron would be able to testify to that as well as Joe Girardi and Joe Torre. They've never been directed at any time by me or our front office to do something they didn't want to do.
It will take very little for Boone to pair Higashioka with Cole again this season and to start the season. I mean very little. If he was willing to play Higashioka over Sanchez in October, whether or not Cole was pitching, he will gladly play Higashioka over Sanchez in April. Or it might not take anything at all. Boone already knows if he's going to have Higashioka be Cole's personal catcher, andif he's going to bench Sanchez on Opening Day. It won't be a surprise, it will just be the latest idiotic decision on the long list of idiotic decisions Boone has made. A decision that will have severe consequences in the first game of 162.
---

---
Subscribe to the Keefe To The City Podcast. New episodes every Monday and Thursday during the offseason.
---
My book The Next Yankees Era: My Transition from the Core Four to the Baby Bombers is now available as an ebook!