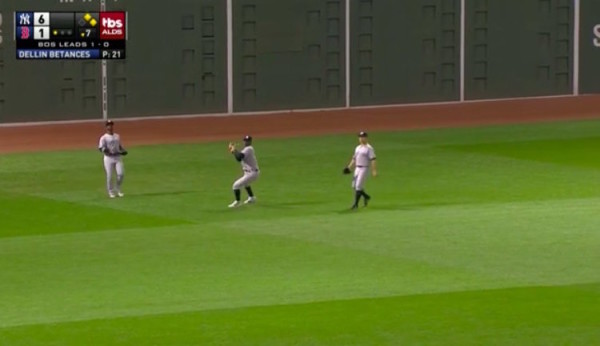 Have you ever sat down for a test and had to bullshit your way through the essay questions, so you ramble on and on about nothing just to fill space, giving no actual answer? That's how Aaron Boone handled his end-of-the-season press conference.
The Yankees manager said nothing insightful and somehow still believes he made the right decisions with his bullpen in the playoffs. The only good thing to come from Boone having absolutely no clue what he was doing in the ALDS is that a lot of Boone supporters, both fans and media, now wonder if he is actually the right person for the job. It only took them nearly the entire season from what Boone displayed that first weekend in Toronto to realize the manager of the Yankees should probably have some managerial or coaching experience prior at any level before being handed a win-now team.
After 15 minutes of nothing from Boone, he took the final question of his press conference, and then Yankees public relations man Jason Zillo said the following:
"We're going to have Cash in here in a few minutes, but in fairness to you guys (at this point Boone turns to Zillo like he remembers something and points at Zillo), there's not a great point to drop this in, but I want Aaron to be able to respond to it. Didi had an MRI yesterday. He will undergo Tommy John surgery at a yet to be determined time …"
Boone spoke about nothing for 15 minutes and forgot to mention that the team's starting shortstop and only left-handed, non-switch-hitting bat in their lineup played in the ALDS with a torn throwing elbow and is going to miss a large portion of 2019 following surgery on that elbow. How is it even possible Boone nearly let this slide without talking about it during his part of the press conference? Was he just going to leave if not for Zillo bringing it up? Judging by Boone's reaction Zillo bringing it up, it sure seemed like Boone was going to walk out without having mentioned this incredibly significant news.
Boone said Didi Gregorius hurt his arm on a throw when he played a ball off the Green Monster in Game 2 of the ALDS. How did a shortstop play a ball off the left-field wall? Well, in the seventh inning, Ian Kinsler hit a ball off the wall that Andrew McCutchen played as if he had no basic knowledge or understanding of geometry. The ball bounced past McCutchen and to Gregorius, who threw it back in. (The image at the top is Gregorius getting ready to make the throw that tore his elbow.)
Boone is an idiot, but we already knew that. The real news is that the Yankees are going to be without Gregorius for some amount of time in 2019 and possibly the majority of 2019. And here I was thinking the 2019 Yankees would be better than the 2018 Yankees. The 2019 Yankees can still be better than the 2018 Yankees, but it just got that much harder to make that possible.
The Yankees have a few options with how they can handle this.
Option 1
The Yankees could keep Gleyber Torres at second base, if that's where they feel he will play moving forward in his career, and use someone like Adeiny Hechavarria or someone with his defense-first skillset to play shortstop and bat ninth (unless Boone goes into 2019 thinking Torres should continue to bat ninth no matter what). I certainly don't want the Yankees to play any part of next season with a near-automatic out like Hechavarria in the lineup, let alone possibly the majority of next season, so this would be the worst-case scenario for me.
Option 2
The Yankees could sign Manny Machado. This would mean while Gregorius is out, Machado could play short, Torres second and Miguel Andujar third. Or Machado third, Torres short and Andujar first or outfield. The first step to this process would be to sign Machado and then determine where Andujar's future is. Gregorius is going to be a free agent at the end of this season, so maybe Machado plays third for 2019 and then shortstop in the years to follow, or maybe the Yankees also sign Gregorius, and Machado plays third and Gregorius plays short for the foreseeable future. That would mean Andujar becomes an outfielder or a first baseman. I wouldn't hate this scenario, but it's not my favorite.
Option 3
If the Yankees are going to sign either Machado or Bryce Harper, I would rather they sign Harper. The Yankees desperately need a middle-of-the-order left-handed bat and I would rather have Harper for the next decade than Machado. Signing Harper would mean Option 1 above would be less of an issue since having either a defense-first player at either short or second (whichever Torres isn't at) would be negated in the lineup by the addition of Harper's bat. If Harper isn't an option for the Yankees because of the regrettable decision to add Giancarlo Stanton for 10 years then Option 2 becomes my favorite option because I do want either Machado or Harper (or both!).
Option 4
The unknown. The Yankees could do something not listed here. (This will likely be what happens since no one is expecting it.)
This Yankees offseason is so unpredictable and there are so many avenues they can take to set themselves up for the next decade that it actually hurts my head to think about. The Gregorius injury comes at a terrible time because it changes the course of how the Yankees planned to operate this offseason and it hurts his own personal value since he will become a free agent after missing part of the season due to elbow surgery.
The Yankees have an opportunity this winter to build on what began at the 2016 trade deadline and to put themselves in position to sustain success for a long period of time. The construction of their infield without Gregorius is now their first major decision of the offseason. They can't get it wrong.
***
My book The Next Yankees Era: My Transition from the Core Four to the Baby Bombers is now available as an ebook!
The book details my life as a Yankees fan, growing up watching Derek Jeter, Mariano Rivera, Andy Pettitte, Jorge Posada and Bernie Williams through my childhood and early adulthood and the shift to now watching Gary Sanchez, Luis Severino, Aaron Judge and others become the latest generation of Yankees baseball. It's a journey through the 2017 postseason with flashbacks to games and moments from the Brian Cashman era.
Click here to purchase the book through Amazon as an ebook. You can read it on any Apple device by downloading the free Kindle app.