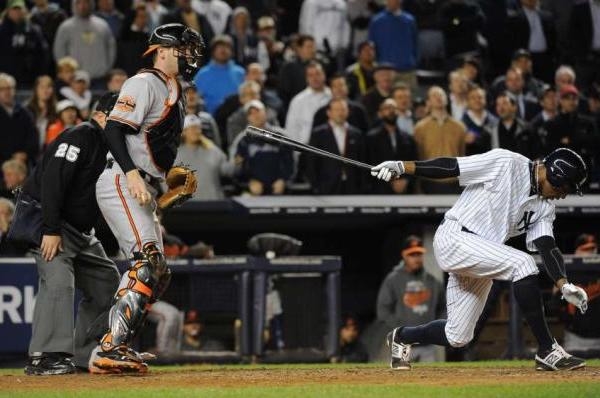 I remember this feeling. I felt it on Oct. 6, 2011. It was Game 5 of the 2011 ALDS. This feeling sucks.
The feeling is when "elimination" becomes a real possibility. It's a word that no baseball fan wants to hear. It's the strongest word in the sports vocabulary because it's so final.
You don't face elimination unless you screw up along the way, and the 2012 Yankees have done just that. Their regular season problem found its way to the postseason and the team's inability to hit with runners in scoring position will be their downfall if the season doesn't extend past Friday night.
One run in 13 innings. That's how I will remember Game 4. I won't remember it for Phil Hughes stepping up, Derek Jeter coming through on one good leg, Nick Swisher and Ichiro playing horrible defense in the eighth inning or A-Rod getting pinch-hit for once again. One run in 13 innings. That's what I will remember about Game 4. The theme from April 6 through October 3 didn't go away during the three off days before Game 1 of the ALDS. And now it has the Yankees in the scenario they fought down the stretch to avoid: a one-game playoff.
The Yankees haven't made it out of the ALDS against a team not named the Minnesota Twins since 2001 when they came back from down 0-2 against the A's. The Angels knocked them out in 2002 and again in 2005. The Tigers took them down in 2006, the Indians got them in 2007 and the Tigers did it again last October. Now the Yankees are one more bad game of leaving men on base from having their season end.
The Yankees will play their 167th game of the 2012 season on Friday night. The heart of the order will determine if they get to play for the 168th time on Saturday.
***
Here are my thoughts from Game 4 of the ALDS.
– Four runs in the last 25 innings and two of those runs are Raul Ibanez's solo home runs. That's disgusting and embarrassing on so many levels. I would take the San Francisco Giants offense in Game 5. At least they have guys who will deliver a big hit.
– Phil Hughes stepped up in Game 4 (6.2 IP, 4 H, 1 R, 1 ER, 3 BB, 8 K) and delivered as good of a performance as he did in Game 3 against the Twins at the Stadium in Game 3 of the 2010 ALDS (7 IP, 4 H, 0 R, 0 ER, 1 BB, 6 K). He deserved to win on Thursday night the same way that Andy Pettitte deserved to win on Monday night. I didn't trust Hughes entering Game 4, but I will trust him if there's an ALCS for him to get the ball in next week.
– I really hope Nick Swisher's roll in the 13th inning like he was 007 dodging gunfire makes hisYankeeography. It was the latest in what I call Nick Swisher Unnecessary Antics. My favorite has always been him climbing the wall on home runs that he is unable to catch or come remotely close to making a play on. You're the worst, Nick Swisher. The worst.
– I always laugh when people say, "The moment always finds A-Rod." The moment always found David Ortiz when the Red Sox used to make the postseason and Ortiz loved the moment and owned it.
– Hey, Yankee Stadium music guy, don't play Frank Sinatra's "New York, New York" while I'm walking out of the Stadium following a 13-inning loss in which the Yankees score one run, forcing them into an elimination game. Maybe that's the time for you to play Howie Day's "Collide" rather than in Game 3 when the Yankees were losing before Raul Ibanez's game-tying home run.
– Remember when Robinson Cano was tearing up the Twins', Blue Jays' and Red Sox' pitching in the last week of the season and everyone was calling him the best and hottest hitter on the planet. Good call, everyone! Cano will be as responsible for a first-round exit as anyone if he doesn't show up in Game 5 and the Yankees don't advance to the ALCS. He is now 2-for-18 in the series and is supposed to be the most important hitter in the lineup, even if Joe Girardi still doesn't think he is.
– The Stadium has a montage for every moment. The problem is that most of them involve plays from previous years. There isn't a "Left On Base" montage to the Rocky theme to be played when the team is trying to rally late, but there should be. Instead there are hundreds of clips from the last few years of big hits, plays and pitches from the Yankees. I think my friend Andrew said it best last night at the game when talking about great moments being shown: "I'm starting to think these aren't real."
– There was a time when there was a pitching change or a mound visit during the beginning of a Yankees rally meant "Black Betty" would fill the Bronx night and the Yankees would come through in the clutch. That time is long gone.
– Tommy Hunter helps win a Game 4 at the Stadium again. TOM-MY HUN-TER! Is this real life? Yes, it is.
– Curtis Granderson (1-for-9, nine strikeouts) is making Alfonso Soriano's 2003 postseason look like A-Rod's 2009 postseason. I find it hard to believe that the Yankees are going to look to lock up Granderson along with Cano. Yes, he has 84 home runs in the last two years, but I don't see the Orioles rushing to sign Mark Reynolds to a long-term, massive deal. And yes, Granderson has become the left-handed Reynolds.
– Joe Girardi made the best decision of his managerial career in hitting Raul Ibanez for A-Rod in Game 3. But if Girardi is going to hit for A-Rod then when does he start hitting for Swisher and Granderson too? It's not too late to do so, but the time is running out.
I'm not ready for the baseball season to end. This train carries CC Sabathia in Game 5.