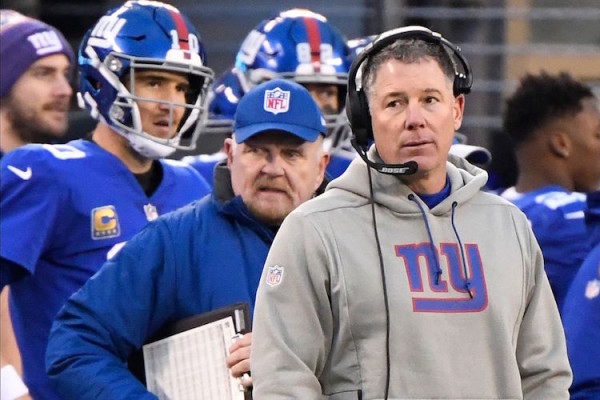 I'm an idiot. I believed Pat Shurmur and Dave Gettleman were going to fix the 3-13 mess Ben McAdoo and Jerry Reese left them. I believed this Giants team was a playoff team.
The Giants were far from a playoff team. Even if they still had a less-than-one-percent chance at 5-8 before losing to the Titans to finally mathematically eliminate them, the Giants were never close to being a playoff team this season, and I wish I had known better. After all these years, I should have known better. You can change the general manager and the head coach and the offensive live and trade away underachievers on defense, but you can't change the Giants. And whenever the organization decides to move away from Eli Manning, that won't change anything either.
Back on Sept. 7, I wrote "New-Look Giants Have Me Optimistic" and that headline now reads as a joke. Let's go back through my words from before the season and see what went wrong.
I enter every Giants season the same way: thinking they will win the Super Bowl. I realize it's not a smart approach to set my expectations for the season at a championship, considering I root for a franchise that despite its four Super Bowl wins in the last 31 years has given its fan base a lot of regular-season disappointment. It's also not the best idea to think an ownership group that interviewed Ben McAdoo and then named him head coach after speaking with him and then let him bench Eli Manning for Geno Smith has now put the team in proper hands moving forward. But the same way I'm dumb enough to bet on the Giants nearly every week, I'm dumb enough to think they can win the Super Bowl this season.
I was smart enough to know that my expectations for the Giants weren't realistic since the worst time to be a Giants fan is when the team has positive expectations surrounding them. It's not until their season is in peril and they are barely hanging on that they are their best. Yes, I was dumb enough to think this Giants would be a playoff team let alone a potential Super Bowl contender the same way I was to think an ownership group that hired Ben McAdoo would hire the right man for the job this time. I would say there's a better chance that a year from now Shurmur will be looking for a new job than there is that the 2019 Giants will be a playoff team.
I realize success is fleeting in the NFL, but I have a hard time believing the Giants could be an 11-win team in 2016 and the only team to beat the Cowboys in that regular season, which they did twice, and then become a three-win team overnight. Maybe the eight wins by a touchdown or less in 2016 were a sign that the team just had some breaks go their way in a way they never did near the end of Tom Coughlin era, but winning one-possession games is the way to win in the NFL.
I wasn't the only one fooled by the Giants as many other Giants fans thought 2018 would be more like 2016 and that 2017 was a fluke. Instead, it was 2016 that was the fluke. All of those close games that went the Giants' way once again didn't go their way this season and it left them with a 5-11 record. Outside of the Redskins game in which they sent Mark Sanchez back to being a backup quarterback, the other four Giants wins were like nearly every other win of theirs in my lifetime: a nail-biter. I don't expect the Giants to become a team that consistently wins by two or more possessions, so that means they are going to have to figure out how to win close games again as soon as possible. And that's going to mean rebuilding a defense that is guaranteed to allow a field goal when winning by three or less or a touchdown when winning by four to six in the final minutes of play.
It's felt like two years since I watched any Giants football that has mattered. Last season was over in Week 3 when they lost to the eventual champion Eagles on a last-second field goal to fall to 0-3. Two weeks later, they were still winless, and a month after that, they were 1-8. It was the most miserable Giants season of my life and for many Giants fans lives, all culminating with the decision to bench Manning for no reason. But looking back, had McAdoo and Reese not decided to bench Manning and handle it the way they did, maybe the Giants win a few games down the stretch and they are both still in their old jobs for the 2018 season. It's possible that the two idiots needed to make the worst decision in the history of the Giants to avoid Giants fans going through another season with them in charge.
This Giants season felt over when Dak Prescott hit Tavon Austin for the long touchdown in the first minute-plus in Week 2. I didn't expect the Giants to beat the Texans in Week 3, and they nearly blew the lead in that game, before holding on to give the season meaning once again. But that meaning didn't last long as the Giants went on to lose their next four games, and at 1-7, they had to run the table to reach the playoffs.
Losing has become synonymous with the Giants as they have fallen from the NFL's elite to basically become the Browns of the NFC. I'm sure if you asked ownership if they regret their decision to move on from Tom Coughlin they would tell you they do. And if they were to say anything different, they would be lying.
Now it's Pat Gettleman and Pat Shurmur and I don't know what to expect. Everything about the way the Giants have planned for this season makes you think they are a playoff team. Factor in the potential Super Bowl hangover of the Eagles, the illogical roster decisions of the Cowboys and the unknown with the Redskins and it's very easy to see how the Giants could return to the playoffs in 2018, and quite possibly as the NFC East winner. The only thing standing in their way is their schedule.
The Giants planned for the 2018 as if they were going to win the division. They just forgot to rebuild the offensive line and create any semblance of a pass rush prior to the start of the season. The decisions by Gettleman and Shurmur made everyone think the Giants were going to have a big year, but their poor decisions only served as an idiotic mirage for the same problems from 2017.
Normally, when you finish last in your division, you have a path to the playoffs paved for you the following season. Not for the 2018 Giants though. The first seven weeks of the Giants' season are as hard as any ever with games against the Jaguars, Cowboys, Texans, Saints, Panthers, Eagles and Falcons. Throw in what is always a challenging division game against the Redskins in Week 8 and it's an absolute gauntlet for the Giants until their bye week. I know it's not about who you play in the NFL, but when you play them, but as of now, the Giants are going to have to be at least 3-4 in those first seven and 4-4 after Week 8 to have a chance at returning to the postseason. And they are going to have to start hot with a new head coach, a new offensive line and a defense that doesn't have one true pass rusher on it. The more I write, the more I'm talking myself out of the previous paragraph and the Giants being a playoff team.
That paragraph alone should have been enough to help me realize the Giants were never going to be a winning team in 2018. I wrote those words and I still went against my own thoughts and planned on having the Giants playing in the playoffs this coming weekend. Needing to be at least 3-4 in the first seven games, the Giants ended up going 1-7. That's as Giants as it gets.
But for now, I'm optimistic. That's right, I'm optimistic about not only the New York Football Giants, which is as ridiculous as it gets, but I'm optimistic about a Giants team that has a new head coach, a new offensive line and pass rush-less defense coming off a three-win season. I don't know how long this optimism will last (probably until the first delay of game by the offense, or draw play on third-and-19 or holding penalty by the offensive line or first down allowed by the defense on third-and-21), but I think it will last longer than it did a year ago. It better.
The new head coach proved to be the same as the old head coach. The new offensive line was the same as the old offensive line with a few players in different spots. The pass rush-less defense was as pass rush-less as any defense in history. The three-win season felt a lot like this five-win season. I did get a longer meaningful season that last, but that's not saying much.
I'm sure next September I will talk myself into the Giants once again being a playoff team and maybe even a Super Bowl team. Hopefully, I'm smart enough to remember everything I just wrote.