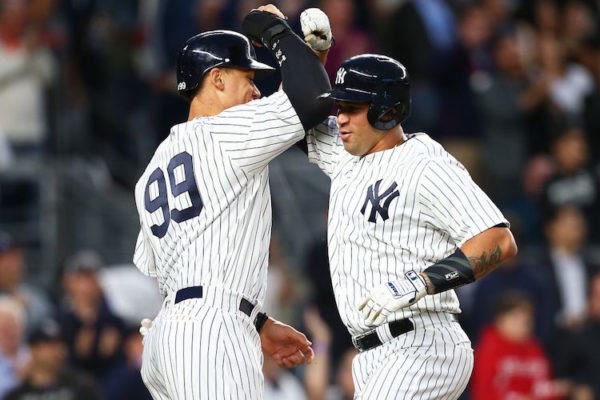 Tomorrow there will be Yankees baseball. Real baseball that counts. The offseason is such a grind, but we made it. We're here!
In honor of the MLB Over/Under Win Total Predictions blog from Monday, I decided to come up with a variety of over/under predictions for the Yankees this season.
Gary Sanchez: 13.5 passed balls
Last season, Gary Sanchez led the majors with 18 passed balls despite only catching 76 games, 74 which were starts and 67 which were complete games. The year before, he led the league with 16 passed balls in 104 games caught, 99 which were starts and 91 which were complete games. Somehow, Sanchez increased his passed ball total despite appearing in 28 last games. No, that's not ideal.
On a scale of 1-10, I care about Sanchez's passed balls a 4, and I realize that's definitely on the low end and might be the lowest anyone is willing to go there. There are people, like Michael Kay, who are definitely at or near a 10, but not me. Considering Sanchez's arm and framing abilities, his passed balls are much less of an issue than they are made out to be. I'm more concerned with Sanchez returning to his offensive form, being the .284/.354/.568 hitter he was in 2016 and 2017 than I am about him blocking pitches from Masahiro Tanaka in the dirt.
But I'm optimistic when it comes to Sanchez and think he will be better behind the plate in 2019, as long as he isn't struggling offensively since I believed that affected his defensive work either. It would be nice to see him less, let's say lazy, when he's got his gear on and not letting fastballs go by him to advance base runners. Sanchez has to be better in 2019. I can't go another season of listening to idiots call for Austin Romine to be the team's starting catcher. Under.
Miguel Andujar: .299 batting average
Like Sanchez's passed balls, I'm not overly concerned with Miguel Andujar's defense at third base. Last season, he was a 23-year-old in his first full season in the league. Defensive issues should expected. As long as there is progress and improvement in the field, this should be a non-issue in 2019. Unfortunately, the first time he boots a ball or bounces an errant throw to first, the mainstream media will eat it up.
When you finish second in AL Rookie of the Year voting and rack up 47 doubles and 76 extra-base hits, drive in 92 runs from the bottom of the order and bat .297, you're allowed to be less-than-stellar in the field, in my book.
Andujar no longer has to live with the idea Manny Machado will be a Yankee at some point and take his position and force him to the outfield or first base. The Yankees proved they do believe in him and it wasn't just a lie to buy them time until they could sign Machado, they really do believe in him. And so do I.
For a long time, having a .300 hitter on the Yankees wasn't unusual, considering they had Derek Jeter for two decades and during his years also had some pretty good players. But since Jeter aged and Robinson Cano left, it's been a while since you could look at the big screen in center field at the Stadium and see .300 next to a Yankee late in the season. Andujar's rookie season and his contact ability are the perfect combination to believe that will change. Over.
Aaron Hicks: 145 games played
Everything about the Aaron Hicks contract extension is great except that he could be playing center field for the Yankees as a 36-year-old in 2026, and I'm not about to go back to 2013-16. The good news is if he sucks then or really at any point in this deal, it's not an overwhelming amount of money the Yankees owe him or would have to eat. At $10 million per season for a starting center fielder in this center field climate, it might be the best contract the Yankees have ever had on their payroll.

The biggest problem with Hicks is that he can't stay healthy, which he is showing once again as he won't be ready for Opening Day and probably not for more than a week into the regular season. Hicks needs to find a way to avoid his one to two injured list stints per seasons. It's the last piece of the puzzle for a player who saved his career and was awarded life-changing money.
Hicks's 137 games played last season were the most of his career, and he still missed time due to injury. He's not going to play in every game this season since no one does that anymore, and certainly not a Yankee, and because he will miss at least the first few series of the season. Given his past and the fact he will already be dipping into his cushion on this number, I don't think he will get there. Under.
Gleyber Torres: 25 home runs
The Yankees have Aaron Judge and Giancarlo Stanton and their best player in 2019 and possibly beyond might be Gleyber Torres. The 22-year-old middle infielder was an All-Star in his first season, carrying the Yankees for the first few weeks of his arrival before hitting a wall in the dog days of the season.

Torres finished third in the AL Rookie of the Year of voting behind Shohei Otani and Miguel Andujar though he would have won it seemingly any other year than 2018. Despite missing the beginning of the season to get more at-bats in Triple-A (and so the Yankees could circumvent the service time calendar) and a few weeks around the All-Star break, Torres still hit .271/.340/.480 with 24 home runs as a 21-year-old. He was reportedly asked for in every deal Brian Cashman tried to make or did make, and was deemed "untouchable", even if the Yankees supposedly don't believe in such a word, and rightfully so.
As excited as I am for this Yankees season and the first season in what was always expected to be the first season of this window of opportunity, I'm especially excited to see how Torres grows and adjusts to a league that will certainly have adjusted to him after what he did last year. A sophomore slump for Torres? I don't see it. Over.
James Paxton: 160 1/3 innings
When you look at James Paxton's numbers, you see a pitcher with not a lot of miles on his arm and just 582 1/3 innings as a now 30-year-old. The reason there isn't a lot of miles on his arm is because there's other problems with his arm, and his shoulder and his back, and so on.

Did I want the Yankees to trade for James Paxton? Eh. I was hoping if Justus Sheffield were to be traded he would be traded in a deal for a better starting pitching option, but I have to assume Paxton was the best option.
In theory, Paxton is a great fit as a power left-hander pitching half of his games in Yankee. The problem is Paxton's career high for starts is 28 and innings is 160 1/3, and they both came last season. It would be a miracle if Paxton were to get through the 2019 unscathed to start 32 times and give the Yankees 200 innings. Until he has a season in which he's able to avoid the injured list even once, it's hard to believe it will happen. Under.
Aaron Judge: 118.5 walks
The number most people care about when it comes to Aaron Judge is home runs. and rightfully so. But after that it should be walks.
Judge led the league with 127 walks in 2017 and was on a 110-walk pace last season if not for the broken wrist (he ended up with 76). When Judge is getting his walks, you know he's going right, and he's setting the table for the guys behind him and tiring the pitcher on the mound for Giancarlo Stanton and Gary Sanchez.
If were up to me, I would bat Judge leadoff. I get that Aaron Hicks is a solid leadoff candidate, but he's not Judge. Judge has a .409 on-base percentage over the last two seasons and seems to always be in full counts. He's not going to give away an at-bat or swing at the first pitch and ground out to short. I want the best hitter on the team to get the most at-bats over the course of a season and the best hitter on the team is Judge. It's certainly not Brett Gardner. Over.
Masahiro Tanaka: 13.5 wins
Masahiro Tanaka has never thrown 200 innings in the regular season for the Yankees. He came within one out (199 2/3 innings) in 2016, but aside from that his best season was 178 1/3 in 2017.
Another thing Tanaka hasn't done is win more than 14 games. He's won 13, 12, 14, 13 and 12. And while I'm not big on pitcher's win totals since it's more of a team effort and a lot more is needed that the pitcher simply going at least five innings and pitching well, it's definitely shocking Tanaka has been unable to reach even 15 wins in what has been a very good career in the majors (64-34 with a 3.59 ERA in 132 starts).
I expect a big season out of Tanaka. Why? Well, the Yankees need him to have a big season. With Luis Severino out for at least the first month of the season, James Paxton coming off a career high in innings last season with 160 1/3, which is worrisome that that's his high and also that he's coming off of it given his injury history and CC Sabathia starting the season on the injured list and knowing he will only pitch 150-160 innings at most. J.A. Happ might be the Yankees' most reliable starting pitcher at this time, and he's a 36-year-old, who relies heavily on a 92-mph fastball, and the last time we saw him the Red Sox were having their way with him at Fenway Park.
Tanaka needs to give the Yankees quality starts (and starts period), especially at the beginning of the season with two-thirds of the rotation out. If he does that, with this offense, against the crap teams they will see in April, Tanaka will be well on his way to crushing this win total. Over.
Brett Gardner: .340 on-base percentage
Brett Gardner was pretty much the Yankees' everyday leadoff hitter through the end of August. Sure, there were a few games sprinkled in where he didn't hit at the top of the order, but it wasn't until September when he became the team's No. 9 hitter … when he played.

Gardner looked finish last season. He finished at .236/.322/.368, which are catcher-like numbers for a guy who was given the chance at the most at-bats by the team for the first five months of the season. I didn't want Gardner back in 2019 and wanted the team to go in a different direction like Michael Brantley, who the Astros signed, and will undoubtedly have a big hit or hits against the Yankees in the postseason. Because Clint Frazier would need time to get back to playing baseball every day after losing most of the 2018 season, the Yankees couldn't go into 2019 thinking he would be a full-time Major Leaguer. So they brought Gardner back on a one-year, $7.5 million deal, thinking his veteran leadership and clubhouse presence were needed and that his sharp decline last season wasn't indicative of what he has left in the tank.
Gardner was supposed to be part of an outfield rotation, which would limit his playing time and save his legs over the course of 162 games. But now with Hicks out, Gardner is the team's starting center fielder, and likely leadoff hitter since Aaron Boone is petrified of having Aaron Judge lead off and giving the most at-bats to his team's best hitter.
Gardner is no longer a small piece to the puzzle and role player on the 2019 Yankees. At least for the beginning of the season, the team needs him to be pre-2018 Brett Gardner. I just don't see that happening. Under.
Bullpen: 1.5 losses with a lead after six innings
Once again, the bullpen is the strength of the Yankees. With a healthy Dellin Betances, the bullpen also boasts Aroldis Chapman, Zack Britton, Adam Ottavino and Chad Green. No other bullpen in the league could lose David Robertson and get better, but the Yankees might have (even if I wanted the Yankees to bring Robertson back). Jonathan Holder would be a Top 3 reliever on most teams in the majors, but on the Yankees he's at best sixth.
Last season, the Yankees hadn't lost a game all season in which they led after eight innings until the Sunday Night Baseball disaster in Boston to cap off the four-day sweep at the hands of the Red Sox and officially take the Yankees out of the division race. A four-plus month run of not losing late games is an impressive feat, but this year I'm upping the ante.
I'm taking the under on this one and giving myself a one-game cushion for the bullpen to blow a lead with nine outs to get. (The number was initially 1, but I adjusted it due to Betances' early-season absence.) That's how good I think this bullpen will be. Under.
Giancarlo Stanton: 200 strikeouts
Giancarlo Stanton was OK in his first season as Yankee. Yes, a .266/.343/.509 hitter with 38 home runs and 100 RBIs was just OK.
Stanton was bad with runners in scoring position (.241/.322/.379) and pretty much just bad with anyone on base (.236/.315/.429). His problems were magnified at the Stadium since he was a .229/.311/.468 hitter at home, opposed to a .300/.374/.547 hitter on the road.
I can count Stanton's big hits from 2018 on one hand, and possibly even have a couple fingers left over. Opening Day in Toronto, his two home run game against Dallas Keuchel and his walk-off home run at the Stadium against the Mariners. That's it? I remember his 2018 season for what he didn't do, which was anything with runners on in a truly big moment. He was nowhere to be found in the wild-card game until the game was out of reach, and then he hit a 443-foot home run, which was the hardest postseason home run hit in the Statcast era, and in the ALDS he couldn't have been worse, going 4-for-18 with four singles and leaving a small village on base in the series.
Here are the most common excuses from the Stanton fan club heard last season:
1. He's with a new organization
2. He's in a new league and has to learn new pitchers
3. He's playing his home games in colder weather at the beginning and end of the season
4. He needs to get acclimated and adjusted to living in a new city
Maybe some or all of those are true, but they are no longer valid. Not in Year 2, not in 2019. Unfortunately, we can't go back and redo what happened in October, we only know it can't happen again. As a Marlin, Stanton would supposedly go to Europe during the MLB postseason since it was too painful to watch. Well, he better change his approach at the plate and with runners on or he's going to being going to Europe a lot during the World Series as a Yankee. Under.
***
My book The Next Yankees Era: My Transition from the Core Four to the Baby Bombers is now available as an ebook!