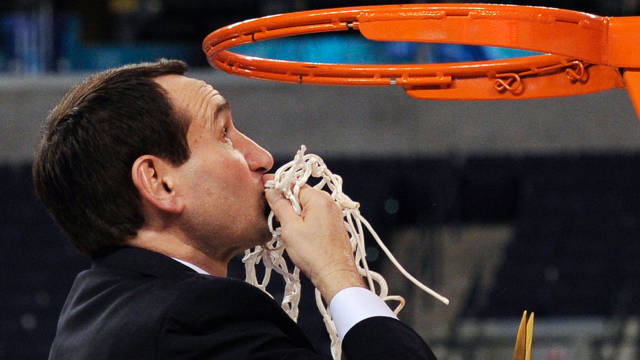 The first time I remember seeing a bracket I was 12 years old. (This means that the first documented time I also gambled was when I was 12 years old.) I was in math class and noticed my friend had ripped the bracket out from Sports Illustrated and made a bunch of photocopies of it because in 1999 the Internet was just a place to talk to your friends on AIM at night and to form an AIM alliance and gang up on someone and "warn" them to the point that they would get kicked off. There wasn't a place online to print a bracket (there actually might have been, but no one was doing it that way), so using Sports Illustrated or a newspaper (yes, a newspaper!) was the only way to do it.
So I filled out that bracket and likely picked Duke or Kansas to win it all because I have picked Duke or Kansas to win it all every year since I started filling out a bracket. Every year. That doesn't mean I didn't think Florida would win back-to-back titles in 2006 and 2007 or that Kentucky would run the table last year. It's that I didn't want those teams to win and since seventh grade, Duke and Kansas have always been normal, safe picks to rely on. But there has been nothing really normal or safe about them when you consider that I have predicted the champion once in the 14 years (Kansas in 2008) since I saw that bracket under my friend's desk. I correctly picked Kansas' title in 2008, which was the only time since 1999 they have won, but for the two times Duke won (2001 and 2010), I unfortunately picked Kansas both years.
Two years ago I made a set of 12 rules I follow when filling out my bracket. My rules led me to picking Kansas as the champion and it didn't work out. Last year I had Kansas again, but John Calipari's juggernaut and the Kentucky payroll was too much for the Jayhawks.
This year I decided to go a different route and go through every game of the first round, which is what the Tournament is really about. 24-for-32 is the goal every year and it's the goal again this year.
MIDWEST
1 Louisville vs. 16 It Doesn't Matter
One year a 16-seed is going to do it. They have to. And when they do, I won't be the person that picks it correctly because I'm not trying to be a hero here, I'm trying to make correct picks because like I said in the first rule when it comes to the 1s and 2s: "Don't try to be a hero."
The pick: Louisville
8 Colorado St. vs. 9 Missouri
I don't think I will ever forgive Missouri for last March. I think it goes Cliff Lee and then Missouri in the order I won't give forgive people, places or things for devastating my sports life. I will always remember refreshing my phone to see that Missouri had lost to Norfolk St. 86-84 (despite being a 2-seed and 21.5-point favorite) and destroying my bracket before the tournament had even gotten out of the first round. (Yes, the round of 64 is the first round and anyone who says it's the second round needs to reevaluate their life.) But on the other hand, my girlfriend went to Colorado and loves the Buffaloes so much that she saved a buffalo she found in a box of Animal Crackers the other day for the tournament thinking it's a sign and good luck. Maybe it is. Or maybe that buffalo Animal Cracker is a bison and I'm too scared to tell her.
The pick: Missouri
5 Oklahoma St. vs. 12 Oregon
Oregon has to feel snubbed after winning the Pac-12 Tournament and being slotted as a 12-seed. And when you finish the season ranked 25th in the country, but you're given a 12-seed, well, that's just wrong.
The pick: Oregon
4 Saint Louis vs. 13 New Mexico St.
I trust Shaka Smart and VCU in a way that no one should trust a school from the Atlantic 10 not named Butler or Xavier. Saint Louis beat VCU this year twice, including in the conference championship, and also beat Butler twice and beat New Mexico. Saint Louis is for real.
The pick: Saint Louis
6 Memphis vs. 11 Middle Tennessee/Saint Mary's
I will never like Memphis for their John Calipari days. And Rule 9 says, "When In Doubt, Find A Reason Or Make One Up" and Memphis being formerly coached by John Calipari would make sense for me picking the winner of the play-in game. But Calipari and Kentucky didn't make the Tournament and it would be great to see Memphis make a run while Calipari coaches in the NIT.
The pick: Memphis
3 Michigan St. vs. 14 Valparaiso
Michigan St. hasn't won since 2000, but it feels like they are right there every year with a chance to do so. It's always hard to pick against Tom Izzo and I won't have to for a few rounds.
The pick: Michigan St.
7 Creighton vs. 10 Cincinnati
Creighton has been my team since their 2002 upset of Florida and it feels weird to pick them here as a favorite against a Big East school. I would feel more confident and comfortable if Creighton was 10-seed in this game, but I always feel confident picking the Bluejays even if they have only gotten out of the first round once (58-57 win over Alabama in 2012) once since that win over Florida 11 years ago.
The pick: Creighton
2 Duke vs. 15 Albany
With the ACC expanding even more next season, I couldn't help, but think about how the Big East teams moving to the ACC will prevent Duke and North Carolina from continuing their easy dominance of what has been an overrated conference aside from the two rivals. I'm not trying to be a hero and pick Albany here because I don't think Duke can lose to a 15-seed in back-to-back years.
The pick: Duke
WEST
1 Gonzaga vs. 16 Southern
"Don't try to be a hero."
The pick: Gonzaga
8 Pittsburgh vs. 9 Wichita St.
Rule 2: Trust The Big East But Don't Trust Them Too Much.
The pick: Pittsburgh
5 Wisconsin vs. 12 Ole Miss
Wisconsin is my team this year and even though Ole Miss surprised everyone with their win over Florida in the SEC Championship at +500, it's going to really hard to convince me to pick against Bo Ryan and the Badgers in this tournament. (Even if they are a Big 10 school without their last names on their jerseys.)
The pick: Wisconsin
4 Kansas St. vs. 13 Boise St./La Salle
The Tournament is going to miss Frank Martin looking like someone touched his wife at a bar every second of his life now that he is the head coach of South Carolina. And the Tournament is going to miss Jacob Pullen's talent and late-game heroics (this clip from the 2010 Tournament is one of my favorite Tournament moments thanks to Pullen, Tu Holloway and Gus Johnson). But I think nine years at Kansas St. was enough for Pullen. I know he was only there for four, but it seemed like nine, the way it seemed like Scottie Reynolds played for about 16 years at Villanova.
The pick: Kansas St.
6 Arizona vs. 11 Belmont
Someday I will get over Duke barely beating Belmont in the 2007 Tournament, and failing to cover. And really I should be mad at Duke for the score of that game and not Belmont, and I am, but I can't read, write or hear the name "Belmont" without thinking about that game.
The pick: Arizona
3 New Mexico vs. 14 Harvard
I love picking the Ivy League schools because I trust their decision-making skills and clock management if the game is close near the end since they aren't going to rush the 35-second shot clock or make a bad decision. However, they usually lack the talent to make the game close near the end.
The pick: New Mexico
7 Notre Dame vs. 10 Iowa St.
Notre Dame has screwed me over in the past unlike any other team. And even though they are a Big East team and I'm "supposed to trust" Big East teams, I can't trust Notre Dame for how they have treated me in the past.
The pick: Iowa St.
2 Ohio St. vs. 15 Iona
Ohio St. has treated me well in previous brackets, so I plan on treating them well in this bracket.
The pick: Ohio St.
SOUTH
1 Kansas vs. 16 Western Kentucky
"Don't try to be a hero." I wish Western Kentucky had been given a higher seed because I will always have a soft spot in my heart for them after this 2008 upset at the buzzer over Drake.
The pick: Kansas
8 North Carolina vs. Villanova
OK, maybe Notre Dame isn't the team that has screwed me the most in the past because I momentarily forgot about Villanova. Picking North Carolina here goes against my rule about picking Big East teams and my general feelings about the ACC and North Carolina, but I'm done with Jay Wright and Villanova, and even if I wasn't, Roy Williams is a Yankee fan, and that's enough for me.
The pick: North Carolina
5 VCU vs. 12 Akron
It's a good thing VCU passed Jay Bilas' "Laugh Test" this year. It's also a good thing they passed it back in 2011 because their win overtime win over Florida St. helped my bank account.
The pick: VCU
4 Michigan vs. 13 South Dakota St.
A lot of people are high on South Dakota St. and using Michigan's loss to Ohio in 2012 as reasoning, but I just don't see it.
The pick: Michigan
6 UCLA vs. 11 Minnesota
This is my favorite upset of the first round and really it shouldn't even count as an upset. But because Minnesota is the 11th seed it has to and just to make sure I wasn't getting ahead of myself by being so sure about this pick, it got the blessing of my friend Forman, who has been picking March Madness upsets correctly since we were all "warning" him on AIM. His Manhattan pick over Florida in 2004 was glorious, but not even close to as good as his pick of Creighton over Florida in 2002, which has made me a Creighton fan to this day. I referenced Forman in the 2011 column about my NCAA rules and asked him for some of his other first-round upsets this year and the Cornell run in 2010.
11 Minnesota over 6 UCLA
12 California over 5 UNLV
12 Oregon over 5 Oklahoma St.
The pick: Minnesota
3 Florida vs. 14 Northwestern St.
I don't think this game really needs a reason. At least I hope it doesn't.
The pick: Florida
7 San Diego St. vs. 10 Oklahoma
San Diego St. didn't help me in 2011 when I picked them to beat UConn, but it's hard for me to pick against Steve Fisher, especially in the first round.
The pick: San Diego St.
2 Georgetown vs. 15 Florida Gulf Coast
Knowing that Florida Gulf Coast beat Miami 63-61 back on Nov. 13 scares the eff out of me. And I don't trust Georgetown by any means (and I have never have), but I just can't pick the Hoyas to lose here. Once again: "Don't try to be a hero."
The pick: Georgetown
EAST
1 Indiana vs. 16 LIU Brooklyn/James Madison
"Don't try to be a hero."
The pick: Indiana
8 NC State vs. 9 Temple
The 8-9 games are always a coin flip and nothing says coin flip more than two teams I usually pick in the first round playing against each other in the first round.
The pick: NC State
5 UNLV vs. 12 California
The committee went against the rule of having a first round game between two teams that played each other during the regular season and then they went and gave California a home game in San Jose against UNLV. According to Google Maps, Berekely is an hour away from HP Pavilion in San Jose.
The pick: California
4 Syracuse vs. 13 Montana
I don't think I have ever picked Syracuse to lose in the first round. I'm not sure if I have ever picked them to lose in the second round. I'm not about to start now.
The pick: Syracuse
6 Butler vs. 11 Bucknell
I gave Butler their own rule in the 12 rules. How can I possibly pick against them when they have their own rule?
The pick: Butler
3 Marquette vs. 14 Davidson
I have always liked Marquette for no reason at all since I have no ties to the school. Part of me wants to go against my Big East rule and pick Davidson here, but I can't let memories of Steph Curry making a name for himself in the Tournament sway my decision.
The pick: Marquette
7 Illinois vs. 10 Colorado
You read what I wrote about the Animal Cracker, right? I could pick Illinois here and then I could not have a girlfriend tomorrow. I have no choice, but to pick the Buffaloes here. I'm just glad I have another day to figure out how to tell her that I'm picking Miami to beat her Buffaloes in the second round. Wish me luck.
The pick: Colorado
2 Miami vs. 15 Pacific
It would be a great story if Bob Thomason, who is retiring at the end of the season after 22 years at Pacific could pull of an historical upset over 2-seed Miami, but the U is headed going on a long run in this Tournament and a Disney-esque storyline isn't going to stop them.
The pick: Miami