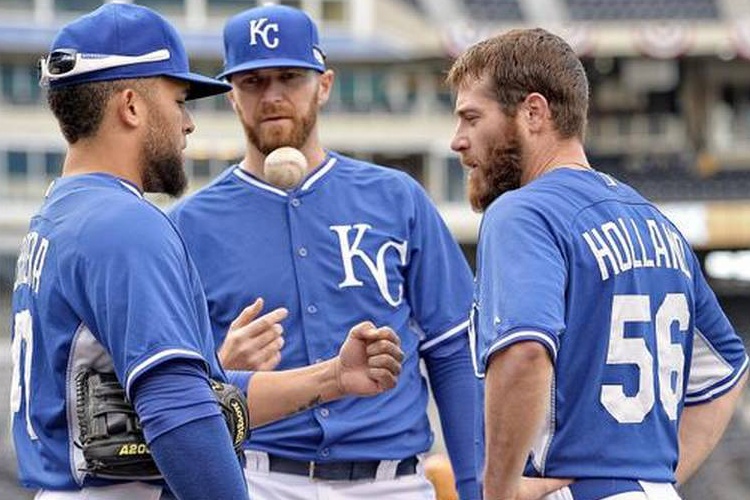 The Yankees have cooled off for the first time in a month after dropping three straight games to the Rays this week. The schedule doesn't get any easier as their nine-game road trip heads to Kansas City and then to Washington to face two of the league's top teams.
With the Yankees continuing their road trip to Kansas City to face the defending American League champion Royals, Max Rieper of Royals Review joined me to talk about the Royals' magical run in October, having a vaunted bullpen like the Yankees and the careers of Alex Gordon and Eric Hosmer.
Keefe: The last two years as a Yankees fan were miserable. Two seasons destroyed by injuries and underachievers led to back-to-back postseason-less seasons for the first time since 1992-93. It sounds ridiculous to be upset about two missed playoffs after missing it only once since 1993, but that's life as a Yankees fan.
Before last October, the Royals hadn't made the playoffs since winning the World Series in 1985. With 29 years between playoff appearances, I feel bad being disappointed about the 2013 and 2014 Yankees.
What was that magical run in October like for you?
Rieper: To put things in perspective, your 84-win Yankees team was miserable, whereas the 83-win 2003 Royals was the most thrilling season for me as a Royals fan in almost two decades until last year's magical run.
Last year was just incredible for so many reasons. The run was so unexpected as the team looked sunk in July, with many of us calling for a firesale and possible ouster of Dayton Moore and Ned Yost. Then everything just clicked. We are so used to everything going wrong for the Royals, it seemed like a karmic reversal of fortune when everything just seemed to bounce our way the rest of the season. To be honest, I think most of us were just happy to be in the Wild Card game, but to win it such exciting fashion, then go on the amazing run they went on seemed like icing on the cake. I imagine there will be a day when we look back at Game 7 of the World Series with some regret that they didn't win it all, but as of right now, the afterglow of the season has overshadowed any negativity.
The great thing surrounding the winning was also how Kansas City got to be in the spotlight again and how there were so many feel-good stories from the Royals fans welcoming a fan from the other side of the world to Lorenzo Cain and Greg Holland having babies during the post-season to just a tremendous amount of civic pride and togetherness. I don't think I'll ever see anything like that again.
Keefe: The biggest strength of the 2015 Yankees is their bullpen. With Dellin Betancs and Andrew Miller combing to pitch 36 2/3 scoreless innings to start the season, they have shortened games to seven innings when the Yankees have the lead. I would have liked for the Yankees to have also re-signed David Roberston this offseason to make the best 1-2-3 combination in the league, but so far the plan of only having or needing two of them has worked out.
The Royals' success last season and early this season can once again be attributed to their incredible bullpen where they try to win with the same exact formula the Yankees have adopted in shortening games. I know how much of a luxury it is to have unhittable arms at the end of games after growing up with Mariano Rivera as the Yankees closer and taking him for granted way too much, so it feels like  the Yankees have won the lottery again (even if one of their lottery tickets cost $36 million) with their latest late-inning relievers.
How much fun and how reassuring is it to know that if the Royals have a lead after six or seven innings that the game is virtually over?
Rieper: Having such a dominating bullpen makes your manager seem a lot smarter, doesn't it? It is a nice security blanket to have, and I think it was a huge part of the team having confidence that they could win last year. They knew that as long as they were in the game in the sixth inning, the bullpen would shut things down for the win, or at least give the offense an opportunity to come back.
I've been a critic of Dayton Moore over the years, but he has always been good at assembling bullpens, even in the early days when the Royals were pretty awful and he could pluck a guy like Joakim Soria in the Rule 5 draft from San Diego. What makes it even more remarkable is the contrast between the Royals and rival Tigers, a very good team with one glaring weakness — their bullpen.
Keefe: After hearing about Alex Gordon for what seemed like forever and the comparisons to George Brett and how he would become the next face of the Royals, it looked like that might never happen. Following injuries and inconsistent play to begin his career, Gordon finally found consistency at the plate and Gold Glove defense as a left fielder rather than a third baseman.
With the hype and attention got in his early 20s and what he has become as a player now on the other side of 30, are you content or disappointed by his career?
Rieper: I'm overjoyed. You're talking about a guy that is now eighth in Royals history in Wins Above Replacement, is a two-time All Star, and four-time Gold Glove winner. How he has overcome early struggles and willed himself into becoming the best defensive left fielder in the game is remarkable.
I always felt that some of the criticism early in his career was a bit unwarranted – he was actually decent his first few seasons until injuries derailed him a bit. But I'm not sure I could have anticipated this kind of career arc for him, and he's perhaps a good example that sometimes young players should not be dismissed so easily when they initially struggle.
Keefe: Like Gordon, Eric Hosmer followed the same sort of path. I still remember his monstrous home run for the first of his career against A.J. Burnett at the Stadium in 2011 and when he followed that one up with another one the next day. But Hosmer's career best in home runs came as a 21-year-old rookie in 2011 with 19 and since then he has hit 14, 17 and just nine last season. This season, Hosmer already has seven in 35 games and looks to be finally becoming the elite power threat everyone expected him to be. The craziest thing about him is that he is still only 25!
How excited are you for Hosmer to finally come into his own and realize his full potential?
Rieper: Eric Hosmer is the player I think is the key to the Royals remaining competitive this season. The last two seasons he has gotten off to abysmal starts, and the dirty little secret is, he has been a below-average first baseman for his career, certainly not worthy of the hype he has received. But this year he has looked different, taking outside pitches the other way with power — and we're talking tape-measure shots.
The Royals really haven't had a true power threat since the days of Carlos Beltran, Jermaine Dye, and Mike Sweeney, and they were dead last in baseball in home runs last year. If Eric Hosmer can be the kind of middle-of-the-order power threat he's seemed capable of becoming for years, then the Royals have a chance to return to the World Series.
Keefe: Last October, the Royals shocked everyone by coming back in the wild-card game, sweeping the Angels in the ALDS, sweeping the Orioles in the ALCS and then losing Game 7 of the World Series by one run. it was an impressive and at times improbable run for an 89-win team that everyone had been waiting to break through for years and it finally happened. So what's next?
The next logical step in a team's progression would be to get back to the World Series and win it even if the MLB playoffs are the biggest crapshoot of them all where one three-day slump or a couple of bad starts from the rotation can end a great season. I'm guessing before the season started, you felt like the Royals should win the AL Central this year and return to the postseason and make another extended run this fall.
So what were you expectations for this team before the season and have they changed after the 22-13 start?
Rieper: I was actually pretty down on their chances this year. I felt like they were a bit lucky last year and took advantage of a league that was down — Boston and New York weren't competitive, Detroit was underachieving, Oakland collapsed, Los Angeles had major pitching concerns, and Baltimore had injuries. They also lost James Shields, a major blow to a starting rotation that was already pretty mediocre. The guys they brought in – Alex Rios, Kendrys Morales, and Edinson Volquez — were all free agents with major red flags surrounding them. Regression seemed to be in the cards for the Royals.
But somehow it has all worked out thus far. The starting rotation, as predicted, has been pretty lousy. But the bullpen is still outstanding and deeper than last year, and the defense is off-the-charts amazing this year. They've hit pretty well, and while I think many of their hitters will regress after a hot start, its pretty clear to me the offense will be much improved from last year's pop-gun offense. Hosmer seems to have turned a corner and Mike Moustakas — one of the worst hitters in the league last year — has become a totally different hitter. Its still a team that worries me to due to its lack of depth among hitters, and the starting pitching woes, but the hot start has convinced me they could be in the mix all season and give us another exciting run.