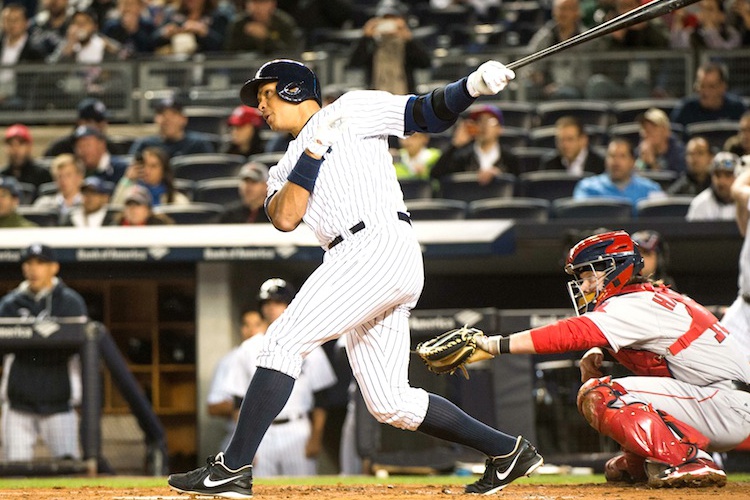 There's nothing like a Yankees-Red Sox series. Even if that series comes in Games 4, 5 and 6 of the season and even if that series features pitching matchups of Nathan Eovaldi-Wade Miley, Adam Warren-Joe Kelly and Mashahiro Tanaka-Clay Buchholz.
The rivalry isn't what it once was and the current rosters reflect that, but even when the seasons and personnel change, the games remain the same. This weekend we got 37 innings and 13 hours and 26 minutes of baseball and also a 16-minute delay for a power outage.
I decided to go to the diary format that I used for a Yankees-Red Sox series back in July 2012 and a Yankees-Red Sox series back in July 2013 for this past weekend. Just pretend like you're reading this in one of those black-and-white Mead composition notebooks.
FRIDAY
The Yankees' Twitter account jumped the gun a little by calling Nathan Eovaldi "Nasty Nate" before ever throwing a pitch on Friday night, and therefore, never having thrown a pitch for the Yankees to that point. Eovaldi ended up lasting 5 1/3 innings, allowed eight hits and three earned runs and striking out just one despite hitting a reported 101 mph on the radar gun, according to YES. A Mets fan friend of mine told me to be nervous that Eovaldi might be the next Mike Pelfrey as a hard-throwing righty that can't strike anyone out and I dismissed that claim, but now I'm nervous it could be true.
The Yankees once again had one hit through five innings, so I think Joe Girardi made the right decision giving some regulars a day off after an off day on Tuesday and after having October, November, December, January, February and most of March off.
The Red Sox' might have the best lineup in the AL East and the entire league, but their starting pitching is mediocre and their bullpen is terrible. I'm not sure how so many people can be sold on a team that doesn't have a pitching staff looking for bounceback seasons or a pitching staff looking to stay healthy, but rather just a pitching staff that is really bad. Red Sox closer Edward Mujica proved he isn't exactly Koji Uehara, or at least 2013 Koji Uehara, after allowing a two-out home run to Chase Headley in the bottom of the ninth to tie the game before 10 more innings of hard-to-watch baseball. Michael Kay had to go and ruin the moment by saying, "Holy Cow!" as a tribute to Phil Rizzuto in the Yankees' return to PIX11 and it was as bad as Melissa McCarthy doing Matt Foley on the Saturday Night Live 40th Anniversary Show.
The game lasted 19 innings and there were 578 of pitches thrown and up until the last pitch I still had no idea what home-plate umpire Marty Foster was going to call on each pitch. Throughout extra innings, I kept offering Stephen Drew "Ladies and gentlemen" immunity if he could hit a walk-off home run or even just get a hit, but those thing never came. David Cone described a Stephen Drew foul ball as "probably one of the better swings we've seen Drew take." A foul ball.
All Brian Cashman did this offseason (aside from berate the Yankees' best player in A-Rod) is tell us how good of a defensive shortshop Didi Gregorius is. And so far, Gregorius has yet to make a play that Derek Jeter wouldn't have made at 40 and hasn't done anything with his glove to justify his embarrassing offensive start.
If the Yankees hadn't decided that it would be a good idea to play second baseman Jose Pirela in center field in a spring training game, in which he got a concussion, then he would be on the Yankees right now and not Gregorio Petit. But playing a future everyday player for your team out of position makes a lot of sense, especially when Reggie Jackson called that player the best hitter in the organization. In 2013, Travis Ishikawa played one game for the Yankees and had two at-bats: a four-pitch strikeout and a three-pitch strikeout. The following year, he won the World Series with the Giants as their starting left fielder. I fully expect Petit to win the World Series somewhere next year.
I'm not sure why Brett Gardner can't steal bases and I'm not sure how he got picked off by a right-handed knuckleball pitcher or why he was unable to steal against a knuckeball pitcher two different times. I'm also not sure why Jacoby Ellsbury was unable to steal against a knuckleball pitcher.
I don't get the Yankees' infatuation with Esmil Rogers. He's 29 (will be 30 this season) and entered the game with a 5.52 career ERA. Who cares that he throws hard? You know who else throws hard? Nearly every pitcher in the majors and the minors. Find someone else to do his job because he can't do it.
SATURDAY
This time it was one hit through seven innings for the Yankees. One hit against Joe Kelly. Cone said the Yankees "could tip their hat" to Kelly, which was an awful cop-out for a team that is full of excuses and doesn't need any more opportunities to give them.
A three-error game for the Yankees to keep their games-with-an-error streak alive at five straight to open the season and bring the season total to 8. Brian Cashman told Mike Francesa on Friday that Rob Refsnyder could play in the majors right now, but that his defense isn't there yet. If Refsnyder can give this team any additional offense, who cares about his defense? The rest of the team's defense isn't good, so why are we worried about the defense of someone who can actually hit?
Brock Holt getting credited with a three-run double that Garrett Jones dropped is an atrocity. Between Brett Gardner falling down in the second inning in left field and Jones not being able to catch a fly ball as a major leaguer is the 2015 Yankees. Forget "Our history. Your tradition." or "Pride. Power. Pinstripes." or whatever ridiculous slogan the Yankees try to sell. Let's go with "Strikeouts. Errors. Pickoffs. Left on base." for 2015.
SUNDAY
A must-win game in the sixth game of the season. The Yankees couldn't afford to fall to 1-5 and head to Baltimore where they could easily lose another series or possibly be swept and be starting at a 2-7 or 1-8 record with trips to Tampa Bay and Detroit still go.
When I saw the lineup posted with A-Rod hitting sixth behind Carlos Beltran, Mark Teixeira and Brian McCann I almost threw up. How is the best hitter on the team, entering the game 5-for-18, hitting behind three hitters who have gone 2-for-20, 3-for-16 and 3-for-13?
A-Rod proved once again he is the best hitter on the team and should be the No. 3 hitter with a three-run double in the first inning to break the game open. But Joe Girardi should keep hitting him sixth because that makes a lot of sense.
Of course Beltran went 2-for-4 against the Red Sox' embarrassing bullpen to bring his average up to .167 (.167! Woo!) since that will be good enough for Girardi to think 38-year-old Carlos "Going Through the Motions" Beltran should continue to be the team's No. 3 hitter.
Even Stephen Drew hit a home run in the Yankees' seven-run first inning for the fastest Yankees win over the Red Sox. It doesn't change the fact that I want him off the team as soon as possible, but it was nice to see that his best swings don't just result in foul balls.
It was a bad week, actually it was the worst possible week, but it ended well. The bad news is the Yankees are 2-4 and about to start a 10-game road trip. The good news is the hitting and defense can't get any worse than it has been. At least I don't think it can.