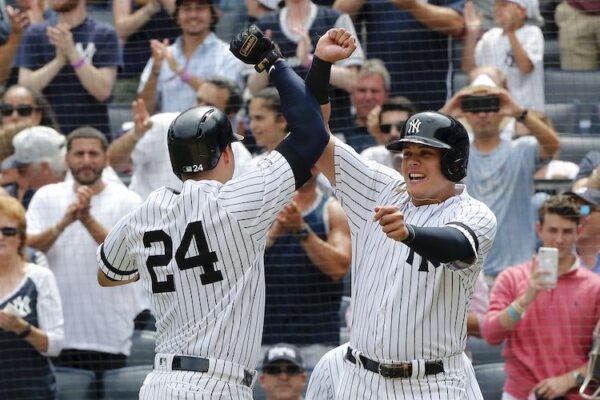 "Neil, are you awake? Neil? Are you awake?"
"I am now," I responded to my wife.
"The Yankees traded Gary Sanchez."
"Yeah, right."
"No, really. To the Twins."
That's how my Monday began, shortly after 2 a.m.
---
Beginning at 7 p.m. on Friday night I began updating every possible news outlet by the minute. That was the official start time to the 2022 MLB season and that was when the supposed madness would take place, especially for the Yankees, who would be in search of a shortstop, first baseman, starting pitcher and possible outfielder. I spent the weekend attached to social media in between Mickey Mouse Clubhouse and Cocomelon episodes only to be disappointed when the Yankees' lone move was bringing back Tim Locastro on a major-league deal to give them outfield depth.
I passed out shortly before 10 p.m. on Sunday night in the middle of scouring social media for any inkling of positive Yankees news or potential acquisitions. The moment I fell asleep, Brian Cashman and Co. swooped in as if they were waiting for me to let my guard down, sending Gary Sanchez and Gio Urshela to the Twins.
My Sanchez fandom is well known. As one of the few surviving members of the Gary Sanchez Fan Club, of course I'm disappointed he's no longer a Yankee. When right, he presented the biggest position advantage the Yankees had over any opponent. The problem is he hadn't been right often over the last few years and I spent an inordinate amount of time defending him to Kyle Higashioka believers, who have nonsensically looked past the 32-year-old backup's career .183/.234/.385 batting line and bottom-of-the-barrel arm, while at the same time being fed up with Sanchez, who in a down year in 2021 hit three more home runs than Higashioka has hit in his career. In the end, Aaron Boone and Higashioka Fan Club won out and now the Yankees boast the worst catching tandem in Major League Baseball. Congratulations!
As for Urshela, I wrote at the end of last season that he was the easiest piece of the roster to move to give the appearance of a new-look roster, and so the Yankees moved him. He was a good Yankee. A product of the 2019 super baseball, but a good Yankee nonetheless.
The Yankees moving on from Sanchez and Urshela isn't surprising. The return for Sanchez and Urshela is what kept me up from 2 a.m. until 5 a.m. this morning, tossing and turning, trying to go back to sleep, but wondering, 'Why this trade?'
---
Prior to the 2019 season, the Yankees had the chance to sign Bryce Harper and/or Manny Machado. They courted Machado enough to sell it to the fanbase that they "tried" to sign the 26-year-old left-side-of-the-infield superstar. They didn't even meet with Harper, the 26-year-old, left-handed-hitting outfielder with already one MVP to his name.
Why weren't they even remotely interested in the generational talent Harper? Because they already had Aaron Judge, Giancarlo Stanton and Aaron Hicks, and had Clint Frazier waiting for an everyday role. Since not signing Harper, the Yankees haven't extended Judge, they don't let Stanton play the outfield, Hicks has missed 239 of a possible 384 regular-season games (62 percent) and Frazier was released this offseason for nothing. Harper has gone on to hit .281/.402/.556 for the Phillies, averaging 38 home runs and 105 RBIs per 162 games, while winning the 2021 NL MVP and playing in 356 of a possible 384 regular-season games.
All Harper would have cost the Yankees money. Their greatest resource and the thing they make more of than every other team. He ended up getting an average annual salary of $25.3 million, which would cover his age 26-38 seasons.
In Sunday night's trade, the Yankees acquired Josh Donaldson … and the $48 million owed to him. An average annual salary of $24 million for a 36-year-old third baseman who has played two "full" seasons in the last five years and in one of those "full" seasons (last year), he missed 27 games.
Once upon a time, acquiring Donaldson and paying him that much money would have made sense. That time was five years ago. And while it's not my money, the idea the Yankees are willing to pay essentially the same average annual salary for the age 36 and 37 seasons of an oft-injured former superstar, while choosing on multiple occasions to not pay for the age 36 and 37 seasons of other current superstars when they would also be getting their prime years is beyond puzzling. The Yankees are choosing that same path at shortstop.
---
Prior to the lockout, the Yankees had their choice at shortstop: Corey Seager, Carlos Correa or Trevor Story. Seager signed with the Rangers, leaving them with the 27-year-old Correa or the 29-year-old Story. The Yankees chose instead to trade for Isiah Kiner-Falefa.
They chose to do this because their No. 1 and No. 3 prospects are both shortstops excelling in the minors. So in win-now mode with the majority of their "core" approaching or on the other side of 30, rather than commit their future on an already-proven major-league shortstop in their prime, the Yankees are choosing to commit to either a 20-year-old who has never played above High-A or a 21-year-old who has only played 87 games above High-A. Only one of them can be the shortstop of the future, and it's likely the Yankees choose Volpe, meaning the New Jersey-born native will basically have to become the other New Jersey-born former Yankees shortstop. The Yankees are banking on Volpe being Derek Jeter 2.0. A very reasonable expectation. Kiner-Falefa is a decent player, but the Rangers also signed Seager and Marcus Semien rather than commit to Kiner-Falefa. The Rangers. The same team that released Rougned Odor, who the Yankees happily traded an actual person to acquire, rostered him all season and even let him get two at-bats in the one-game playoff against the Red Sox. Only one person can bat ninth and the Yankees now have multiple candidates for that spot.
---
There's this idea the Yankees aren't done yet, but I don't know how anyone could truly believe that. That trade could very well be it. They could go into the season praying for a miracle that Hicks (who has missed 44 percent of regular-season games since 2018), Stanton (33 percent), Donaldson (27 percent) and Judge (23 percent) all stay healthy and productive for six-plus months. They could think an infield combination of Donaldson, Kiner-Falefa, DJ LeMahieu, Gleyber Torres and Luke Voit is good enough to get them back to the World Series for the first time in 13 years. They could very well think the duo of Higashioka and Ben Rorvedt isn't the worst catching tandem in the league. (Sorry, it is.)
In mid-October, Cashman said:
"I'm going to be looking to upgrade. There are some areas of weakness that have popped up in a lot of categories.
"Here's the biggest key: Go to the marketplace, whether it's the free-agent marketplace, or go to the trade market and see how we can solve that with what's available in the marketplace. And obviously there will be some legitimate choices to reconfigure in certain categories."
The roster that needed upgrades still hasn't gotten them. It still hasn't added any one of the "legitimate choices" Cashman mentioned. If this is it for the Yankees' offseason, it's going to be a long 2022 season, and likely a wasted one at that. On Monday morning, the Yankees' roster is worse than it was on Sunday afternoon, and it was pretty awful then.
---
Subscribe to the Keefe To The City Podcast.
---
My book The Next Yankees Era: My Transition from the Core Four to the Baby Bombers is now available as an ebook!