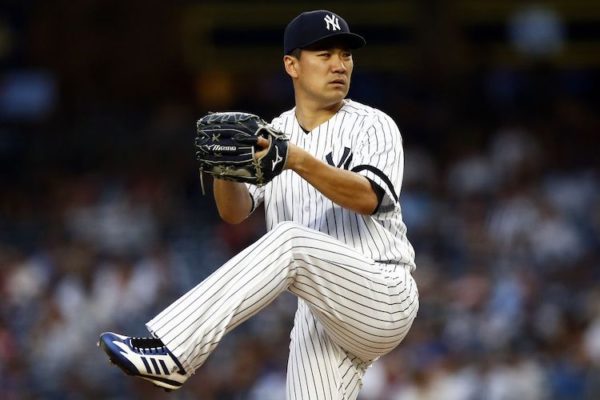 The first edition of the Yankees' Postseason Rotation Power Rankings was on July 23. Back then, trading for Madison Bumgarner seemed more realistic than Luis Severino returning this season and finding anyone to follow Masahiro Tanaka and Domingo German in the rotation seemed impossible.
My postseason rotation hasn't changed over the last six weeks, but it's getting close to. James Paxton is pitching like the front-end starter the Yankees thought they traded for and Severino came out of his first rehab start in Triple-A without any issues. The third edition could see drastic changes depending on how the next two weeks go.
These power rankings will be updated frequently between now and the end of the regular season. They are based on a combination of personal preference, recent performance and historical performance. This rotation is based on the current 25-man roster and is created under the assumption the players on the injured list won't be available for the postseason.
Game 1: Number 19, Masahiro Tanaka, Number 19
Masahiro Tanaka could pitch to a 15.10 ERA for the rest of the season and I would still give him the ball in Game 1 of the ALDS. Tanaka has proven his worth in the postseason in three different postseasons now with the worst of his five starts being two earned runs over five innings in a game the Yankees were never going to score in let alone win (2015 AL Wild-Card Game against Dallas Keuchel).
Last October, Tanaka was the only Yankees starter to pitch well in the four games against the Red Sox (5 IP, 3 H, 1 R, 1 ER, 4 K, 1 HR), and had he pitched Game 1, I might be writing about the Yankees looking to become the first team since 2000 to win back-to-back championships. In 2017, he allowed two earned runs in 13 innings in the ALCS to the eventual champion Astros and shut out the Indians over seven innings in Game 3 of the ALDS to save the season and kickstart the Yankees' improbable comeback over the Indians.
Advanced metrics suggest Tanaka has been the same pitcher in the postseason as the regular season, with a little more luck, while his postseason success has been attributed to a small sample size. Well, the postseason is a small sample size. At most, a team could play 20 games, and in the Yankees' case, the most games they could play this October is 19. Jobs, careers, salaries, memories and legacies are built on the small sample size of the postseason, and so far, Tanaka has been outstanding (30 IP, 17 H, 5 R, 5 ER, 7 BB, 25 K, 3 HR, 1.50 ERA, 0.800 WHIP). Same regular-season FIP or not, he's getting the ball in Game 1.
Game 2: Number 55, Domingo German, Number 55
Do I trust Domingo German in a postseason start? Not particularly. But outside of Tanaka, it's hard to trust any of the current available starting options. As of now, German's going to get a postseason start and will be asked to get 12 outs, which makes things a lot easier to stomach. If he's going to get a start, it has to be at home.
German at home:
61.1 IP, 44 H, 17 R, 16 R, 17 BB, 74K, 10 HR, 2.35 ERA, 0.995 WHIP
German on the road:
71 IP, 75 H, 47 R, 43 ER, 16 BB, 67 K, 19 HR, 5.45 ERA, 1.282 WHIP
There's still the chance the Yankees shut down German as a starter for the rest of the season at some point or screw with his routine and off days to the point that it messes him up, the way they have with so many other young starters to try and prevent injuries that eventually happened anyway. If the Yankees allow German to pitch uninterrupted for the remainder of the season and they win the World Series and he never pitches again, he did his job. His job is to pitch for the New York Yankees. The Yankees' job is to win the World Series. The goal isn't to grow careers. The goal is to win. Sadly, the Yankees' effort to achieve this goal for the last decade hasn't been what it once was.
Game 3: Number 65, James Paxton, Number 65
After the first edition of these rankings, Paxton went out and got rocked by the Red Sox (4 IP, 9 H, 7 R, 7 ER, 0 BB, 9 K, 4 HR) and his ERA rose to 4.72. But since getting embarrassed in Boston, Paxton hasn't lost, winning six straight for an undefeated August after the Yankees lost all five of his July starts.
Over this six-game winning streak, opposing hitters are batting .192/.271/.344 against Paxton as he beat two wild-card race teams in the Red Sox and Indians and dominated the National League-best Dodgers on the road. He's looked like the pitcher I thought the Yankees traded for and not the pitcher who gave them four-plus months of mediocrity to begin the season.
I actually trust Paxton more than German right now, but since German is going to get a postseason start, it should be at home, which pushes Paxton to Game 3 on the road. Paxton has also been worse on the road than he has been at Yankee Stadium, but I trust him more to get comfortable, adapt and adjust wherever Game 3 is because I don't have to.
Game 4: Number 57, Chad Green, Number 57
When Severino comes back and proves he's healthy, the opener will fall off as a postseason starter. But until then, I'm giving the ball to Chad Green, Tommy Kahnle, Adam Ottavino, Zack Britton, Aroldis Chapman, and hopefully Dellin Betances to piece together 27 outs. There's absolutely no way CC Sabathia can start a postseason game, and it's comical to think J.A. Happ is going to be on the postseason roster, let alone given the ball for an October game. That leaves the opener strategy as the only available option.
Green hasn't opened a game since August 15 against the Indians (0.1 IP, 4 H, 5 R, 5 ER, 1 BB, 1 K, 2 HR). He has worked strictly as a reliever since then, holding batters to a .394 OPS for 7 1/3 innings.
My preference would be to have Green go one inning and maybe two innings depending on how he looked in the first inning. Then I would go right to the bullpen. I don't care that you're asking the bullpen to possibly get 24 outs. Worry about the next game when you get there.
This season, Green has either been dominant or a disaster with very little in between. He's either looked like he did in 2017 or given up a crooked number while only getting an out or two. The opener plan with Green starting the game is far from a guarantee, but you could say that about all of the Yankees' starting pitching options for the postseason.
***
My book The Next Yankees Era: My Transition from the Core Four to the Baby Bombers is available!