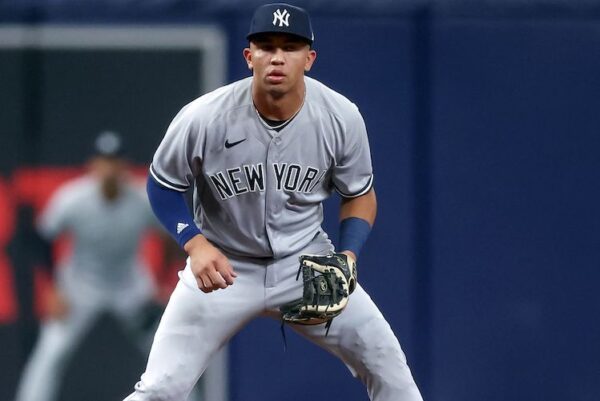 The Yankees' first baseman missed one-fifth of last season with debilitating back problems; their second baseman is still rehabbing a foot fracture from last summer that may need surgery; their other second baseman was the worst hitter in baseball for a six-week stretch and they unsuccessfully tried to trade him at the deadline; their shortstop was benched in the postseason; their third baseman experienced career lows in every offensive statistic; they don't have a left fielder (at least not a major-league-caliber one); no one knows what to expect from center field and their designated hitter is coming off the worst "full" season of his career. Outside of Aaron Judge, the entire Yankees lineup is full of question marks, including at shortstop, where, like left field, they haven't officially named a starter.
Aaron Boone doesn't think it's a problem. Then again, he thought showing highlights of the worst postseason loss in Yankees history to his Yankees team would spark them to win four straight against the Astros. (His team blew an early three-run lead and a late one-run lead in the ensuing game and was swept.) So excuse me if I don't think Boone thinking not having a starting shortstop isn't an issue.
Not only does Boone not think it's an issue, he thinks the Yankees have four everyday-worthy options at the position.
"I'm really excited about penciling in any name," Boone said on Wednesday on the first day of spring training about possibly naming Isiah Kiner-Falefa, Oswald Peraza, Oswaldo Cabrera or Anthony Volpe as his Opening Day shortstop.
I'm not. No Yankees fan is. There are two names and only two names that should have a chance at being the team's Opening Day shortstop: Oswald Peraza or Anthony Volpe. The two names Hal Steinbrenner and Brian Cashman cited a year ago as the reason why the Yankees sat out on the best free-agent shortstop class in history. The same reason they sat out on big-name free-agent shortstops again this offseason.
It would seem nearly impossible for Volpe to pass Peraza and Kiner-Falefa and start the season in the majors with such a small amount of time at Triple-A (even though other organizations called up their top prospects from Double-A without hesitation last season), though Boone doesn't think so.
"If I feel like he looks like the best option," Boone said. "Then we wouldn't be averse to doing that."
I love Boone saying, "If I feel like," as if he has the power to make such a decision (and I think he does think he has the power to make such a decision). I'm glad he was smart enough to throw the "we" in there on the backend of his comment to cover up his foolishness.
Volpe's out, for now. Cabrera isn't truly an option the same way he isn't truly an option to be the team's starting left fielder: because the Yankees want to use him at a different position every day. That leaves Peraza and Kiner-Falefa, and that really only leaves Peraza.
Five weeks ago I wrote: Be on the lookout for the first day of spring training quotes talking about how hard Kiner-Falefa worked tirelessly over the winter on his defense.
"I think IKF has had a really good winter," Boone said with a straight face on Wednesday.
A really good winter? Financially speaking, yes, Kiner-Falefa had a good winter getting tendered a $6 million contract from the Yankees to play baseball for a living. But we know Boone wasn't speaking about Kiner-Falefa's salary.
Kiner-Falefa hasn't played an actual game since Game 4 of the 2022 ALCS. I guess maybe that's it? He had a good winter because he hasn't played an actual game. There weren't any first-pitch, breaking balls outside of the zone to roll over for an easy out, and there weren't any routine ground balls to boot.
We all know what Boone meant. Kiner-Falefa worked out and worked hard on his defense and plate discipline and blah, blah, blah, blah blah. Forget this winter. Kiner-Falefa hasn't had a good spring, summer or fall as a major leaguer. He's now entering his age 28 season and has a career .264/.316/.347 slash line. A .663 OPS over 534 major-league games, having never finished in the .700s in any of his five major league seasons. It's more likely Josh Donaldson wins AL MVP this season than it is that four months of not playing baseball made Kiner-Falefa good enough to play over the organization's Top 2 shortstop prospects.
Kiner-Falefa was brought in to be a one-year stopgap. The gap was stopped (though not well). It stopped when Peraza was called up last August, only to outperform Kiner-Falefa and remain on the bench. A second season of Kiner-Falefa as the starting shortstop would not only be an embarrassment to a team preaching championship aspirations, but it would be an organization failure.
Unfortunately, for Peraza, Boone is a Kiner-Falefa supporter and defender. He went to great lengths all of last year to sell Kiner-Falefa to the media and public as if the games aren't televised, as if stats and information aren't readily available, as if we are all blind. Boone cited vague and secret internal metrics that rated Kiner-Falefa as one of the best shortstops in the league.
When the Yankees' season was on the line in Game 4 of the ALCS, who did Boone start at shortstop? Kiner-Falefa. It would take the Yankees putting more stock into Peraza's spring training play than him actually outplaying Kiner-Falefa in August, September and October. If Peraza wasn't good enough in Boone's eyes to start over Kiner-Falefa then, how could he be now with the Yankees having played zero games since the last time Boone played Kiner-Falefa over Peraza (while facing elimination)?
It's also hard for me to see Peraza being named the official starting shortstop because of owed money. Owed money trumps all when it comes o the Yankees. It's why Donaldson will be starting at third base and batting fifth again this season. It's why Cashman said two weeks ago he thinks Aaron Hicks will be a starting outfielder this season. The Yankees would rather lose than have owed money sitting on the bench in favor of a better, less expensive player, and they would rather watch countless runners get left on third base with less than two outs than release owed money for nothing. When trying to decide on a supposed spring training competition, look at the payroll and you'll find the answer. Kiner-Falefa is on the books for $6 million in 2023. That's $6 million of guaranteed money, which is a lot more than the league minimum Peraza commands.
I really hope I'm wrong. After not making any position player offseason additions, after staying nearly all right-handed again, after bringing back Kiner-Falefa, Donaldson and Hicks, I pray the Yankees get one thing right by having Peraza starting at short come Opening Day. But until he's standing between second and third on the Yankee Stadium infield and acknowledging the Bleacher Creatures in the top of the first on Opening Day, I won't believe it's his job.
---
Subscribe to the Keefe To The City Podcast.
---
My book The Next Yankees Era: My Transition from the Core Four to the Baby Bombers is now available as an ebook!