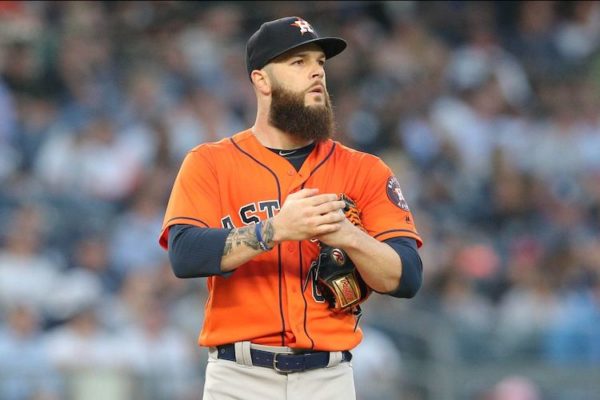 The Yankees are in first place in the AL East. They got there because of the performance of their elite relievers, MVP-like seasons from Gary Sanchez and DJ LeMahieu and timely hitting from the long list of Replacement Yankees which have appeared in games. The starting pitching has played a very limited role in the team's success.
The Yankees have played 58 games or 36 percent of their season. In those 58 games, they have received only 20 "quality starts" (at least six innings pitched and three earned runs or less) and their starting pitcher has pitched at least six innings only 22 times. That's a problem. A huge problem.
The Yankees' formula for winning is to get five innings from their starter and let the best bullpen in baseball get the final 12 outs of the game. This formula prevents the opposition from seeing the Yankees' starter for a third time and welcomes them with fastballs around triple digits from every reliever along with the ridiculous slider of Aroldis Chapman, the unhittable curveball of Dellin Betances, the never-ending arsenal of sliders from Adam Ottavino, the impossible-to-get-under sinker of Zack Britton and the disappearing changeup of Tommy Kahnle. But this is really the Yankees' formula for winning in the postseason. It can't be used day in and day out in the regular season or it won't work when it's needed most.
The Yankees' starting pitching length problem doesn't just mean more appearances from the untrustworthy arms of Chad Green, Jonathan Holder, Luis Cessa, Nestor Cortes, David Hale and whichever future average arms the Yankees call up throughout the season. It means more appearances from Kahnle, Britton, Ottavino, eventually Betances and Chapman. It means the formula will be less effective in the postseason.
Even if the Yankees were getting substantial length from their starters, they would still need Keuchel between the lingering injuries, injury histories and workloads of their rotation.
Masahiro Tanaka's career starts per season: 20, 24, 31, 30 and 27. Thankfully, the 2014 elbow tear, which led to every member of the New York media suddenly holding a medical degree and private orthopedic surgery practice telling Tanaka to get surgery, hasn't really emerged since. But even without the presence of the elbow tear, which has felt like a dark cloud following the Yankees for almost five years, Tanaka always eventually needs an extra day of rest or ends up on the injured list for some a non-elbow related injury.
James Paxton has never made more than 28 starts and has never thrown more than 160 1/3 innings in a season. Those two career highs both came last year. So not only does Paxton have a long history of various injuries and significant disabled list and injured list time, he's coming off the largest workload of his career. He's already been on the injured list once in two months as a Yankee for a knee injury, an injury he claims is still present and one he plans on pitching through.
Domingo German, a former Tommy John recipient who missed all of 2015, has thrown 64 innings this season. Since his surgery, he threw 49 2/3 innings in the minors in 2016, 123 2/3 innings between the majors and minors in 2017 and 94 innings last season between the majors and minors. The Yankees believe they have innings limits and pitching injury prevention down to a science, which is comical given the long list of injuries this season, and there is a secret number of innings they are going to allow German to throw this season. He's already 30 innings away from his total across all levels last season and maybe his last two starts were just bad outings or maybe they were an indication he's hitting a wall due to his early-season total. Either way, German isn't going to be a full-season member of the rotation whether he's healthy or not.
J.A. Happ is healthy, he's just been inconsistent and easily the worst member of the rotation. He's actually been good against every team that's not the last-place, historically-bad Orioles, who he's somehow allowed 15 earned runs against in 17 2/3 innings over four starts. But even in his non-Orioles starts, Happ has only reached six innings pitched in half of them. The 36-year-old has pitched like a 36-year-old this season, and while health has never been a concern with him, performance now is.
CC Sabathia managed to achiee a quality start against the Red Sox on Sunday Night Baseball and every Yankees fans would sign up for six innings and three earned runs in every Sabathia start. The problem is getting six innings from him isn't realistic. He's reached six innings in two of nine starts this season and did so in only 11 of 29 starts last season. Aside from the five-and-fly outings from Sabathia, his ongoing knee issue isn't magically going away in his final season, and it's already forced him to the injured list once this season and will again at least once within the next four months since his trips to the injured list are now planned.
Supposedly, Luis Severino has been pain free for a few weeks and is set to begin a throwing program. He will essentially need to be built back up as if it were the start of spring training leading up to the start of the season. Couple that with the fact Severino is the face and both immediate and long-term future of the rotation, who recently signed a four-year, $40 million extension, and the Yankees are going to take is extra slow with him. Severino jumped from 151 1/3 total innings in 2016 to 209 1/3 innings in 2017 and then another 198 1/3 innings in 2018. It's not exactly a surprise he had a shoulder and subsequent lat injury in spring training. But if Severino started his throwing program today, you're looking at a return sometime near the end of July. We're at the point where one more setback will likely mean he won't pitch for the Yankees this season. While it's fun to think about how good the first-place Yankees will be when they get their ace back, we're a long way from seeing him pitching for the Yankees this season.
With Jonathan Loaisiga injured, the Yankees' plan for starts outside of these pitchers is to use an "opener" or a "bullpen game" to get by. That means some combination of Green, Cessa, Cortes and Hale. That's no way to put yourself in the best position to win the division for the first time in seven years.
No, the Yankees won't be getting the 2015 AL Cy Young version of Dallas Keuchel (20-8, 2.48 ERA) or the 2017 All-Star version (14-5, 2.90 ERA) if they sign the free-agent left-hander. All they need is the 2018 version (12-11, 3.74 ERA), and they might not even need that. They just need a reliable, experienced arm to take the ball every five days, which is something their depth lacks right now.
The Yankees didn't want to spend the money to sign Patrick Corbin? Fine. (Well, not fine actually.) They didn't want to spend the money to sign Bryce Harper or Manny Machado? Fine. They didn't want to give out a long-term deal or lose their first-round draft pick to sign Keuchel? Fine. Well, now they don't have to give Keuchel a long-term deal or lose their first-round draft pick to sign him.
All Keuchel will cost the Yankees is money. Just money. It's something the Yankees make more of than any team in the league and something they used to use to their advantage. This is the first true season in the current window of opportunity to win a championship with these Yankees and they have a glaring weakness which can be resolved with cash right now. Within the next two months from now, they will no longer be able to fix it with only money and will have to further dismantle their farm system to solidify their starting pitching.
The 2017 Yankees refrained from trading for Justin Verlander because they were scared off by the money owed to him. So he went to the Astros and was the difference in the ALCS, beating the Yankees in Games 1 and 6 en route to winning the World Series.
The 2018 Yankees, coming off a season in which they came within one win of the World Series, decided to cut payroll by $50 million and wouldn't pull the trigger on an offseason trade for Gerrit Cole. The Astros traded for Cole and wound up in the ALCS. The Red Sox and Dodgers went out and spent more money than any other team and wound up in the World Series.
If the Yankees aren't willing to spend money in this situation, I don't know when they ever will be. The players have done their part, climbing to the top of the AL East despite all the injuries and now it's up to the front office to reward them for their performance by signing Keuchel.
If the Yankees end up losing the division to the Rays and end up in the wild-card game for the fourth time in five seasons, drastically decreasing their chances to advance to the ALDS and eventually the World Series, because of starting pitching, they will forever regret the decision to not use their wallet to resolve this issue the way I'm sure they regret not doing so the last two seasons.
***
My book The Next Yankees Era: My Transition from the Core Four to the Baby Bombers is available!