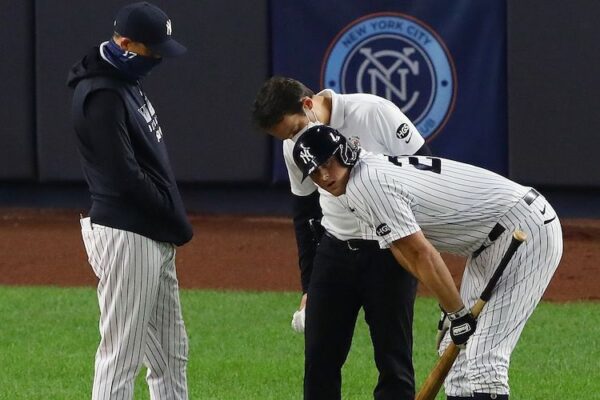 The 2019 Yankees put more players on the injured list than any team in any season in the history of baseball. Not only did the 2019 Yankees never play a single game with what was expected to be their everyday lineup, the team's injuries were usually mishandled, misdiagnosed and mistreated.
2020 hasn't been any different. Despite extra rest, scheduled off days and load management, the Yankees' everyday players are still getting hurt and still being placed on the injured list. This past week, the Yankees put Giancarlo Stanton (hamstring strain), Aaron Judge (calf strain) and DJ LeMahieu (sprained left thumb) all on the IL. Aside from Stanton's injury (he hasn't been allowed to play the outfield because he's prone to injuries, and yet he got hurt running the bases as the designated hitter), the injuries to Judge and LeMahieu were oddly dealt with in a way that has become the norm for the Yankees.
Last August, I wrote Yankees Continue to Mishandle Injuries. A year later, they're still operating in the same way. Here's how badly they have screwed up nearly every injury dating back to Judge's fractured wrist on a hit by pitch in July 2018.
Didi Gregorius
Back in Game 2 of the 2018 ALDS, Ian Kinsler hit a ball off the Green Monster that Andrew McCutchen played as if he had no basic knowledge or understanding of geometry. This forced Didi Gregorius to go into the outfield to retrieve the ball and throw it back in. It was on this throw that Gregorius's elbow popped. But after his elbow popped, he played the last two-and-a-half innings of Game 2, all of Game 3 and all of Game 4. It wasn't until Boone's 2018 end-of-the-season press conference that the information that the team's starting shortstop would miss part of next season to undergo Tommy John surgery was announced, and it wasn't until Yankees public relations man Jason Zillo, not Boone, announced it. Gregorius didn't return to the Yankees until June 7, 2019.
Number 31, Aaron Hicks, Number 31
Aaron Hicks hurt his back on Feb. 27, 2019 riding the team bus from Tampa to Lakeland for a spring training game. Two days later (March 1), during batting practice, the discomfort was still there, so he was shut down. Ten days later (March 11), he had a cortisone shot. Six days later (March 17), due to the still-existing pain, he had a second cortisone shot. Despite not having played in nearly three weeks and having two cortisone shots, Boone said "I think he physically probably will be ready [for Opening Day]. We don't think it's going to be a long time for Hicks." He wasn't ready for Opening Day.
It was reported that Hicks would return for the second series and fourth game of the season on April 1 against the Tigers. He didn't return and four days later (April 5), Boone said, "I believe he is starting baseball activities" and also said, "I don't think it will be six weeks" until he returns. Hicks returned six weeks later for the 42nd game of the season on May 15.
The last regular-season game Hicks played in 2019 was on Aug. 3. That's because his elbow popped and would require Tommy John surgery. Somehow, in early October, Hicks still hadn't undergone surgery, so he rejoined the Yankees for the ALCS. After the series, Hicks finally underwent Tommy John surgery, which would have kept him out for the first half of 2020, if the season had started on time.
Number 40, Luis Severino, Number 40
On March 5, 2019, Luis Severino felt shoulder discomfort while warming up before a spring training start. An MRI showed inflammation in his rotator cuff, and Boone said he would be shut down for two weeks, and it would be "highly unlikely" he would be ready for Opening Day.
On April 8, Severino still didn't feel well enough to throw off a mound, despite having increased his rehab to throwing from 130 feet, and he was sent to New York to be evaluated. Two days later (April 10), it was announced he had a Grade 2 lat strain which would shut him down for at least six weeks. Severino said he first experienced lat pain the same day as the rotator cuff pain, but the Yankees claimed to be unaware of it.
In June, Severino had progressed to nearly returning to throw off a mound, but he felt soreness near his injured lat. Severino was shut down for another week and an MRI revealed the injury had only 90 percent healed. Brian Cashman said, "Cleary, in hindsight, he should have never started his throwing program," acknowledging Severino should have received an MRI prior to starting his throwing program to be sure the injury was completely healed.
Severino made three regular-season starts in 2019 and another two in the postseason. During the ALCS, he complained of elbow pain, but was still allowed to prepare to start Game 7 of the ALCS, which wasn't played. His elbow complaint went untreated in October, November, December, January and most of February until he was diagnosed with a tear requiring Tommy John surgery. Rather than be treated in October and miss the 2020 season, Severino would now miss the 2020 season and part of 2021 as well.
Dellin Betances
Dellin Betances missed the beginning of 2019 spring training for the birth of his child. His decreased velocity in Tampa seemed like it was a result of not building his arm strength yet, but when the velocity failed to come back, an MRI on March 19 revealed a shoulder impingement. He would be shut down for a few days and begin a cycle of anti-inflammatories.
During a simulated game on April 12, Betances didn't feel right and an MRI revealed a pre-existing bone spur. Betances received another cortisone shot the following day (April 13) and would be shut down for six to seven weeks. Cashman admitted the bone spur was discovered while giving Betances a physical in 2006, but that Betances was never made aware of the condition by the Yankees.
Number 41, Miguel Andujar, 41
Miguel Andujar injured his shoulder diving into third base in the third game of the 2019 season and it was announced he had a partial tear of his right labrum. Andujar and the Yankee determined the third baseman would be able to rehab the injury rather than undergo season-ending shoulder surgery.
Andujar returned to the lineup on May 4, just over a month after injuring his shoulder, but went 3-for-34 with no extra-base hits, and on May 13, he was placed back on the injured list. On May 15, it was announced Andujar would have season-ending surgery.
Number 27, Giancarlo Stanton, Number 27
Giancarlo Stanton went on the injured list on April 1, 2019 with a biceps strain. The biceps strain, which shut him down, became a shoulder strain, which shut him down, and that became a calf strain, which also shut him down. Boone said, "Hopefully we have back at some point this month."
Stanton finally returned on June 18 and played in five games with two personal off days during the five days for extra rest. In the sixth game of his return, his hand was stepped on while sliding and he was removed from the game in what seemed to be a hand injury. It was later announced Stanton was removed from the game due to a sprained right knee and Cashman said he wouldn't return until August. He didn't return until Sept. 18.

Number 24, Gary Sanchez, Number 24
Gary Sanchez complained of leg tightness after catching the game in Houston on April 8, 2019. Boone put him in the lineup as the designated hitter the following night. In the series finale, on a Wednesday, Sanchez wasn't in the starting lineup. "With the off day [Thursday] and having a lot of guys down it is probably best to try and grab a couple days here while we can," Boone said about sitting Sanchez. But in the eighth inning, Boone used Sanchez as a pinch hitter anyway. "Just trying to be proactive," Boone said. "I want to make sure we are being smart about this and do all we can to keep him healthy. Making sure this doesn't become an issue."
Following the off day after the Astros series, the Yankees placed Sanchez on the injured list with a left calf strain.
Number 77, Clint Frazier, Number 77
On April 22, 2019, Clint Frazier slid awkwardly into second base on a pickoff attempt, rolling his ankle. Frazier grabbed his ankle and then hopped around near the base as Boone and Steve Donahue ran out of the dugout. Frazier was able to persuade Boone and Donahue to let him remain in the game, and after his ankle was tightly wrapped, he stayed in for the final innings, playing left field for the 12th, 13th and 14th innings.
Frazier wasn't in the lineup the following day, and Boone said it was precautionary and the team didn't believe it was "too serious". The next day (April 24), Frazier was placed on the injured list after an MRI revealed a partial tear in his left ankle.
Number 25, Gleyber Torres, Number 25
When any Yankee experiences the most minor of injuries, it's rare they're back in the lineup the next day. When a Yankee has to be pulled from a game and taken to the hospital, it's a little more than a jammed finger or stubbed toe, but apparently not for Gleyber Torres, the franchise's most important long-term everyday player. After needing to go the hospital for a "core issue" on a Sunday night, Torres was back in the lineup on Monday night. Torres went 0-for-5 on Monday and was 0-for-2 on Tuesday before he was moved from the game for further evaluation. How was the Yankees' 22-year-old star middle infielder allowed to return to the lineup so quickly after what seemed at the time like a serious issue? (That question is rhetorical since there's no answer.) It was at least serious enough that he went to the hospital.

Number 45, Luke Voit, Number 45
Luke Voit came up injured after successfully busting his way to second for a hard-earned double to lead off the fifth inning in the first game in London on June 29, 2019. After the team's return to New York, Voit was placed on the injured list with an abdominal strain on July 2. He returned to the lineup on July 13, but a couple weeks later, on July 31, he was back on the injured list with a sports hernia. Boone said, "He was having a hard time getting loose before the game."
Voit's option were to try to rehab the injury or elect for surgery, which would keep him out for six weeks, but with each day without an answer, a return in time for the postseason would become more bleak. "Over the next 24 hours, we'll determine a course of action," Boone said on July 31, the day of the injury. As of Aug. 6, the decision for rehab or surgery was still undecided. The surgery ended up not happening and Voit returned on Aug. 30 and hit .200/.319/.338 in 24 games to finish the season. He was left off the postseason roster and eventually had abdominal surgery in the offseason.
Number 65, James Paxton, Number 65
In his final start of the 2019 regular season, James Paxton was removed after an inning with back pain. Paxton pitched in the postseason and then nothing was done about his back until Feb. 5, 2020 when he underwent microscopic lumbar discectomy, which would have landed him on the IL to begin the 2020 season, if it had started on time.
Number 99, Aaron Judge, Number 99
The Yankees' injury problems really started at the end of July in 2018 when Judge got hit by a pitch, fracturing his wrist. The Yankees continually botched the timetable for his return and Judge ended up missing two months and barely returned before the end of the regular season. Ever since then, you can count on one hand how many injuries the Yankees have properly diagnosed and correctly handled and how many rehab timetables were accurate, and you wouldn't even need all your fingers on the one hand to count them.
Earlier this year, Judge was shut down on the first actual day of spring training as if he were a disgusting, unsanitary dive bar John Taffer just walked into. "Just dealing with some crankiness," Boone said rather nonchalantly about Judge as if he could be cured with some Tylenol and a couple days off. "I guess a little soreness in shoulder." That wasn't the end of Boone's optimistic injury update. "I feel like it's a pretty minor thing," Boone said. "Probably in the next couple days, start ramping him back up."
Eventually, on March 20, it was announced that Judge had a fractured rib and a collapsed lung. Apparently, it wasn't such a "minor thing" as Boone had suggested. The injury occured in September 2019 and went undiagnosed until March 2020.
Last Tuesday, Judge hit his league-leading ninth home run in the fifth inning. In the sixth inning, Judge was removed from the game for Mike Tauchman. Had Aaron Boone removed Judge from the game because it was an eight-run game even though it was from over? Was Judge hurt? This was less likely of an answer since Judge had just hit a home run, and unless he got hurt running the bases following a home run (something I could see Stanton doing), how had he gotten hurt between the home run and being removed from the game? Judge was seen leaning up against the railing in the dugout and laughing and smiling with his teammates after he was removed from the game, so I wasn't worried. After the game, Boone distinguished my fears when he said, "Coming off of four days on the turf and with a little bit of of leverage there, just trying to be smart with these guys. Judgie hasn't really had that day down. I gave him the DH day and I just want to make sure we're being smart with everyone." The next day, on Wednesday, it became known that Boone wasn't trying to be "smart" about Judge, instead he was lying about him and the Yankees placed Judge on the injured list, despite him saying he feels 100 percent healthy.
Number 26, DJ LeMahieu, Number 26
When DJ LeMahieu released the bat after an awkward swing on Saturday night, my heart dropped. I knew the Yankees' 2019 MVP candidate who desperately tried to win the ALCS with only the help of Torres was hurt. LeMahieu had a look of concern on his face that matched mine as he tried to shake out his left hand and shake out the pain.
After being evaluated, LeMahieu was allowed to stay in the game for his at-bat which resulted in a ground out. Then he was allowed to play the field. Eventually, he was removed from the game for Tyler Wade. Following the game, it was announced that LeMahieu had sprained his left thumb, the same injury he had endured with Colorado in 2018. The Yankees placed him on the injured list (their third player placed on it in a week), but that wasn't the end for the diagnosis as it Boone would eventually announce LeMahieu was going to go for a second opinion on his thumb to make sure he didn't need surgery. SURGERY? Somehow LeMahieu went from an awkward swing in which he was evaluated and allowed to finish his at-bat and play the field to possibly needing surgery.
In the second half of the 2019, Hal Steinbrenner claimed the team began studying its injuries in May 2019.
"We'll wait until all the data is in and at the end of the year, if we need to make changes in the procedures and the ways we do things, then we're going to do that," Steinbrenner said. "We're looking at everything intensely, and any time we have a year like this, we're going to do that."
Cashman said he had conducted an investigation into the team's handling of injuries this season.
"I've gone through the process and I'll leave it at that," Cashman said on June 30, 2019. "We always evaluate our process, and if there are problems and mistakes made by us, then they're dealt with."
If the team started studying their injury problem in May 2019, like Streinbrenner said, and Cashman had already conducted his injury investigation by the end of June 2019, and the team supposedly revamped their medical and training staff, then why do injuries continue to be dealt with the same way?
***
Subscribe to the Keefe To The City Podcast. New episodes after every game throughout the season.
***
My book The Next Yankees Era: My Transition from the Core Four to the Baby Bombers is now available as an ebook!