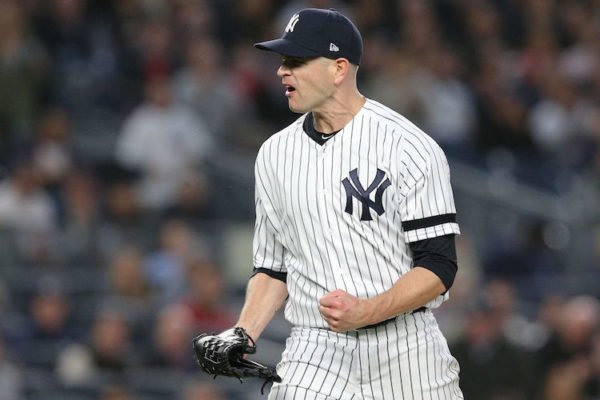 I didn't know what to expect from James Paxton on Tuesday night. I didn't expect much. After Paxton couldn't hold a lead in his Yankees debut against the Orioles, put 10 runners on in 5 1/3 innings against the same Orioles five days later and then had 11 baserunners in four innings in a loss to the Astros, expectations weren't high.
Before his introduction into the Yankees-Red Sox rivalry, Paxton had been unable to give the Yankees six innings in any of his first three starts. His line for those three starts: 15 IP, 20 H, 11 R, 10 ER, 6 BB, 19 K, 3 HR, 6.00 ERA, 1.733 WHIP.
Last year at the trade deadline, I called James Paxton "blah" and in the same category as Chris Archer and Michael Fulmer, pitchers who I didn't think were worth trading for since they wouldn't really make the Yankees that much better and certainly worth giving up high-end prospects for. It was hard to find anyone who shared my perspective. His raw stuff wasn't the reason I referred to him as "blah", it was his combination of injuries and inconsistency. When Paxton was on, he was among the best pitchers in the world, but he was rarely on in consecutive starts or for any reasonable stretch of time.
My biggest problem with the Yankees acquiring Paxton was the fact he has never pitched more than 160 1/3 innings in a single season and is good for at least one injured list trip per season. I wasn't necessarily worried about his overall performance since I knew he would dominate at times and also lay some eggs at times. I was worried about his health. But after his performance against the lowly Orioles, and then the Astros — a team he owned last season, going 4-0 in four starts and allowing six earned runs in 26 1/3 innings (2.05 ERA) — I now had to worry about his performance.
I was worried entering Paxton's start on Tuesday night. I could see Chris Sale doing his usual thing against the Yankees, diminished velocity and all, and Paxton laboring through another five innings in an eventual loss to finally kickstart the Red Sox season and send them on an extended winning streak.
Paxton began the game by striking out Mookie Betts and getting Xander Boegarts and J.D. Martinez to line out. In the second, he struck out the side, all swinging, setting down Steve Pearce, Mitch Moreland and Eduardo Nunez in order.
Paxton failed to record a strikeout in the third, but it was yet another 1-2-3 inning with a pair of groundouts and soft liner to second.
The Yankees gave Paxton a 2-0 lead with some two-out magic — something I didn't think the Yankees were capable of — in the bottom of the third. Right away, it looked like Paxton was going to give it back.
A six-pitch walk to Mookie Betts to begin the fourth was followed by a Bogaerts double off the top of the wall, which was unsuccessfully reviewed for a home run. Second and third and no outs and the Red Sox' scariest hitter in Martinez due up with Pearce, who is apparently on a mission to single-handedly beat the Yankees every game he plays agains them, on deck.
Martinez flew out on an 0-1 pitch and the threat of Aaron Judge's arm held the runners. Pearce lined out to Judge on an 0-2 pitch, and once again the runners held. The inning ended with Paxton striking out Moreland swinging, resulting in an emotional release from the Yankees' left-handed as he walked off the mound. It was unknown at the time, but that would be the last time the Red Sox' would threaten for the rest of the game.
Paxton pitched around a one-out hit-by-pitch in the fifth and put up another 1-2-3 inning in the sixth, striking out Martinez to end the frame. After the Martinez strikeout, Paxton would strike out Pearce then Moreland then Nunez then Devers then Leon. It wasn't until a meaningless Jackie Bradley Jr. double in the eighth that Paxton's six-batter strikeout streak would end.
The last pitch Paxton threw — his 110th of the game — resulted in a weak fly ball off the bat of Betts to right field. Paxton's final line: 8 IP, 2 H, 0 R, 0 ER, 1 BB, 12 K.
I expected big things out of Big Maple upon his arrival in the Bronx. I can't say I ever envisioned that kind of performance against the Red Sox.
After the game, Paxton, who prior to the season talked about accepting and welcoming the pressure that comes with playing for the Yankees, said something which made me smile regarding the Yankees for the first time since Opening Day and really made me smile for the first time regarding the Yankees since Aaron Judge's first-inning home run in the wild-card game.
"We want to beat Boston every time."
I certainly don't have to worry about Paxton's mindset, and after Tuesday's start, I don't have to worry about his performance, knowing he has that level of dominance in him.
***
My book The Next Yankees Era: My Transition from the Core Four to the Baby Bombers is now available as an ebook!