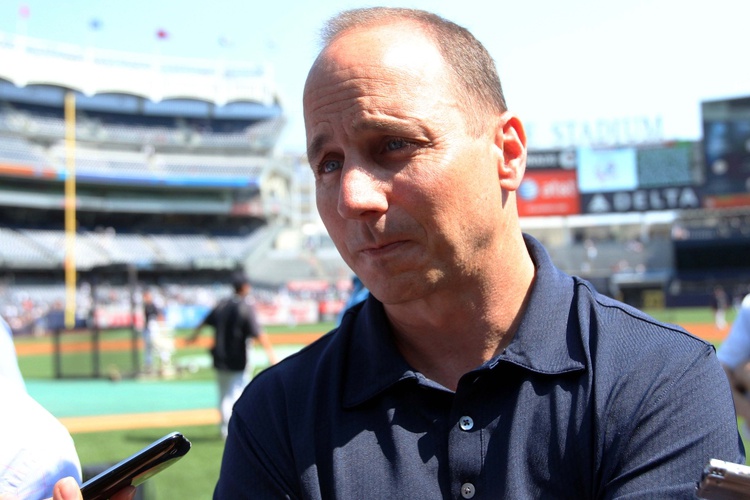 Every time Brian Cashman talks I feel like Dunphy in Outside Providence when he says to Mr. Funderburk mid-sentence, "Oh will you just shut the f-ck up."
Everything that comes out Cashman's mouth is just a long way of making an excuse. Through nine horrific games this season, Cashman has wondered why the defense has been so bad or the offense hasn't been there or the pitching has been inconsistent. He has cited small sample sizes rather than admitting that when you put enough baseball players together that suck at baseball, the team is going to suck.
At 3-6, the Yankees have lost all three of their series to open the season, are three games back already in the division, and if things don't turn around this weekend in Tampa Bay before heading to Detroit for four games followed by the first part of the Subway Series and a series in Boston in two weeks, the 2015 Yankees might not make it to Cinco de Mayo let alone Memorial Day.
Before the season started Cashman said to his team, "Be a good enough team to get to the playoffs, allow me to tweak in-season to make it good enough to win a World Series.'' He believed before the season that the team he constructed could be good enough to compete for a playoff spot, and if they were to, he could get them to the World Series, apparently with his magic trade powers. The same powers that have Didi Gregorius looking like he belongs playing in an Independent League while Shane Greene is 2-0 for the Tigers thanks to back-to-back starts of eight scoreless innings.
The season might be 5.6 percent old and maybe before this road trip is over the season will have turned around. But so far, every fear I had about the 2015 Yankees has come true and then some. Everything that could have gone wrong has gone wrong. The offense comes and goes, the pitching is inconsistent, the defense is an embarrassment and on Thursday night, the bullpen joined the club with a sixth-inning implosion to cost the Yankees the game.
It didn't have to be this way. The same bad lineup and shaky rotation you see every game and will see for the next five-plus months didn't have to look like this. Let's go back in time and look at what Brian Cashman could have done differently to not put the Yankees in this spot.
The Yankees missed the playoffs in 2013 because of devastating injuries to Derek Jeter, Curtis Granderson, Alex Rodriguez and Mark Teixeira. That led to the following players playing the most games at each position:
C – Chris Stewart
1B – Lyle Overbay
2B – Robinson Cano
3B – Eduardo Nunez
SS – Jayson Nix
LF – Vernon Wells
CF – Brett Gardner
RF – Ichiro Suzuki
DH – Travis Hafner
After years of fortunate health, the Yankees' fortunes ran out in 2013 and the team missed the playoffs for the first time since 2008 and the second time since 1993.
Then came the 2013 offseason.
The Yankees' missed postseason, coupled with the Red Sox winning the World Series set the front office into a panic, throwing out their plans of staying below the luxury-tax threshold they had talked about for so long. They decided to lowball Robinson Cano with a BS offer and instead gave Jacoby Ellsbury (a bigger-name Brett Gardner) a seven-year, $153 million deal. Despite catcher being the one position of depth in the organization, they gave Brian McCann a five-year, $85 million deal for his 30-, 31-, 32-, 33- and 34-year-old seasons. After watching Carlos Beltran's postseason performance and after years of dealing with Nick Swisher's postseaon failures, they gave Beltran a three-year, $15 million deal for his 37-, 38- and 39-year-old seasons, nine years after they should have signed Beltran.
The 2014 Yankees' payroll was $197.2 million.
Let's say they don't sign Jacoby Ellsbury. The payroll drops to $176.1 million.
Let's say they don't sign Brian McCann. The payroll drops to $159.1 million.
Let's say they don't sign Carlos Beltran. The payroll drops to $144.1 million.
Let's say they re-sign Robinson Cano and give him the contract the Mariners gave him (10 years, $24 million). The payroll increases to $168.1 million.
Without those three and with Cano, the payroll would have been $29.1 million less.
The 2014 Opening Day lineup would have been:
C – Francisco Cervelli/John Ryan Murphy
1B – Mark Teixeira
2B – Robinson Cano
3B – Kelly Johnson
SS – Derek Jeter
LF – Alfonso Soriano
CF – Brett Gardner
RF – Ichiro Suzuki
DH – Someone else on the 25-man roster
That lineup isn't exactly the offense we got used to over the last 15-plus seasons, but it's also not that far removed from the actual 2014 offense.
The rotation stays the same as it was with CC Sabathia, Hiroki Kuroda, Masahiro Tanaka, Ivan Nova and Michael Pineda.
I wanted Brian McCann on the Yankees because I had to sit through a lot of Chris Stewart and Austin Romine in 2013. But it didn't make a lot of sense for the Yankees to pay a catcher $85 million for his 30-34 seasons when, once again, catcher was the one position of depth in the organization at the time.
Ichiro ended up playing in 143 games, so it was like he was an everyday player anyway.
Soriano only played in 67 games (238 plate appearances) and hit .221 with six home runs and 23 RBIs before he was released. Soriano was supposed to be the Yankees' designated hitter. He was supposed to play in the outfield only to give others a day off. But because of the old, brittle signing of Carlos Beltran and having the softest player in all of baseball in Mark Teixeira, Soriano lost out on being the full-time DH and was relegated to infrequent at-bats as part of an outfield rotation. The Yankees put Soriano, a career everyday player, in a position to fail and when he did, they let him go. Beltran hit .223 with 15 home runs and 49 RBIs. Soriano could have those numbers or close to them if he played the full season.
The actual 2014 Yankees missed the playoffs, so if this team had missed it, nothing changes. The only thing that changes is that they are in a much better financial position for 2015 and beyond. Let's look at this past offseason and this season had that Yankees roster been constructed.
The current 2015 Yankees payroll is $217.8 million.
Before we continue, remember the 2014 Yankees traded Johnson for Stephen Drew, traded Yangervis Solarte for Chase Headley and Vidal Nuno for Brandon McCarthy.
Let's say they re-sign Headley, sign Andrew Miller, don't trade Shane Greene for Didi Gregorius (their salaries cancel each other out) and don't trade Martin Prado and David Phelps for Nathan Eovaldi. Add $11 million to the 2015 payroll for Prado (Side note: the Yankees are paying $3 million of Prado's salary in 2015 and 2016 to play for Miami. No big deal.) and add $1.4 million for Phelps. That brings the payroll to $230.2 million. Then subtract $3.3 million for Eovaldi. That brings the total to $226.9 million.
Let's say they re-sign David Robertson for the contract the White Sox gave him (four years, $46 million). Add $10 million to the payroll. The total is $236.9 million.
Let's say they re-sign Brandon McCarthy for the contract the Dodgers gave him (four years, $48 million). Add $11 million to the payroll. The total is $247.9 million.
Add in Cano's $24 million. The total is $271.9 million.
Now subtract McCann's $17 million. The total is $254.9 million.
Subtract Ellsbury's $21.1 million. The total is $233.8 million.
Subtract Beltran's $15 million. The total is $218.8 million.
After all of that, the 2015 payroll is $1 million more than it is actually is in real life.
Here is the 2015 Opening Day lineup after that.
C – John Ryan Murphy
1B – Mark Teixeira
2B – Robinson Cano
3B – Chase Headley
SS – Stephen Drew
LF – Martin Prado
CF – Brett Gardner
RF – Chris Young (or maybe Jose Pirela or Rob Refsnyder?)
DH – Alex Rodriguez
No, I still wouldn't have wanted Drew on this team, but guess what, he's already on it, so nothing changes. Except that the rest of the team is better around Drew.
And here's the rotation (in no particular order):
Masahiro Tanaka
Michael Pineda
CC Sabathia
Brandon McCarthy
Shane Greene
For $1 million more, the Yankees could have Robinson Cano hitting third in their lineup instead of Carlos Beltran. Brandon McCarthy and Shane Greene at the back of their rotation rather than Nathan Eovaldi and Adam Warren. They could still have Martin Prado on the roster to play wherever he is needed. They could have a back-end of the bullpen of Dellin Betances, Andrew Miller and David Robertson. All for $1 million more.
Thank you, Brian Cashman. Thank you for ruining the Yankees.