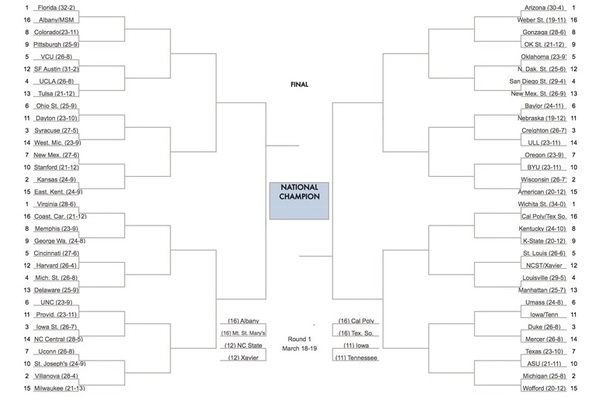 Three years ago I wrote My Dirty Dozen Bracket Rules. I can't believe its already been three years since then. It's actually kind of sad. It's even more sad that I haven't picked the NCAA Tournament champion correctly since then.
In 2011, I went with Kansas and they lost in the Elite Eight to VCU. In 2012, I went with Kansas again, and this time they lost to Kentucky in the championship. And last year, I went with … you guessed it … Kansas. This time they lost to Michigan in the Sweet 16.
As you can see, I clearly have a problem when it comes to picking Kansas. Going back to I would say seventh grade, I believe I have picked either Kansas or Duke to win the championship every year (there might have been a Syracuse in there somewhere, but not in 2003 when they won it). That means in the last 15 years, I have picked two schools that have won a combined three titles. It's not because those two teams were always the best team entering the tournament, it's just that they have always seemed like a safe, trustworthy pick with not a lot of risk involved. But this year, I'm not picking Kansas or Duke. This year I'm not picking a 1-seed and that's because 1-seeds are no longer 1-seeds.
The committee threw everyone a curveball with their seeding and I'm talking about an El Duque-like 54-mph curveball. So much so that Joe Lunardi has probably been drinking heavily and doing advanced math since the bracket was announced on Sunday night and questioning whether he even wants to do Bracketology anymore. (I'm guessing the answer is he wants to continue doing it since he predicts teams that will make a basketball tournament for a living.) But you get the point: the committee made a lot of questionable decisions. And these questionable decisions were a product of conference realignment, mainly stemming from college football destroying the real Big East, stacking the ACC and creating an odd rogue conference with the American Athletic Conference.
So with the NCAA Tournament a day away and the start of two of the best days in sports a day away I thought I would look back at those 12 rules I created three years ago to help fill out the NCAA Tournament bracket and see what has changed and make revisions to the rules. Here are the 12 rules as originally written with my 2014 Revision following each rule.
1. The 1s and 2s Are Locks
I feel like DJ Pauly D talking about the 1s and 2s. This rule is obvious. Put the No. 1 seeds and the No. 2 seeds through to the Sweet 16. If they lose before then, just tip your hat to the team they lose to.
Don't try to be a hero and predict the next Bucknell or Vermont upset. Chances are everyone else in your pool had them winning too, so you aren't going to be missing out. Well, unless you had them in the Final Four or as your champion. If that's the case, better luck next year, and hopefully you didn't wager on your bracket.
2014 Revision: Yes, three years ago Jersey Shore was relevant. And it would still be relevant to this day if MTV had changed the cast every year because each new cast would have tried to one-up the previous casts to the point that it would still be must-watch TV.
This first rule still holds true and likely always will. The only thing that matters when it comes to the 1s and 2s early on is if they are going to cover their large double-digit spreads, which I tend to stay away from.
2. Trust The Big East But Don't Trust Them Too Much
Since I'm from the Northeast, I favor the Big East. Usually I favor them to a fault. Every year I give the Big East way too much credit because there's always a lot of hype around the conference and just about every year they don't come through and let me down, and in the process, destroy my bracket.
This year I have six Big East teams in the Sweet 16, two in the Elite Eight and two in the Final Four. In the past it would have been much, much more, but I have taken off my Big East blinders.
2014 Revision: Considering the Big East is no longer the Big East, this rule is worth nothing. The Big East Championship came down to Creighton and Providence, one school who wasn't a part of the Big East before (and rightfully so since they are from Nebraska and "East" is kind of in the name of the conference) and one school who has been a doormat for Big East competition. So while it used to make sense to trust the Big East to a degree, it's hard to say you should trust them at all anymore since it's hard to know just how competitive the league is with this being the first time they have been missing their most important teams heading into the NCAA Tournament.
3. Stay Away From ACC Teams Not Named Duke or North Carolina
There are few things more overrated in sports than ACC basketball. I don't trust Clemson or Florida State. I don't trust any ACC team that isn't Duke or North Carolina.
2014 Revision: Thanks to college football, the conference I spent years putting down in support and defense of the Big East is now essentially the Big East. After taking Miami and Virginia Tech in 2004 and Boston College in 2005, the ACC stole Syracuse, Pittsburgh and Notre Dame this season and will have Louisville in the conference next year. Forget the ACC's plans to move their conference tournament to the Barclays Center in Brooklyn, they might as well kick the Big East out of the Garden and have it there since they have taken everything else from the Big East. So now I trust more than just Duke and North Carolina (and this year I don't trust North Carolina at all and will be taking Providence) when it comes to the ACC and I trust their teams more than any other conference as a whole.
4. Remember Who Gave You The Middle Finger In The Past And Who Gave You A Prayer
"Hokie, Hokie, Hokie, Hi!" I will never forget the commentator screaming that when Virginia Tech rallied from 13 points down with eight minutes to play against the Illinois in the first round of the 2007 tournament. And if Virginia Tech had made it back this year I probably would have given them at least one win for helping me out in the past. (Even if it goes against Rule No. 3.)
You can't forget the teams that screwed you in the past (ex: Marquette, Wisconsin, Vanderbilt) and the ones that kept you alive (ex: Kansas State, Louisville, Purdue).
2014 Revision: This year it's actually hard to pick a lot of the first-round games (and by first round I mean the Thursday and Friday games since those are the first round, not the Tuesday and Wednesday games) according to this rule because a lot of teams I would usually advance without thinking are playing each other and the teams that I will always remember for screwing me over are also playing each other. Except for Ohio State, that is. I will be picking Dayton to pull off the in-state upset over the Buckeyes and show everyone why Ohio State won't schedule regular-season games against the Flyers.
5. Give Xavier and Butler Respect
I put these two teams together because to me they are the same team. That probably sounds weird to people, but I can't help it.
When I think of Xavier, I think of Butler and vice versa and I think of the black jerseys and I think of two teams that have produced some nasty daggers for me over the years. In the past I would have foolishly picked against them in the first round. Well, not this year. Not anymore. I have them both advancing this year. I have Xavier losing to Syracuse in the second round and Butler falling to Pittsburgh in the second round.
2014 Revision: Well, you can throw this rule out too. Xavier lost their play-in game against NC State on Tuesday night, so they're out, and the only reason to give Butler respect in the past was because of head coach Brad Stevens (the original rules were written before the 2011 Tournament and before his second consecutive championship appearance, so this rule was valid), but he is with the Celtics now and Butler finished the season 14-17.
6. Don't Go Overboard On Upsets
Every year I start to fill out the bracket and think, "What if this year there aren't any upsets in the first round? Should I just pick the higher seeds and play it safe?" The answer is there are always upsets. I'm soft when it comes to picking upsets and determining upsets.
My friend Forman is the master at the upsets. His resume when it comes to picking Cinderella stories and making ridiculous predictions is scary. On the other hand, I'm always too worried about picking early upsets and then watching that team get smoked and thinking to myself that I should have just played it safe and gone with the higher seed.
The problem with me is that I usually play it too safe in the first round and second round, and then I turn into Joe Girardi trying to manage a bullpen late in the game in the Sweet 16 and later. I start getting fancy and changing and rearranging my picks and before I know it, my Final Four is full of No. 3 and No. 4 seeds, and that's just not going to happen. Like Girardi I need to trust who got me to that point and just believe in the top talent.
2014 Revision: Like I said in the opening, this year it's hard to evaluate true upsets rather than seed numbers because of realignment and because the committee seeded teams as if they were picking schools and corresponding seed numbers out of a hat.
As for Forman, he has still been picking upsets at an unbelievable success rate since the original rules were written (and really since middle school when we started filling out brackets). In order to document his upset picks, I asked him to send them to me for the first round. Here they are:
No. 12 Harvard over No. 5 Cincinnati
No. 12 ND State over No. 5 Oklahoma
No. 11 Tennessee over No. 6 UMass
7. Location, Location, Location
I never really gave this much attention in the past and that's as stupid as a poker player not paying attention to where the button is. Venues are a huge part of this tournament. Playing on the road, switching time zones and playing against hostile crowds at what is supposed to be a neutral setting is a big deal for college athletes.
It's why San Diego State seeing Anaheim as an eventual destination makes me believe in the Aztecs over Duke in the Elite Eight after thinking back to what happened to Duke at MSG against St. John's. And you know what city isn't far from Notre Dame? Chicago. Guess where the Fighting Irish are set up for the first weekend. That's right.
2014 Revision: My girlfriend is a Colorado alum and bleeds black and gold and I'm pretty sure she would adopt a buffalo if she could and have it live in a Manhattan apartment. I'm picking Colorado to beat Pittsburgh in the first round because of her and because if I were to pick Pittsburgh and they were to win, I'm sure the locks would be changed when I got home. (I'm also picking against Pittsburgh because they destroyed my North Carolina -105 pick in the ACC Tournament.) But once Colorado gets by Pittsburgh, they have a second-round meeting against Florida in … Orlando. What's worse than having to play the No. 1 overall seed, who happens to be a state school, in their home state? Nothing.
This year, no one appears to have a crazy advantage for the second weekend with the regionals in Memphis, Anaheim, New York and Indianapolis. If you think Villanova can get to MSG and bring their fans from Philly to New York to make it a home crowd on the road, don't. Villanova is a bad, bad 2-seed, they won't make it to MSG and even if they did, they just lost to Seton Hall there last week.
8. Pick That "One Game" Correctly
It's hard to do, but if you can pick the one low seed that is going to go to the Sweet 16, you're golden. Easier said than done.
Every week during the NFL season there's one game (well, at least one game) that just destroys the spread, and if you pick it correctly, you can turn off the TV after the first quarter with a smile on your face knowing you covered the spread. The problem is it's usually the game you don't want to touch because it's too scary to even think about. The same goes with the first round of the tournament.
I sat and looked at St. John's-Gonzaga for much longer than I should be looking at any college basketball matchup. I thought about the rejuvenated St. John's program and the loss of D.J. Kennedy and what it will mean to New York City for the Johnnies to make a run here. I thought about how much I hate Gonzaga, how I hated them when they played UConn in the Elite Eight in 1999, how I hated them when people thought Adam Morrison was better than J.J. Redick and how I still hate them for ruining my bracket the last 12 years.
I went with St. John's though I'm fully prepared for Gonzaga to devastate me the way they always have and make a decent run in this thing. It was the hardest decision I had to make out of the entire 32 matchups in the first round.
2014 Revision: If you have a pipe dream about winning that $1 billion from Quicken Loans or coming in their Top 10 and winning $100,000, well you're going to need to be perfect when it comes to Rule No. 8.
"Those" games in the first round this year to me are Connecticut-St. Joe's, Gonzaga-Oklahoma State, Oregon-BYU, Kentucky-Kansas State. And those are the games that you absolutely have to get right in the first round because the winners of those games have the opportunity to upset the 1- and 2-seeds they would then play in the second round. Don't eff those up.
9. When In Doubt, Find A Reason Or Make One Up
It's weird. I'm usually a No. 8 seed guy (meaning I take the 8s over 9s usually), but I'm also a No. 10 guy (I take the 10s over the 7s) too. It really doesn't make sense, but that's just the way it is. A lot of time I have no idea who to pick in these matchups. So, when in doubt, I dig deep for a reason to pick one team over the other.
For example: No. 7 Temple vs. No. 10 Penn State. I have no clue. I won't be confident with either pick. But over the weekend I went to a wedding in Washington D.C. Between the ceremony and the reception, I went to a bar with some other people from the wedding and at the bar a bunch of Penn State fans were watching the Penn State game. They were doing the "WE ARE … PENN STATE!" chants every 90 seconds and just going nuts every time Penn State scored. It was weird. Now it could have been a Penn State bar. It probably was. But when I see Penn State in this bracket I think of these kids getting excited about a team that enters the tournament with a 19-14 record and I can't help but pick Temple. Great basketball analysis.
2014 Revision: There are plenty of games to make up reasons for this year aside from actual real analysis. Here are reasons for a few of my 8-9 and 7-10 decisions:
No. 8 Colorado over No. 9 Pittsburgh: My girlfriend.
No. 7 New Mexico over No. 10 Stanford: Someone I know, who I wish I didn't, went to Stanford. They could start LeBron James and Kevin Durant against New Mexico and I would pick against them.
No. 9 George Washington over No. 8 Memphis: Aside from gambling losses this season picking for Memphis, I haven't liked them since John Calipari coached them and watched them implode in the final minute and overtime to my Kansas pick in the 2008 Tournament.
No. 7 Texas over No. 10 Arizona State: Texas won me money this year. Arizona State didn't.
10. Go With The Coach On Coin Flips
I like Rutgers coach Mike Rice (I know they're not the in the tournament). He did a good job in his first season and seems like the right candidate to build Rutgers into a tournament team. But what I don't like about Rice was how insane and demonstrative he acted in the Big East tournament.
Then I look at coaches like Coach K or Bob Huggins or Roy Williams — guys who have won silly amounts of games — and the only time you ever see them going nuts is when they are going nuts on one of their own players. I think the only thing scarier than having to witness a Red Sox-Mets World Series would be being a 19-year-old kid and having Bob Huggins or Bobby Knight back in the day just ripping into you. They have probably made more kids cry than some coaches in the tournament have total wins in their careers. And that's why it's hard for me to pick against the big names. I believe their kids will come through because they're too scared to not come through.
2014 Revision: So about my thoughts on Mike Rice … (crickets, crickets, crickets)
His time at Rutgers really went over well. I couldn't have been more wrong about him being the right choice for the future of Rutgers, but at least I was right about his "insane and demonstrative" actions.
Without my favorite coach (Brad Stevens) in college basketball anymore and without my second-favorite coach (Frank Martin) in the tournament, my underdog coaches to pull for in the tournament are Ed Cooley (Providence) and Greg McDermott (Creighton) even if the Bluejays are a 3-seed, they are still an underdog as far as I'm concerned.
11. Don't Trust Teams Without Last Names On Their Jerseys
It's always puzzling to me when Division 1 basketball programs don't have the last names on their jerseys. You're not the Yankees. No one knows your names. Put your names on your jerseys, please.
Most of the time it's the low-seeded teams that don't have their names on their jerseys and it feels like the Hawks playing the Ducks (in the first District 5 uniforms, of course). There's nothing worse than turning on CBS and needing a 12-seed to win and finding out that they have to wash their own jerseys because they don't have a team manager. Chances are you made the wrong decision.
2014 Revision: If you're not the Yankees, it's not acceptable to not have the last name on your uniforms. Not in 2014. That's why if you're thinking of taking Arizona State to beat Texas, just remember the Sun Devils still are nameless on their uniforms and their players are probably wearing the same uniforms worn by the players when I wrote the original rules three years ago. Deion Sanders said, "If you look good, you feel good. If you feel good, you play good." Well, if you're showing up to the NCAA Tournament with some ragtag uniforms, chances are you're going to be back in class on Monday.
12. There's UConn and Duke
UConn and Duke are two teams that always play essential roles for better or worse in my bracket. Let me explain.
I grew up in Connecticut where people love their Huskies and no one really cares how much money Jim Calhoun makes or what NCAA rules he breaks as long as the team wins. I have never once picked UConn to win it all. Rarely do I even pick them to make it past the Sweet 16, and I'm probably the only Connecticut native that doesn't. I think the only time I ever picked them go to the Final Four was the year they lost to George Mason and I learned my lesson.
As for Duke, I have this weird love/hate relationship with Duke. I like what they represent: winning, tradition, prestige and the intimidation factor. I have always like that they are the Yankees of NCAA basketball. But at the same time part of me really hates them. It's weird. Like I want them to lose, but nearly every year I pick them to win it all no matter their regular season or tournament, except for last year, obviously, and they won.
The first thing I do after putting the 1s and 2s through to the Sweet 16 is look at the paths for UConn and Duke and figure out how far I want them to go, or if I want them to go far at all. This year I have UConn losing to San Diego State in the Sweet 16, and Duke losing to San Diego State in the Elite Eight. I'm putting a lot into my rule about venues (Anaheim) and the fact that I saw the Fab Five documentary on ESPN the other night and have become a Steve Fisher fan.
2014 Revision: Three years ago I was wrong about UConn as they won the championship after winning the Big East Championship in memorable fashion. This year UConn is a very hard to team to read. They gave Florida one of their only two losses this year and went 3-0 against Memphis, but they went 0-3 against Louisville and were run out of Kentucky with a 81-48 loss not even two weeks ago. The Huskies cant certainly hang with top-tier teams and even upset some, and if they can get by St. Joe's, they are set up to make a run to the Sweet 16, which is where I have them going and losing to Iowa State.
Duke is going to lose in the Sweet 16 as well and send Michigan to their second consecutive Elite Eight, but the Wolverines will send Louisville to their third consecutive Final Four and eventually their second consecutive championship.
Final Four: Florida, Arizona, Michigan State, Louisville
Championship: Florida vs. Louisville
Champion: Louisville