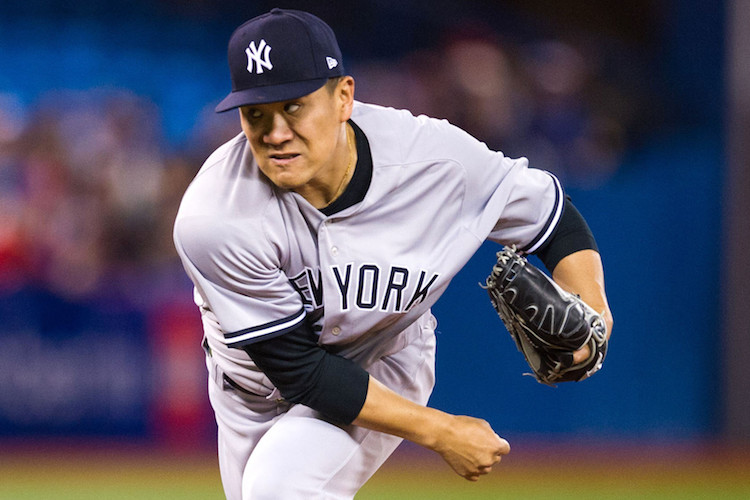 Here is Part I of my two-day, two-game trip to Toronto.
The winning feeling didn't go away when I woke up on Friday. Thankfully, I hedged my Opening Day four-team parlay that Brittni's Dodgers cost me and wound up even on the day.
After breakfast, news broke of Aaron Hicks heading to the disabled list with Billy McKinney headed to Toronto to make his Major League debut. One game into the season, and the Yankees' very deep outfield depth had become very shallow. Hicks would join Jacoby Ellsbury and Clint Frazier on the DL, and the absence of Ellsbury suddenly became relevant. I would rather Ellsbury not be and have never been a Yankee, but if you're asking me Ellsbury or McKinney? Well, I have to take The Thief.
The day was spent at the Hockey Hall of Fame (for me) and then at the aquarium (for Brittni) with first pitch not until 7:07, and a second stop at Wayne Gretzky's was made for a late afternoon lunch.
***
The last time Masahiro Tanaka took the mound was to shut down the Astros in Game 5 of the 2017 ALCS. His line in that win: 7 IP, 3 H, 0 R, 0 ER, 1 BB, 8 K. Between that start and his start against the Indians in Game 3 of the ALDS (7 IP, 3 H, 0 R, 0 ER, 1 BB, 7 K), no longer were Yankees fans hoping Tanaka would opt out of his contract.
Aaron Boone decided (or the front office decided and he was instructed) to bat Didi Gregarious fourth for the second game of the season. To me, you want your best hitters hitting as much as possible, so I would never break up Aaron Judge-Giancarlo Stanton-Gary Sanchez part of the order. It had worked against the left-hander J.A. Happ on Opening Day, and it didn't matter to me that a right-hander in Aaron Sanchez was starting the second game. Ask any Major League pitcher or catcher which order of hitters worries them more: Judge-Stanton-Sanchez or Judge-Stanton-Gregorius. I think it might be a unanimous decision. But Boone (aka Cashman and Co.) set a precedent in Game 2 of the season that a left-handed hitter would break up the most feared back-to-back-to-back hitters in Major League Baseball. If Greg Bird weren't on the disabled list yet again, it would most likely be him in that spot, but for now it would be Gregorius.
I have apologized countless times for being wrong about Gregorius with the majority of that apology coming after the first inning of the 2017 Wild-Card Game and some more apologizing after Game 5 of the 2017 ALDS against Corey Kluber. Gregorius has turned into an All-Star-level shortstop and has seen his power numbers increase in each of his three seasons with the Yankees, but I still don't want him batting fourth or ever batting ahead of Sanchez.
All of my lineup complaining on Twitter before the game (and there was a lot of it) was quickly silenced as Gregorius jumped on an 0-1 pitch with a line-drive triple to center field to lead off the second inning. A Sanchez grounder to third would display the weakest part of Gregorius' game in his baserunning, as he was easily thrown out at home. With two outs in the inning, Billy McKinney picked up his first Major League hit with a seeing-eye grounder through the right side and new fan favorite Brandon Drury smashed a 2-1 pitch off the very top of the right-field wall to score Sanchez and give the Yankees an early 1-0 lead.
After working around a two-out double in the first, Tanaka gave up a one-out solo home run in the second to the powerful Randal Grichuk. Thanks to the low ticket prices in Toronto, I was able to sit behind home plate for both games, and Grichuk, in person, looks slightly bigger than Ronald Torreyes. Despite his stature, he jumped on the first pitch he saw from Tanaka and hit a bomb to left-center to tie the game.
Drury struck again in the fourth with a two-out RBI single to give the Yankees a 2-1 lead and Tyler Wade finally came through with a big hit in his young career with a two-out, two-run double in the sixth to give the Yankees a 4-1 lead.
Tanaka lasted six innings (LINE) and Tommy Kahnle came in for a perfect seventh. Kahnle returned for the eighth, but after walking Russell Martin to lead off the inning and getting up a long out off the bat of Kevin Pillar, David Robertson relieved him for the final two outs.
After watching Aroldis Chapman pitch for the Yankees for four months of 2016 and all of 2017, I know there are two Aroldis Chapmans. There's the Good Aroldis Chapman, who comes in and there is actually a 0 percent chance anyone will reach base and close to a 0 percent chance that anyone might even make contact. Then there's the Bad Aroldis Chapman, who comes in and need 30 pitches to get through the inning, if he even gets through the inning, as every triple-digit fastball is fouled straight back or hit for a line drive and every slider is sat on or misses the strike zone completely. This appearance was a combination of the two.
Josh Donaldson struck out on four pitches (all strikes) and Justin Smoak went down on three pitches. Seven pitches, all strikes and two strikeouts and the Yankees were one out away from starting the season 2-0. And then Steve Pearce pinch hit for Curtis Grandson.
Pearce was an awful Yankee. Yes, his time with the Yankees was a very small sample size of 12 games and 30 plate appearances, but in those plate appearances, he hit .160/.300/.280 with one home run and four RBIs. That was back in 2012 when the Yankees were trying to win the division and avoid the first year of the wild-card format, so his at-bats were going at a crucial time. Since then, Pearce has gone on to play for the Orioles, Rays and Blue Jays, moving around the AL East and destroying the Yankees at every opportunity. Here is how he has done against the Yankees since
2013: 2-for-6, .333/.333/.500, 2B
2014: 14-for-47, .298/.411/.553, 3 2B, 3 HR, 7 RBIs
2015: 5-for-34, .147/.256/.294, 2 2B, 1 HR, 3 RBIs
2016: 13-for-47, .333/.447/.590, 1 2B, 3 HR, 6 RBIs
2017: 10-for-28, .357, 2 2B, 3 HR, 6 RBIs
Aside from 2015, Pearce has essentially been a slightly less version of David Ortiz against the Yankees, and he was again against Chapman.
Pearce jumped on Chapman's first pitch and drove a double to left field, and the Rogers Centre crowd started to come alive for the first time of the season. Chapman got ahead 0-2 on another former Yankee, Yangervis Solarte, but like every ex-Yankee, Solarte would succeed against them, and he crushed a double to right-center to score Pearce. Suddenly, the Yankees' lead was 4-2 with the tying run at the plate in Grichuk, who had already homered in the game. The game had felt like a lopsided blowout, but now Grichuk was stepping in with a chance to destroy Tanaka and Wade's day.
Rogers Centre had gotten loud and got even louder after a first-pitch ball. When Chapman missed the zone again with his second pitch, Rogers Centre was rocking. After four consecutive foul balls, I started to feel sick. I know what Bad Chapman looks like and after starting out the inning so strong, Bad Chapman was in the game and Randal Grichuk of all hitters was getting closer and closer with his timing.
Fortunately, Grichuk took the seventh pitch of the at-bat for a called third strike and Rogers Centre went quiet as if someone pressed mute on the entire stadium. Brittni and I made our way out of Rogers Centre surround by thousands of sad Blue Jays fans and across the street to The Rec Room for a postgame celebration.
***
Two games, two wins. A successful trip north of the border for me and a successful trip north of the border so far for the Yankees. In the morning it was time to head to the airport to fly back to New York and watch the Yankees on YES for the first time this season.