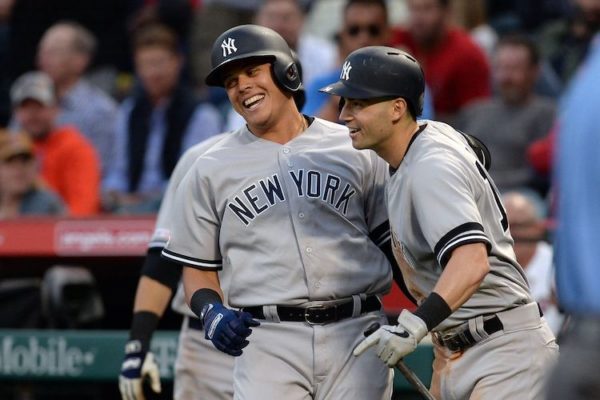 It wasn't too long ago I was in love with off days for the Yankees and praying and doing rain dances for games to be postponed until later in the season when the team would be at full strength or even half strength. But thanks to the team's play over the last four series and two weeks, I once again hate off days.
Here are 10 thoughts on the Yankees on this off day.

Back on the Yankees' off day on April 11, I wrote The Yankees Are in Trouble, citing the lengthy injured list, blown leads, losses to awful teams, a weak lineup, bad starting pitching and an inconsistent bullpen. The Yankees then went on to lose
1. Back on the Yankees' off day on April 11, I wrote The Yankees Are in Trouble, citing the lengthy injured list, blown leads, losses to awful teams, a weak lineup, bad starting pitching and an inconsistent bullpen. The Yankees then went on to lose two of three to the White Sox that weekend.
Four days later, on their April 15 off day, I wrote When Are the Yankees Going to 'Turn the Corner' Aaron Boone Keeps Talking About? The team was 6-9 and 0-3 in home series against the Orioles, Tigers and White Sox, and Boone gave his old BS answers in his postgame press conference following the Sunday loss to the White Sox.
That would be the last Yankees off day for two weeks with two games against the Red Sox, four against the Royals, four against the Angels and three against the Giants between then and today. The plan was to tread water and hover around .500 until the regulars could come back from the injured list, but as the Yankees waited around for their regulars to come back, more regulars joined them on the injured list. Instead of the Yankees treading water over the crucial two weeks, they went on an 11-2 run, winning all four series and climbing within 1 1/2 games of the Rays.
I don't ever like to give Boone credit, but for as much as I criticize the manager for being in over his head and simply having no idea what he's doing (which is true), I will give him a little, tiny bit of credit for the way the team has played since the Red Sox series. Sure, he's made some nonsensical bullpen decisions over the last 13 games, nearly costing the Yankees a few games, but the team is winning, and it's hard to completely destroy the manager when the win column keeps changing and the team has the second-best run differential in the league despite a daily lineup consisting of a combination of Tyler Wade, Mike Tauchman, Mike Ford, Gio Urshela, Austin Romine, Kyle Higashioka, Thairo Estrada and Cameron Maybin. So for now, I will lay off Boone.
2. Actually, scratch that. I have two things about Boone I have to mention.
The first is his usage of Jonthan Holder, who isn't trustworthy. The Yankees' only loss in Anaheim in the series finale. Masahiro Tanaka blew a 4-0 lead, and in a 4-4 game with two on and one out, Boone went to Holder, who immediately allowed both runners to score. Here is how Boone utilized his bullpen in that game:
Tie game, two on, one out: Jonathan Holder
Down two, cleaning inning: Stephen Tarpley
Down two, two on, one out: Joseph Harvey
Down six, cleaning inning: Tommy Kahnle
The Yankees went 11-2 over their last 13 with timely hitting, great starting pitching and a good enough bullpen. The team's performance prevented Boone from getting his hands on the game too much, but when he did, he proved incapable of making sound decisions. I'm not scared, I'm petrified of Boone in another postseason.
The second Boone complaint is in regards to Gary Sanchez. Sanchez had two weeks off, came back and played two games and then had the day off against a left-handed starter (Madison Bumgarner) with an off day coming up on Monday (today) and again on Thursday. The Yankees should be embarrassed with how many everyday players are on the injured list to go along with their best starter and best reliever, and yet, they are sticking with their over-the-top off day schedule.
3. Speaking of Sanchez, I haven't heard much from the Austin Romine Fan Club lately. After Sanchez struck out in seven of his nine at-bats, whispers from the Rominers began to grow, disregarding the fact Sanchez played in one rehab game after being on the injured list for two weeks. But then there was complete silence from the backup catcher brigade, probably because they were sitting in amazement when Sanchez nailed Mike Trout trying to steal second in Anaheim or staring in awe with their mouths open at the two majestic home runs he clobbered over the weekend against the Giants.
I will never understand how any Yankees fan doesn't like Sanchez. Yes, he had a bad, injury-plagued regular season last year, but he's come back from that to be the Sanchez we watched in 2016 and 2017. He's the best catcher in the league (YES showed a graphic on Sunday showing since 2016, Sanchez leads all catchers by 50 points in slugging) and it's not even close. So please stop your complaining, sit back and enjoy the luxury you have at catcher.
4. If Luis Severino doesn't hurt his shoulder in spring training, Domingo German isn't in the rotation. Michael Kay asked the question of what happens when Severino returns and we are a long way from that and I'm sure the rotation will take care of itself with injuries are underperformance, but if Severino were to return today, there's no way you could pull German from the rotation.
Sunday was the first time German allowed more than three earned runs in a game, and all four of the runs came in the sixth inning, after he one-hit the Giants for five innings. The Yankees have won four of his five starts, and the only loss came against the Royals when he allowed three earned runs in six innings with nine strikeouts and no walks. With the expected Yankees offense against the Royals, that's a win nine out of 10 times.
In the small sample size of five starts and one relief appearance (which he picked up the win in after pitching two shutout innings), German seems to have figured out how to throw strikes. He's only walked nine in 31 2/3 innings (against 32 strikeouts) and five of those walks came on April 1, in his first start of the season, on a cold night in New York.
Maybe German will regress the way he did last season after a strong start to the season, but as of now, he's been the Yankees' most consistent starter this season, and after his turn in the rotation was skipped once already this season, it can't be skipped again if he continues to pitch like this.
5. After DJ LeMahieu left Sunday's game with knee inflammation and Gio Urshela left after being drilled on the hand, all I could do was laugh. The Yankees are waiting for Aaron Judge, Giancarlo Stanton, Aaron Hicks, Didi Gregorius and Miguel Andujar, Clint Frazier and Troy Tulowitzki to return, and if anyone else gets hurt, I have no idea where they are going to turn. Thankfully, X-rays were negative on both LeMahieu and Urshela, though I'm sure they will undergo further testing and with the way other Yankees have been deemed fine only to end up on the injured list, you can't help but assume neither will avoid a 10-day absence.
LeMahieu signed as a super utility guy on a stacked team, most likely wondering how he would get a full season of at-bats despite being a former batting champion and Gold Glove second baseman. After not being in the Opening Day lineup, he's become the team's leadoff hitter, batting .310/.363/.430 with long at-bats and an unbelievable contact rate and approach with two strikes.
Urshela came to the Yankees as a career .225/.274/.315 who had reached the majors solely because of his infield defense. He claimed to have made adjustments at the plate in the offseason and with regular playing time on these Yankees is batting .351/.415/.509 looking anything other than overmatched at the plate.
Hopefully, neither guy has to go on the injured list, but I won't hold my breath with the Yankees' handling of injuries.
6. Like the Rominers, be prepared for the Urshelas to speak out when Miguel Andujar returns and makes an error at third base. I love Urshela and what he's done for this team, but let's not forget what Andujar did last season as rookie the way a lot of people forgot about what Sanchez did for two seasons.
7. Thairo Estrada is doing everything he can to have a future in the majors as a Yankee and not part of another franchise. He's doing his best to give the Yankees a backup plan if Didi Gregorius turns down a potential extension or leaves via free agency.
The second baseman, turned left fielder over the weekend, is 6 for 14 with a walk and three strikeouts in 16 plate appearances since his debut. The 23-year-old has looked smooth in the field and mature at the plate, and while I enjoy having Gregorius on the team, I can't help but envision an Estrada-Gleyber Torres middle infield for a long, long time.
8. It's now shocking when Luke Voit doesn't reach base in an at-bat. He's batting .283/.397/.935 with eight homer runs and 25 RBIs, having reached base safely in every game this season. He put up a .365/.468/.635 batting line with two doubles, four home runs, 11 RBIs and nine walks over the 11-2 run. His defense is a story for another day, but the Yankees' interim 2-hitter is hitting the way the real 2-hitter (Judge) does.
9. Today is April 29. It's now been 61 days since Aaron Hicks hurt his back on a 35-minute bus ride from Tampa to Lakeland in spring training. Supposedly, Hicks is close to playing in games, but who knows what is true and what isn't when it comes to his timetable to return. This situation is long past ridiculous.
10. On April 11, when the Yankees were 5-7, I wrote going 11-6 for the rest of April and finishing the month at 16-13 was more than doable. With one game left in the month, the Yankees are 17-11, meaning they will pass my minimal win goal of 16 by at least one game, and possibly two.
It's unbelievable the Yankees have been able to win the way the way they have with their injury situation. If the Yankees' injury timetables are accurate (don't count on it), we could see some semblance of their expected 2019 lineup start to take form in the next week.
Most of the current players (Tauchman, Ford, Wade, Estrada, Maybin) will be headed back to the minors once the regulars return. If the Yankees get to where they're expected to go this season, the April Yankees won't be forgotten for keeping the season alive.
***
My book The Next Yankees Era: My Transition from the Core Four to the Baby Bombers is now available as an ebook!