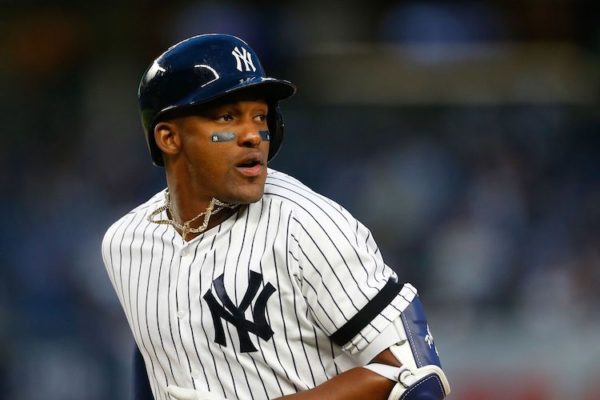 This is really the only off day left in the month for the Yankees, but after a pair of rainouts this week, the Yankees got some extra rest. I doubt that will prevent Aaron Boone from giving unnecessary rest to the team's best players, but maybe it will help a little.
The Yankees continue to win games and keep pace with the Rays, who they will host this weekend, and hold off the Red Sox, who they will see for four games at the Stadium in two weeks. Except for the crowded injured list, everything has been going well for the Yankees, and it's made my life and health a lot better.
Here are 10 thoughts on the Yankees on their second and last scheduled off day this month.

1. It sucks Miguel Andujar is done for the season. I know there is a large group of Yankees fans, maybe even the majority at this point, who want Gio Urshela to be the team's third baseman, though they are disregarding Andujar batting .297/.328/.527 with 25 home runs and 97 RBIs last year in his first season in the majors. Sure, Andujar's defense was still a work in progress and he couldn't be trusted to make even the most routine plays in the field, but I really believe he will improve as a fielder over time. Now his future and career are in question because no baseball player ever wants to have shoulder surgery, no matter how small a tear he has in his labrum.
Andujar's agent Ulises Cabrera said, "Miguel tried to give as much to the team as he could but realized that he just wasn't physically able to deal with the pain and still be as productive as we all know he can be."
If Andujar was experiencing enough pain that he was basically a pylon in the batter's box and in the field, how is it possible the Yankees deemed him eligible to return to the team after just over a month of rehab? This isn't sitting Gary Sanchez and then using him as a pinch hitter only to put him on the injured list the next day and it's not letting Clint Frazier finish a game after taping his ankle and then putting him on the injured list the next day. While those two are bad, this is way worse. The Yankees placed Andujar on the IL with a torn labrum, let him rehab and then activated him for just over a week before electing for surgery. Out of all the egregious things the Yankees and their medical staff have done in 2019, this was the worst of them all.
2. I'm not in the Gio Urshela Over Miguel Andujar Fan Club, but I'm certainly interested and intrigued as to what they have to say. I read through their pamphlet and checked out their website.
Urshela will get his chance now, or at least some sort of chance until Didi Gregorius returns. Urshela is batting .330/.385/.489 and playing Gold Glove-caliber defense. The defense has always been there and now it's up to Urshela to prove he can maintain a non-utility player bat for an entire season. At worst, Urshela returns his old self and the Yankees eventually have a second, short and third combination of Gleyber Torres, Didi Gregorius and DJ LeMahieu and won't need to rely on Urshela, and at best, the Yankees uncovered another diamond in the rough and they have a real third base competition for 2020 or another valuable asset to use in a trade.
3. I would much rather have a healthy Luis Severino in the rotation than not, but it was Severino's spring training injury which led to Domingo German joining the rotation to begin the season. Through all the early-season injuries, German has stepped up and been as good as Severino has been and a near-guaranteed win every five days. Looking back, it's comical the Yankees skipped one of his start's earlier in the season. Actually, I don't have to look back since I said it was ridiculous at the time.
German is now 8-1 in eight starts and nine games (he picked up a win in relief after having his start skipped), and his one loss came in a game in which he went six innings, allowed six hits, three earned runs, no walks and struck out nine. That pitching line should have been enough to produce a win for the Yankees, but unfortunately it didn't that time against the lowly Royals. German now has 52 strikeouts in 50 innings and has allowed two earned runs or less in five of his eight starts. He has been the Yankees' best and most consistent start through the first quarter of the season, and if Severino returns this season and all other starters are healthy at the time, I have no idea what the Yankees would do. I think they would have to go to a six-man rotation.
4. Aaron Hicks finally returned to the lineup on Wednesday. He was supposed to play on both Monday and Tuesday before those games were rained out. The Yankees chose not to play him in both games of the doubleheader, even though he needs playing time and at-bats. Hicks wasn't immediately inserted as the 3-hitter in his season debut, as if he were Aaron Judge returning to the team, and it's clear the Yankees will continue to treat him like an All-Star and MVP candidate despite him never being the former and only being able to dream about being the latter. Hicks went 0-for-4 with three strikeouts, which is exactly what you would expect for a player making his debut in the middle of May.
Hicks is a fine player and a good center fielder, but he's not Judge or any other of a number of Yankees, yet they act as if he is. Put him at the bottom of the lineup like you would with any other player returning to real game action and let him find himself before deciding he belongs in the heart of the order.
5. Zack Britton seems to have a hold on the eighth inning, no matter the situation, and right now, that's the only real thing to complain about with this team. I do like Adam Ottavino and Tommy Kahnle being used in high-leverage situations, but I don't like how it seems Britton gets the eighth no matter what. He certainly hasn't earned that as a Yankee between last season and this season and handing him the role based on his pre-Achilles career is a dangerous idea. The move hasn't backfired since last month in Houston, but it's come very close lately, and it will be a while until I trust Britton the way I thought I would.
6. Tommy Kahnle's line for the season is now: 16.2 IP, 7 H, 4 R, 2 ER, 6 BB, 23 K, 1.08 ERA, 0.780 WHIP. The best part about Kahnle's resurgence isn't that he's another trustworthy and elite option out of the bullpen, it's that it means less Jonathan Holder in spots when Jonathan Holder has no business pitching.
7. The Yankees were rained out on Monday, were rained out on Tuesday and had Thursday off. Aaron Boone better play his regular everyday lineup for all three games this weekend against the Rays with first place on the line. If someone needs a day of extra rest (which they don't, but Boone will make sure they get), schedule it for any of the next seven days after this weekend against the Orioles and Royals. Get first place and then you can act like you're a first-place team.
8. I went to the Trop last weekend for the Yankees' bid at moving into first place for the first time since Opening Day. Even though the Yankees were unsuccessful in pulling off the three-game sweep and moving atop the AL East, they still won the series and closed the gap on the Rays.
I thought the Yankees needed to go at least 3-3 against the Rays in the six games between last weekend and this weekend and figured they would lose two of three in Tampa and win two of three in New York. After winning the series at the Trop, where they haven't been able to do much winning for a long time, I think it's time to get greedy this weekend at the Stadium. A series win this weekend would give the Yankees sole possession of first place, which they haven't been able to achieve this season, and would finally put pressure on the Rays, who have been able to hold off both the Yankees and Red Sox through the first month and a half.
You have to go back to 2015 for the last time the Yankees were in first place this late in the season, which is extremely sad, and I almost forget what first place in the division feels like after so many wild-card berths.
9. After the Yankees play the Rays, they have a week of cleaning up to do with four games against the Orioles and three against the Royals, two last-place teams who the Yankees should have no problem beating. Last season, the AL East came down to the Yankees' inability to pick up wins against the league's worst, and this season started off exactly the same way. The Yankees have done a better job of late, winning their last five in a row against last-place teams in the Giants and Orioles, but they need to continue to do so. Tampa Bay and Boston have taken care of business against the crap teams and the Yankees need to as well.
10. My 17-12 May projection for the Yankees had a wrench thrown into it with the two rainouts against the Orioles, costing the team a game this month. The new expectation is to go 17-11. The Yankees are now 9-4 and have to go 8-7 for the rest of the month, which is now more than doable.
***
My book The Next Yankees Era: My Transition from the Core Four to the Baby Bombers is now available as an ebook!