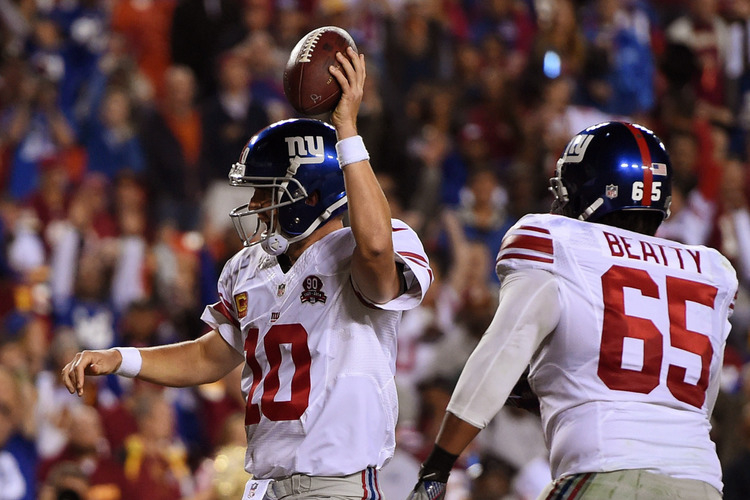 The first four weeks of the picks season has been a grind. Week 1 was whatever, Week 2 was an embarrassment, Week 3 was decent and Week 4 was ehh. But now in Week 5, it's pretty much going to be the beginning of something great or the end of the 2014 picks season despite having 12 weeks and the postseason left.
Week 5 features nine games with at least a 6-point spread, seven quarterbacks who entered the season as backups, three rookie quarterbacks, a 1-3 vs. 1-3 matchup in Tampa Bay at New Orleans and the Tom Brady Patriots being a home underdog for one of the only times ever. Between the Giants playing a must-win game, these picks, bets, parlays, teasers, fantasy football and pools, this day could either end with me being a thousandaire or me getting so drunk I try to challenge Red Zone host Andrew Siciliano to a fight through my TV.
(Home team in caps)
GREEN BAY -8.5 over Minnesota/Minnesota +8.5 over GREEN BAY
This pick depends on the status of Teddy Bridgewater. If Bridgewater starts, I will take the Vikings. If he doesn't, I will take the Packers. I'm not about to back Christian Ponder ever let alone a week after the Packers blew the doors off the Bears in Chicago.
Chicago +2.5 over CAROLINA
These two teams seem very similar in that they are both underachievers loaded with a bunch of talent and I continue to pick them each week thinking they will finally put it together only to be let down. Now that they are playing each other, I'm forced to pick one of them and though I'm probably better off picking this one out of a hat, I will take the underachiever with more talent.
Cleveland +1 over TENNESSEE
Somewhere someone who isn't a Browns fan or a Titans fan is going to bet on this game and watch it in its entirety. Think about that.
PHILADELPHIA -7 over St. Louis
I didn't care that the Eagles lost to the 49ers in Week 4 and cost me what should have been an easy picks win with a push (+5) because their loss meant the Giants are only one game back in the NFC East now. After being unable to move the ball all game on the San Francisco defense and only being in the game because of three special teams touchdowns, the Eagles had the ball first-and-goal at the 49ers' 6 with just over two minutes to play. And here is what the Eagles did:
First-and-goal at San Francisco 6: Incomplete pass to Jeremy Maclin.
Second-and-goal at San Francisco 6: LeSean McCoy rushes for five yards to the 1.
Third-and-goal at San Francisco 1: Incomplete pass to Brent Celek.
Fourth-and-goal at San Francisco 1: Incomplete pass to Jeremy Maclin.
So with the ball on the 1 and two plays to get it in and have a lead with about two minutes left in the game, Chip Kelly decided to not give the ball to the best running back in the league. Sure, McCoy hadn't been running well all day and finished with only 17 yards (on only 10 carries), but he did just pick up five yards on second down. Instead, the Eagles went with two passing plays, the second of which, with the game on the line, was thrown out of the end zone and was closer to being caught in the the third row then it was by an Eagles receiver.
NEW YORK GIANTS -4 over Atlanta
When I think about this game, I can't help but think about the Giants' 24-2 win over the Falcons in the 2011 playoffs. Maybe this game won't play out exactly like that one since that Giants team was riding an historical wave of momentum, but this team is also riding their own currently mini-wave of momentum after saving their season with back-to-back wins and a 10-day break.
I wish this weren't the third must-win game in a row for the Giants, but it is. With their next two games in Philadelphia and Dallas and then with Indianapolis, Seattle, San Francisco and Dallas again after their Week 8 bye, this is about as easy as it gets for the Giants until that nice Jacksonville-Tennessee-Washington-St. Louis portion of the schedule in Weeks 13-16. So yes, this is a must-win game … again.
NEW ORLEANS -10 over Tampa Bay
A home game for the Saints? Let me say it again:
The Saints' last home loss with Sean Payton as head coach came in Week 17 in 2010 when they had nothing to play for. Including the playoffs, with Payton as head coach, the Saints have won all of their home games since that loss and here are their margins of victory in those games: 11, 25, 18, 3, 32, 18, 21, 24, 6, 17, 28, 29, 14, 25, 11, 55, 7 and 17.
(I had to add their 11-point win over the Vikings from Week 3 to that list.)
With the Saints coming off an embarrassing loss on Sunday Night Football and their season on the brink of destruction, the Superdome is the worst possible place for the Buccaneers to be headed a week after their impressive comeback in Pittsburgh and with Mike Glennon's confidence at an all-time high.
Houston +6 over DALLAS
If the Giants didn't exist then the Cowboys would be the worst team when playing with expectations, and after being picked to be your standard mediocre Tony Romo era team, the 2014 Cowboys now have expectations. In the last three weeks, they have beat up on the Titans, overcome a 21-0 deficit against the Rams and routed the Saints. At 3-1, hype has found Dallas in a year it wasn't expected to thanks to DeMarco Murray's 534 rushing yards in four games and I don't know what makes me happier: when the Cowboys have hype or the when the Giants have none.
DETROIT -7 over Buffalo
Back in Week 2, I said "Good times can't be sustained in Buffalo" and picked the Dolphins -1 over the Bills. The Bills won. Then in Week 3, I said, "It's hard to buy into a good Bills start when you consider the way two other good starts finished in recent years" and picked the Bills -2.5 over San Diego. The Bills lost. After starting the season 2-0 with wins in Chicago and against Miami and selling their teams to the Sabres owner, who will keep the Bills in Buffalo, the Bills have lost two straight to San Diego and Houston and now EJ Manuel has been benched for Kyle Orton. Things got out of hand fast for the 2014 Bills and going to Detroit, where the Lions are 2-0 and beat the Giants by 21 and the Packers by 21, isn't the best place to turn things around. (And unfortunately, we are all going to have see Jim Schwartz's face on TV a lot because of this game.)
INDIANAPOLIS -3.5 over Baltimore
If the Ray Rice video isn't released, Rice would have already played two games this season after serving his initial two-week suspension, which the NFL and Ravens thought was appropriate. And since that incident and fallout, nothing bad has happened to the Ravens. They cut Rice, wrote a multi-page statement rebutting everything ESPN's Outside the Lines reported about them and then had their owner Steve Bisciotti hold a ridiculous press conference to talk about that statement and through all of this, they have won three straight games. If you try to envision the worst possible way to handle this entire mess, the Ravens have handled it even worse than that and yet, they keep winning and things just keep going their way. Well, that ends in Week 5 in Indianapolis against the highest-scoring offense in the league.
Pittsburgh -6.5 over JACKSONVILLE
I hate taking the Steelers let alone taking them to cover 6.5 on the road coming off a meltdown at home. But when you have a team only giving 6.5 points to the Jaguars, you have to take it. You just have to. The Jaguars have lost by 17, 31, 27 and 19 this season and things don't look like they're getting any better. This might be the worst Jaguars team ever and that's impressive considering they went 4-12, 2-14 and 5-11 in their last three seasons.
DENVER -8 over Arizona
That last time Peyton Manning lost coming off the bye week was 2004. Ten years. (Well, it will be 10 years on Oct. 24.) Since then, Peyton and the Colts (2005-10) and the Broncos (2012-13) are 8-0, winning by an average of 17 points.
Kansas City +6.5 over SAN FRANCISCO
Either the Chiefs needed the first two games of the season to get on track and look like the early-season 2013 Chiefs, or the last two games were an anomaly and this line should be higher and I'm a sucker for taking the Chiefs based off their Monday Night Football performance. It's most likely the latter since beating up the on the Patriots at a raucous place like Arrowhead isn't hard to do given the current state of the Patriots and I will end up regretting this decision when the 49ers are going up and down the field against the Chiefs and the Chiefs can't manage the game with the run against the 49ers' defense, which held Matt Forte to 21 yards and LeSean McCoy to 17 yards.
SAN DIEGO -7 over New York Jets
I desperately wish this game were going to be played at MetLife to hear the "WE WANT VICK! WE WANT VICK! WE WANT VICK!" chants fill the stadium. But instead Rex Ryan and John Idzik will get this Sunday off from live peer pressure when Geno Smith inevitably fails to lead the offense consistently down the field and will have to deal with the questions and critics following the game and all week long back home.
Before the season started, I did a podcast with Tim Duff (we did another one after the Jets' loss to the Packers) and he told me he was hoping the Jets would be 3-4 after their first seven games and in the thick of the postseason race. Well, the Jets are 1-3 and now need to go 2-1 against Philip Rivers, Peyton Manning and then Tom Brady on a short week in order to achieve that pipe dream of Duff's. And I hate to sound like Joey Knish right now telling Duff that his dream of the 2014 Jets making the postseason is a pipe dream, but this isn't Mikey McDermott bluffing Johnny Chan at the Taj or getting back his three stacks of high society from Teddy KGB to make a run at Vegas. It's the same old Jets. The same old Jets with the same problems. And when I asked Duff about his thoughts on the quarterback controversy on Tuesday, he said, "I give Geno one more game." The problem is the Jets can't afford to give Geno one more game in hopes that their not-really-a-franchise-quarterback-but-still-the-franchise-quarterback Geno Smith will miraculously come around on the road against the 3-1 Chargers, whose only loss is a one-point loss on the road against the undefeated Cardinals and who put up 30 points against the best defense in the league in a win over the Super Bowl champion Seahawks.
Forget 3-4 after going through the gauntlet. The Jets could be looking at 1-6.
Cincinnati -1.5 over NEW ENGLAND
When I talked about the end of the Patriots' dynasty last week, I thought it would be a gradual decline. I didn't think the Patriots would get run out of Arrowhead, allow 41 points to the Chiefs and Tom Brady would find the bench on Monday Night Football. Let's recap the Patriots' four games this year:
Week 1 at Miami: Allowed 33 points, including 191 rushing yards, to the scoring-challenged Dolphins.
Week 2 at Minnesota: Beat up on the Vikings immediately following Adrian Peterson's suspension, which left the Vikings without a game plan due to the absence of their best player.
Week 3 vs. Oakland: Needed a rookie quarterback playing in his third career game to throw a game-ending interception at the New England 12 with a chance to tie the game and send it to overtime.
Week 4 at Kansas City: Allowed 41 points and 207 rushing yards in a 27-point loss and Tom Brady was benched after throwing 159 yards with two interceptions.
All of my Boston friends had a good laugh at the Patriots' win total for 2014 being "only" 11 as they poured money into sportsbooks as if it was the biggest lock since since the 1919 World Series. The Patriots are lucky to be 2-2 and are now facing the undefeated Bengals (who have allowed 33 points in three games and coming off a bye) on a short week. I'm not surprised the Patriots are a home underdog for just the sixth time since 2002. I'm surprised they aren't getting more points.
Seattle -7.5 over WASHINGTON
Ten days after throwing four interceptions against the Giants, Kirk Cousins will have to deal with the Seahawks, who will be coming off their bye week. After this one, we can count the Redskins out in the NFC East and make it a three-team race.
Last week: 6-6-1
Season: 27-33-1