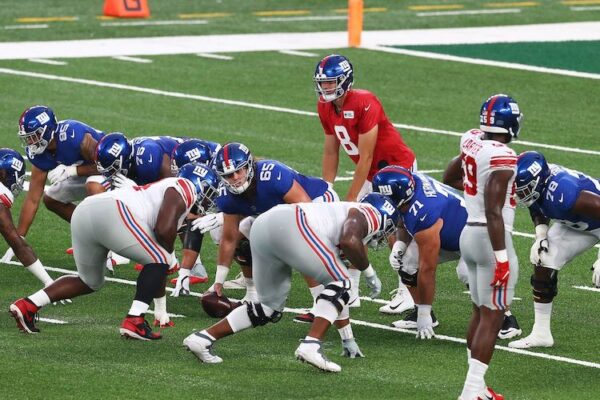 Football is back, and it's weird. Baseball began less than two months ago, and my brain is telling me we're not even one-third of the way through the baseball season, so it's hard to process the idea that football begins this week. For nearly four months, there weren't any sports, and now all four major sports are active.
With the beginning of football, my seasonal depression also begins. The fact it's getting cold at night and the temperatures have started to fluctuate enough from day to day that I will have to actually check the weather to see what I should be wearing saddens me. I hate that summer is over. I hate it. But like every year at this time, I'm happy that football is back.
The first week of football is special and the anxiousness at 1:00 p.m. on the first Sunday of the season is indescribable. Keeping up with the games, parlays, teasers and fantasy teams all at once, while drinking and eating thousands of bad calories for nearly 11 straight hours 17 times a year is magical.
In order to avoid a down week from a financial standpoint I have come up with some personal gambling rules to prevent any emotional or illogical decisions this season.
1. Don't Be Tricked by Week 1
Week 1 is my favorite week to pick and wager on because your decision making is based on your own knowledge and feel for how the season will play out. Week 2, on the other hand, is a reaction and a lot of times an overreaction to what happened in Week 1. (If I could, I would sit out Week 2. I guess I technically could sit out Week 2, but we all know that's not going to happen.)
I spend the entire offseason coming up with an opinion on each team, and then Week 1 happens, and some of those opinions, and at times a lot of those opinions, are destroyed or proved wrong. Except they aren't.
Don't let the results of Week 1 influence your original opinions on teams for Week 2. The Week 2 lines are the most reactive lines of the season because there is only one game of information to go off of.
I need to set a calendar reminder to read this paragraph when I write the Week 2 picks blog.
2. Be Careful with Thursday Night Football
It's not so much about Thursday Night Football in September and October as it is in November and December when baseball is over and the time between Monday Night Football and Thursday Night Football feels like an eternity.
The Thursday Night Football game generally sucks. Generally might be too generous. It sucks nearly every single week. The Opening Night Thursday game doesn't count and neither do the Thanksgiving games since those are unlike the other Thursday games. When it comes to the Thursday game, just because there hasn't been a game on on in 72 hours, it doesn't mean it needs to be wagered on.
3. Beware of the Bs
Last season, I said "Beware of the Non-Bears Bs" after their 2018 season. A lot of good that did me. The Bears are back with the rest of the Bs in not being able to be trusted.
The Bears, Browns, Bengals, Buccaneers, Broncos and Bills are not your friend. Don't get enticed by any high-point spread or any glowing money line. The Bears are still starting Mitch Trubisky. The Browns … well, they're the Browns no matter what offensive names they have. The Bengals have a rookie quarterback. The Bucs have tried to build a Pro Bowl team from a few seasons ago. The Broncos are nowhere close to being good. And the Bills are expected to win the AFC East and contend for a championship, and the only thing worse than believing in the Bills is believing in a Bills team that has expectations for the first time since the '90s.
4. Don't Bet on the Giants
I have had some memorable runs with the Giants, especially their money lines over the years, but we are long past the point of where I have lost money overall on the Giants. Long past the point. If the point is Mischa Barton on The OC in 2003 then I'm Mischa Barton on The Hills.
I'm over thinking the Giants are going to be good or are going to eventually be good each week. I'm over it. I need to accept the Giants aren't going to be good and need to realize no one really knows the next time they will be good. They have reached the playoffs once in eight years, and as a Giants fan, I need to expect the worst each week and not let inexplicable turnovers, undisciplined penalties and nonsensical in-game coaching decisions affect my life. I need to treat the Giants the way they have treated me in all but two years over the last 13 years: like I don't care.
On top of this all, I need to somehow talk myself into thinking John Mara and David Gettleman have any idea what they're doing and won't further separate the Giants from contention. I need to talk myself into believing in Daniel Jones, the rest of Gettleman's draft picks and the vision he has about building a team around a running back in a league which has drastically changed every rule to promote and help the passing game. I need to believe that the third time's really a charm and that the organization finally got the head coach right in Joe Judge in their third try since unnecessarily moving on from Tom Coughlin
I won't be betting on the Giants in 2020 because I'm suspending myself from betting on the Giants for all of 2020. (As a remminder, can someone please send me that last sentence every 15 minutes up until the Giants' Week 1 kickoff?)
(Home team in caps)
KANSAS CITY -9 over Houston
Fans or no fans, a full Arrowhead Stadium or limited capacity, it's always hard to pick against the Chiefs at home. Add in them raising their championship banner, it being the first game of the season and the fact the Texans couldn't stop them in the playoffs and have only gotten worse since then and this game is a lay-up.
BALTIMORE -7.5 over Cleveland
I'm a little scared of the Browns' offense actually putting it together with Baker Mayfield, Odell Beckham, Jarvis Landry and Nick Chubb. But Mayfield has shown nothing to suggest he will be anything other than average in the league and your quarterback can't be average when playing at Baltimore. If you're Progressive, you can't feel good about how much money you have dumped into Mayfield for your commercials. If I'm a prospective customer looking for an insurance provider, I have to cross Progressive off the list because they have Mayfield as the face of their company and the last thing you want is mediorcre insurance coverage. Until Mayfield proves he's not the latest first-overall bust, I can't get myself to back the Browns.
Indianapolis -8 over JACKSONVILLE
I was an Indianapolis believer last season after the run the team went on the season before. I wrongfully thought the drop off from Andrew Luck to Jacoby Brissett wouldn't be as significant as it was, and my picks and bank account paid for it. The Colts were bad (7-9) and Brissett's play forced the Colts to sign Philip Rivers. While I don't trust Rivers at all, and don't trust him to cover an eight-point spread in the first game with his new team, I trust the Jaguars less. This will be the last chance I give Frank Reich after his team burned me in the 2018 playoffs against the Texans and last season with their horrific play. If the Colts can't go into Jacksonville and beat up on a very bad Jaguars team, I'm done with them.
Philadelphia -6 over WASHINGTON
There's no good pick here. Either I picked the hated Eagles and they screw me the way they did in last season's opener when they trailed Washington 17-0 in the second quarter and 20-7 at halftime before coming back to win 32-27, or I pick the hated Washington Football Team and I'm quickly reminded why you don't pick Dwayne Haskins to cover a spread. The only answer is to go with the better team, and hope they are a touchdown better.
BUFFALO -6.5 over New York Jets
If the Jets are as bad as everyone thinks they will be and the Bills are as good as everyone thinks they will be, this might be the easiest game of the week.
NEW ENGLAND -7 over Miami
I always thought Bill Belichick would walk away from coaching when Tom Brady retired, for fear of not winning with Brady and for the grind of starting over, but that was without ever thinking Brady would play for another team. Once Brady left, Belichick had to stay. He had to stay to put a dent in Brady's legacy. If Belichick can win with Cam Newton and a Patriots roster depleted by opt-outs, it will futher prove Belichick is the best coach in the history of the league and it will also prove he has been the most important part of the Patriots' dyntasy and not Brady.
DETROIT -2.5 over Chicago
The second Matt Nagy named Trubisky as his starting quarterback, I knew who I was picking in this game.
MINNESOTA -2.5 over Green Bay
I think the Vikings missed their window of opportunity to win it all. If the window hasn't closed, this season is likely their last chance to get to the Super Bowl with the current group, or what's left of it after they turned over most of their defense. Following the NFC Championship debacle against the Eagles, the Vikings greatly overpaid for Kirk Cousins. It's not Cousins' fault the front office idiotically gave him a $96 million contract over three years, which has produced a season in which the team missed the playoffs completely and then were routed by the 49ers in the playoffs the following years. It's that Cousins isn't good, and he has done more harm than good for the Vikings. Maybe this season he can prove his contract wasn't the worst investment the team could have made at the worst possible time.
ATLANTA -1 over Seattle
Ah, the battle of the two idiots who each single-handedly gave the Patriots a Super Bowl win as head coaches of their respective teams. I hate both teams and I hate both head coaches. Give me the home team.
Las Vegas -3 over CAROLINA
The best thing to ever happen to the Giants was the Panthers overpaying Matt Rhule and taking the Giants out of the equation. If Judge sucks, the Giants can look for the next guy as they continue to try to find a rightful heir to Coughlin. When you give a coach a six-year, $60 million deal like the Panthers gave Rhule, you better hope you picked the right guy because there's no getting out of that. The Panthers aren't going to eat that money if Rhule is a disaster, and I think he's going to be a disaster. Giving a first-time NFL head coach and a moderately successful college head coach that kind of money is dumb.
Los Angeles Chargers -3 over CINCINNATI
I don't care that the Chargers are starting Tyrod Taylor, even though the right play is to play Justin Herbert from the beginning. I'm sure four or five weeks into the season, Taylor will be on the bench, and the Chargers will have wasted a month or more valuable game experience Herbert could have gained. From a developmental standpoint, it's a bad decision. From a picks decision, it's a good one.
NEW ORLEANS -3.5 over Tampa Bay
I don't want the Saints to beat the Buccaneers in Week 1, I want them to humilate them. I want the happy-go-lucky Brady Bucs to come crashing back to reality with the Saints running them out of the Superdome. Ultimately, I don't want either Belichick or Brady to experience anymore success. For this week, let's start with Brady getting knocked down adn then the attention can be turned to knocking Belichick down (though Newton might do that all by himself).
Arizona +6.5 over SAN FRANISCO
I can't get the thought of picking against the the 49ers, who were the NFC's best seven months ago, out of my head. I also can't get the thought of Kyler Murray, DeAndre Hopkins and Larry Fitzgerald having their way with the 49ers' defense. It's extremely difficult to be great in back-to-back seasons in the NFL let alone repeat as conference champions in back-to-back seasons. I think the 49ers could regress this season, though that might just be the part of me that remembers watching Kyle Shanahan continuously call for passing plays with the Falcons holding a 25-point lead in the Super Bowl. I want the 49ers to be bad under Shanahan, and so I will root for that outcome.
LOS ANGELES RAMS +2 over Dallas
This season of Hard Knocks made me dislike the Rams more than I did after their vaunted offense no-showed in the Super Bowl against the Patriots and scored three points. For as much as HBO made me not like the Rams and their coaching staff, it could never make me dislike them more than the Cowboys.
NEW YORK GIANTS +6 over Pittsburgh
I'm very worried about this line because the Steelers aren't any good and they're giving six points to the Giants on the road. That's not a good sign for the new-look Giants. It's not a good sign for me as a Giants fan who wants the team to get back to the postseason for the second time in nine years. It's a new season and I can't pick against the Giants and turn on them yet. I will at least wait until they're 0-2 (like they always are) to do that.
TENNESSEE -3 over Denver
I hated Mike Vrabel as a player. Vrabel as a head coach though? Well, that's a different story. Between turning Ryan Tannehill into a viable NFL starter, ending the Brady-Belichick era, outsmarting Belichick with his run-down-the-clock play in the postseason, and knocking off both the Patriots and Ravens to reach the conference championship with essentially only a running back on offense, I have grown to love Vrabel. I wish he could be the head coach of the Giants. Unfortunately, I'm stuck with needing the Giants to have finally picked right with Judge.
***
Subscribe to the Keefe To The City Podcast. New Giants episodes before and after every game throughout the season.