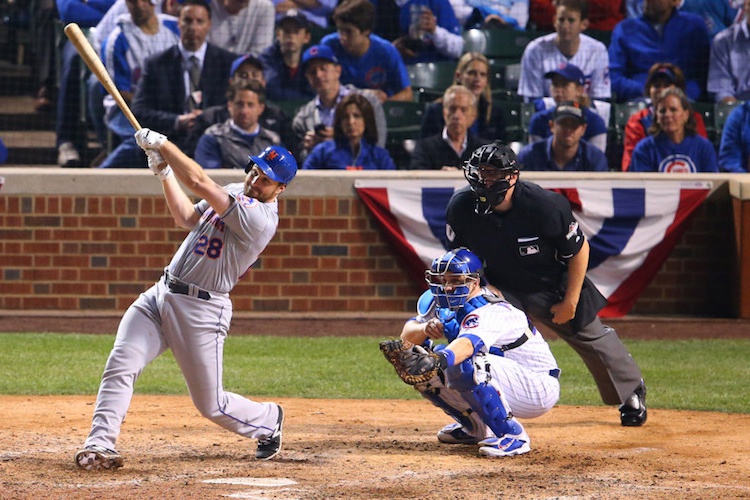 The Mets are headed to the World Series. There's a sentence I hoped I would never have to write, or at least not write without saying they would be headed to the World Series to play the Yankees. But after beating up on the worst division in baseball, getting past the best 1-2 starting pitching punch in the games and the 97-win Cubs, the Mets are four wins away from a championship and it's up to the Royals to stop them.
Here is another installment of "Monday Mentions" focused on a mix of questions and comments from Twitter about the Giants, the Yankees and the Mets being in the World Series.
@NeilKeefe does Eli commit intentional grounding once a game? Unfuckin real

— EB (@EBones7) October 20, 2015
Yes, yes he does. It's actually remarkable how often Eli takes an intentional grounding penalty. If it's not once a game then it's at least every other game. I watch a lot of football and at least part of every game every week. (Yes, I know that's disgusting, but at least I know I'm not alone.) And in all of these other games, I rarely ever see an intentional grounding penalty, so I wonder what non-Giants fans think when they watch Eli take one seemingly every game.
But that's not the only thing the Giants do that other teams don't. No one takes delay of game penalties like the Giants and no one gets to the line slower following a close play that will likely be challenged by the opposing team like the Giants. All of these things are what make the Giants the Giants and what makes them the most frustrating and best good/bad team in professional sports. It's who they are and they're never going to change.
@NeilKeefe PED's,You think? I thought it was a possibility for players to try it during the playoffs. I don't know the test regiment.

— Brian K. Kalipersaud (@Yankees_4Life) October 19, 2015
In Slap Shot, the following exchange takes place between Tim McCracken and Ned Braden after Reggie Dunlop puts a bounty on McCracken's head.
Tim McCracken: Hundred bucks says you're gonna crack my skull.
Ned Braden: I wouldn't crack your knuckle for a hundred bucks.
Tim McCracken: So, he's bluffing.
Ned Braden: Someboy's gonna kill you, ya dumb son of a bitch, but it's not gonna be me.
That last Braden line is how I feel about Daniel Murphy and hope it's true when it comes to Brian Cashman and the Yankees. "Someone is going to overpay for Murphy, but it's not going be the Yankees you dumb son of a bitch."
Daniel Murphy is nowhere near the player he was offensively, defensively and on the bases in the NLDS and NLCS. It's almost as if he were suddenly using Alex Mack-like powers to become Babe Ruth in the playoffs. It's going to be bad when Murphy gets $85 million to hit 10-14 home runs and play bad defense and prove himself to be nothing more than a light-hitting designated hitter.
@NeilKeefe I once saw the team with the best running back in the NFL run a pass play on the goal line with the Super Bowl on the line…….

— Rich R (@MMAfanRich) October 19, 2015
I will never get over this. Like, the Yankees not completing the trade for Cliff Lee in July 2010 or going incredibly over the top to sign him in December 2010 or Joe Torre letting Jeff Weaver lose Game 4 of the 2003 World Series with Mariano Rivera in the bullpen or the Rangers blowing two-goal leads in Games 1 and 2 and losing all three overtime games in the 2013-14 Stanley Cup Final, I will never get over Pete Carroll's decision to throw the ball on the goal line of the Super Bowl. Thank you for ruining my day by bringing this up.
@NeilKeefe The Mets are a team of destiny. Unfortunately, the Yankees are a team of Brian Cashman.

— John Chu (@JSC2100) October 22, 2015
Brian Cashman has his work cut out for him this offseason. The roster is pretty much locked right now outside of maybe one or two bullpen decisions and one bench player spot. The Yankees weren't good enough to get to the ALDS this season, so the same roster one year older in 2016 certainly isn't going to get them there unless the pitching stays completely healthy, which isn't likely given the injury histories of the rotation.
The Mets built their current team through the draft and trades and it took them nine years to get back to the playoffs. I don't think they're a team of destiny. They got a Dodgers team with no offense and no bullpen in the NLDS and an inexperienced and young Cubs team in the NLCS and without Daniel Murphy turning into a player he has never been in his career for both series, the Mets might not have played more than four playoff games. They won't beat the Royals.
https://twitter.com/boredstupid12/status/658444224564719617
I was very, very, very obnoxious to the Red Sox fans I know. My friend Brendan is a huge Red Sox fan and so is his whole family. We spent a lot of our childhood mimicking the Yankees and Red Sox hitters and pitchers of the 90s while playing Wiffle ball and watched nearly every big Yankees-Red Sox game together, including the 1999 ALCS, while playing series in MLB 99 on Playstation along with Tony Hawk's Pro Skater. I can remember watching Pedro Martinez shut down the Yankees while Roger Clemens got embarrassed in Game 3 of the series, but it was the Yankees and I who got the last laugh with a 4-1 series win. It was Brendan, who I called minutes after Aaron Boone's 2003 ALCS Game 7 home run only to have him hang up on me. And it was Brendan, who took the bus down from the University of Vermont to watch the 2004 ALCS in my dorm in Boston. For as obnoxious as I was following the 1999 and 2003 ALCS, he matched it after the 2004 ALCS.