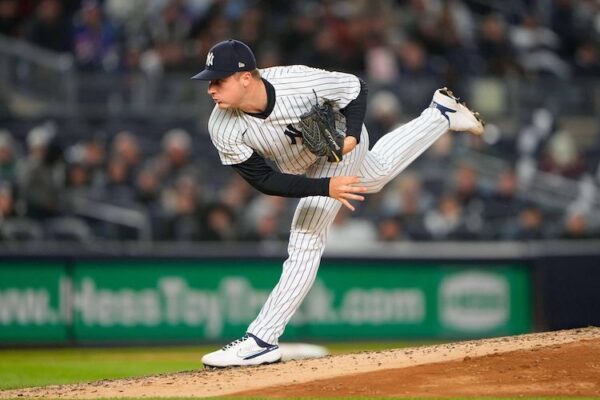 Finally, another full slate of games. The hype and anticipation of Opening Day followed by the scheduled day off for most teams is such a letdown.
Here are the bets for Saturday, April 1.
White Sox-Astros Under 8.5 (-115)
The only wager I had yesterday was White Sox-Astros Under 8 (-115), and the final score was 6-3. In order to lose the under, the following needed to happen:
– Christian Javier (who has the lowest batting average against of all major-league starters since 2020) allowed three straight doubles in an inning.
– Lance Lynn walked four batters after not walking more than two in any start last season.
– With two outs and no one on in the sixth, Lynn allowed a base hit to Jose Abreu after being ahead 1-2 and then got ahead 1-2 on Kyle Tucker before allowing a two-run home run to him.
– In the bottom of the seventh, with two outs no one on, Kendall Graveman walked Martin Maldonado (who walked in 7.8 percent of his 3,320 career plate appearances), then allowed a single to Jeremy Pena and then walked Alex Bregman. Rookie manager (and moron) Pedro Grifol then brought in Jake Diekman (of all pitchers) to face Yordan Alvarez and Alvarez hit a three-run double.
– Still sitting on eight runs in the bottom of the eighth and knowing the White Sox weren't going to score in the ninth against the Astros bullpen, Jose Ruiz walked Kyle Tucker to lead off the inning, Tucker inevitably stole second and then scored on a ground ball single just past the outstretched glove of Elvis Andrus.
It took all of those wild events for that wager to lose and to barely avoid a push. Just bad luck.
I'm going back to the under well on this series for a third straight day.
Nearly all of the Astros' success against Lucas Giolito has been from Jose Altuve and Michael Brantley, and neither are playing. Yordan Alvarez and Kyle Tucker are a combined 3-for-18 against Giolito.
The White Sox, as a team, have putrid numbers against Jose Urquidy: 6-for-41. It's going to be hard for me to not take the under whenever the White Sox face a right-hander this season, especially when the under is 8.5.
Yankees -135 over Giants
I was not expecting the Yankees to only be -135 favorites today. Every once in a while the books hang a truly bad line (for them) and everything about this at -135 seems like they hung a bad one.
Outside of Michael Conforto (1-for-3) and Roberto Perez (0-for-1), the Giants haven't seen Schmidt before. That will work in his favor at least the first time through the lineup. With how deep and rested the Yankees bullpen is and the day off yesterday with another day off coming on Thursday, Aaron Boone is likely planning on five innings at most from Schmidt (unless he's cruising, his pitch count is low and the Yankees have a large lead). That won't be enough time for the Giants to figure him out, if they do at all.
The Yankees as a team hit Alex Cobb well (with the exception of Giancarlo Stanton, who is 1-for-12 against him), and Gleyber Torres (3-for-7 with two home runs) hits him exceptionally well. I expect Boone to run out the same lineup from Opening Day with maybe Aaron Hicks in over Oswaldo Cabrera (and Torres at second with DJ LeMahieu as the designated hitter, though that wouldn't change the batting order).
Braves -230 over Nationals
Padres -230 over Rockies
-101
Sometimes you see a pitcher's numbers against a specific team and you can't get money down fast enough on the game. That is the case here as the Nationals have struck out in half of their at-bats (13 of 26) against the Braves' Spencer Strider. That's outrageous.
I recently heard that the Nationals don't have anyone in their lineup projected to have above a wRC+ 99 in 2023, which means their entire lineup features below-average major leaguers. How that is possible and allowed and not viewed as anything other than strictly tanking I do not know, but in terms of wagering, this entire season will be parlaying the Nationals' opponent with another strong favorite.
That other strong favorite today is the Padres. The Padres have dropped the first two games of the season to the really, really bad Rockies. For a team picked by many to unseat the Dodgers in the NL West and represent the NL in the World Series, the first two games weren't exactly a ringing endorsement. That will change on Saturday when the Padres face Jose Urena, who has expectedly poor numbers against the Padres and will likely be on the wrong end of a Padres offensive explosion after they scored just three runs in their first 18 innings.
More to come for Saturday's games.