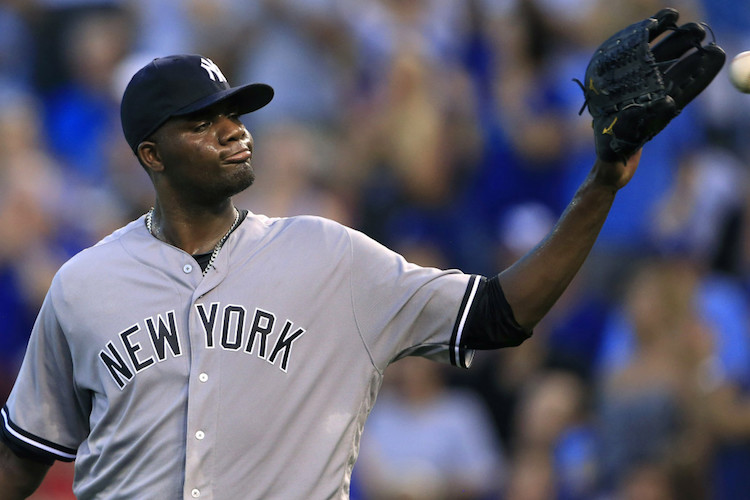 I have always supported and even defended Michael Pineda. I was going to say minus a few "Ladies and gentlemens" along the way, but in searching, I only found one "Ladies and gentlemen, Michael Pineda!", which came on April 6 in the second inning of the second game of the season. It came when Pineda allowed a two-out grand slam to George Springer immediately after the Yankees had scored six runs in the bottom of the first inning to take a 6-1 lead. That's where my past criticism of Pineda starts and ends.
I should have criticized Pineda a lot more in the nearly three years he has pitched for the team and the five years he has been with the team. But I have always believed that the 22-year-old rookie All-Star for the Mariners in 2011 or the 25-year-old with a 1.89 ERA in 13 starts for the 2014 Yankees or the 26-year-old who was 5-0 with a 2.72 ERA on May 10, 2015 after striking out 16 Orioles will show up and actually stay. I have denied that Pineda is actually the pitcher who missed 2012 and 2013 due to injuries from overthrowing because Yankees beat writers questioned his spring training velocity or the pitcher that got suspended for being unable to hide his pine tar and then got hurt while suspended or the pitcher who pitched to a 5.22 ERA over his last 14 starts in 2015 and has a 5.12 ERA through 26 starts this season. I believe Pineda is the pitcher who put up this line in six June starts: 36 IP, 27 H, 12 R, 11 ER, 8 BB, 49 K, 2.75 ERA, 0.972 WHIP. And not the pitcher who put up this line in five May starts: 26.1 IP, 38 H, 22 R, 22 ER, 7 BB, 29 K, 7.52 ERA, 1.709 WHIP. Maybe it's time I change my stance.
Michael Pineda is essentially A.J. Burnett. For some reason though, I have let Pineda go unscathed over his Yankees tenure, and more importantly, those last 40 starts, while I probably have written more words about Burnett since 2010 than anyone and he hasn't been on the team for five seasons now. But like Burnett supporters (if there really were any) did for him, I have done for Pineda by letting the bad days, two-strike daggers and two-out rallies go because of what happens when he isn't being the most frustrating and inconsistent pitcher in the league. Monday night in Kansas City was the latest example.
An odd-hit ball with a lot of backspin to second base put Jarrod Dyson on first to start the bottom of the first. A wild pitch moved Dyson to second though he probably would have gotten there on his own with a stolen base against Pineda. Pineda struck out Cheslor Cuthbert for the first out and then Dyson stole third on the first pitch to Lorenzo Cain. Cain singled and Dyson scored. Cain then stole second on the second pitch to Eric Hosmer before Pineda retired Hosmer on a fly ball. Two outs, runner on third and one run in. Nothing terrible, but then again, two outs is usually when it starts against Pineda. Kendry Morales singled home Cain and then Salvador Perez singled to move Morales to second. Alex Gordon singled home Morales with Perez moving to third. And then, thankfully, Gordon was caught stealing second base to end the inning. Three runs on five hits and two stolen bases against Pineda (neither of the steals were on Gary Sanchez). Here's what happened over the next five innings:
Strikeout swinging
Strikeout swinging
Flyout
Strikeout swinging
Groundout
Flyout
Groundout
Groundout
Strikeout swinging
Flyout
Strikeout swinging
Lineout
Strikeout swinging
Groundout
Strikeout swinging
Pineda retired the next 15 batters he faced from the second inning through the sixth inning, striking out seven, all swinging. Why isn't that the guy who shows up in the first inning of every game? And I'm not asking for Pineda to be perfect like he was, I'm just asking him to not pitch to a 7.62 first-inning ERA where batters are hitting .369/.400/.640 against him. Maybe he needs to throw a simulated inning in the bullpen before the game. Maybe the Yankee Stadium scoreboard operator needs to change the inning to "2" on all the boards or turn the inning off on all the boards completely, so there's nothing visible to remind Pineda what inning it is (though this doesn't take care of the problem on the road). Or right before Pineda takes the mound before his first inning of work, everyone in the dugout congratulates him on his quick 1-2-3 first inning that didn't happen to make him think he's going out for his second inning of work the way Jim tricked Dwight into thinking it was Friday when it was Thursday, so he wouldn't show up to work on Friday in The Office. Pineda's first-inning struggles are a big enough deal that it's time to get creative and do something about them.
There were times in 2012 and 2013 when I thought he would never actually pitch for the Yankees. There were times in 2014 when I thought he was the Yankees' ace. There were times in 2015 when I thought he should start the one-game playoff if the Yankees had to play in one (which they did). There have been times in 2016 where I wondered if he would just be a near-5.00 ERA pitcher forever and there have been times where I have thought maybe it would be better if the Yankees traded him and moved on despite the lack of starting pitching in the league and in free agency. There was a time on Monday night in the first inning when I was finally ready to give up on Pineda and put an end to believing he could ever put together a good, consistent, healthy full season rather than a guy with all the talent in the world who could never put it all together. But like Burnett, he put together those five innings to pull me back in and make me believe once again in his ability.
Joe Girardi and the Yankees broadcasters would always talk about A.J. Burnett's "great stuff" and I always laughed at that phrase. How could a pitcher who went 13-9 with a 4.04 ERA on a 103-win team, 10-15 with a 5.26 ERA on a 95-win team and 11-11 with a 5.15 ERA on a 97-team win and who won two of his seven postseason starts in three years and only pitched in Game 4 of the 2010 ALCS (and lost) out of necessity and pitched in Game 4 of the 2011 ALDS (and won thanks to an amazing Curtis Granderson catch) out of necessity have "great stuff"? Pitchers who have "great stuff" win and are consistently good. Clayton Kershaw has "great stuff". Jake Arrieta has "great stuff". Roy Halladay had "great stuff". A.J. Burnett had "inconsistent stuff" and Michael Pineda has the same. But whenever I would argue about Burnett and cite his shortcomings (and it was easy to do so), his supporters would say, "Game 2 of the 2009 World Series." Yes, he'll always have that Game 2 performance (7 IP, 4 H, 1 R, 1 ER, 2 BB, 9 K) to fall back on as an example of his contribution to the championship and as an example of his so-called "great stuff".
Pineda doesn't have a dominant World Series performance or even a single postseason start as an example of his "great stuff", and he's nearing the point where he might never get that chance as a Yankee if his last two starts are how he finishes this season. All he has are a few good regular-season stretches, a couple double-digit strikeout games and innings like Monday's second through sixth scattered throughout his Yankees tenure. The rest is a lot of disappointment much like Burnett gave Yankees fans, and the last former Yankees pitcher Pineda should want to be compared to is Burnett when it comes to having the ability, but not being able to put it together.