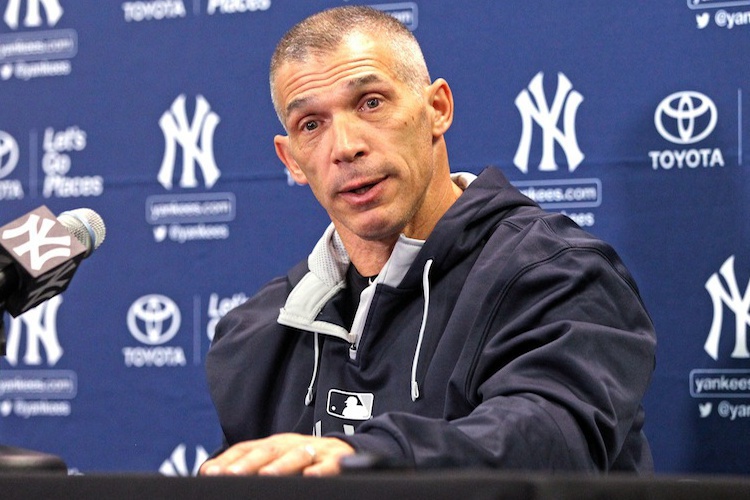 Joe Girardi must be stopped. The Yankees manager is out of control with giving his players days off just one week into the season. You would think the Yankees were banged up or undefeated or even at .500 to this point for Girardi to put together a different lineup each game. But no, Girardi has decided that October, November, December, January, February and most of March (I say most because a good part of March consists of playing two innings and then playing golf for the rest of the day) wasn't enough time off for his under-.500 team coming off back-to-back postseason-less seasons.
Brian McCann played the first game of the season on a Monday, Tuesday was an off day, he played on Wednesday, had Thursday off, played 18 innings on Friday, had Saturday off, played on Sunday and then had Monday off. McCann has played in four of seven games this season. It would be more of an issue if John Ryan Murphy hadn't been one of the two or three best hitters on the team so far, but why is the $85 million catcher making $17 million playing so little to start the season?
Brett Gardner played the first two games of the season before getting the third game of the Blue Jays series off. Why? Most likely because the Yankees were facing a lefty and I guess Girardi thought it would make the most sense to have his best or second-best all-around player as part of a platoon. (On Monday night in Baltimore, Gardner was hit on the wrist, which eventually forced him out of the games and to have X-rays taken, but not before Girardi let him go to bat unable to swing and bunt in the sixth inning of a tie game at Camden Yards.)
Jacoby Ellsbury played all three games against the Blue Jays and then played all 19 innings on Friday, so he was given Saturday off. Ellsbury is 31 years old and in the second year of a seven-year, $153 million contract and will make $21.1 million this year and $130,511 per game. So why was the player who is making the money that should have gone to Robinson Cano getting the day off after Friday's long game while older and more injury-prone players played on Saturday?
In the first five games of the season, Chase Headley was 3-for-22 (.136). On Sunday night, he went 3-for-5 with one home run and 3 RBIs. Aside from his game-tying solo home run in the bottom of the ninth on Friday night, it was the first time he has shown any life with the bat in the first week of the season. So why was he on the bench on Monday night?
I didn't want Stephen Drew on the Yankees last year. I didn't want the Yankees to sign him to a one-year, $5 million deal this year. I wanted Rob Refsnyder or Jose Pirela to be the second baseman for 2015. I wanted him designated for assignment before the season began and I still want him designated for assignment. In the first five games of the season, Drew was 2-for-17 (.118), including a disastrous 1-for-8 night in the 19-inning game on Friday night. But on Sunday night, he hit a home run and had 2 RBIs. So why was he on the bench on Monday night?
Carlos Beltran has played in every game this season and has started six of the games. In the six games he has started, he has hit third. Beltran is 38 years old and will be 39 next Friday and looks more done than Alfonso Soriano looked last year. I would actually rather have Soriano right now, nearly a year removed from baseball, playing instead of Beltran. I have nicknamed Beltran "Going Through the Motions" for this season as he has shown no signs of life in the field or at the plate where he's 4-for-28 (.143). I wanted Beltran as much as anyone else after 2013, but his Yankees tenure started nine years too late and has been a disappointment. Maybe instead of giving productive players in their prime days off, it's time Beltran sits? Or at least take him out of the 3-hole and put him no higher than seventh in the order.
Mark Teixeira got the day off after the 19-inning game most likely because the Yankees were scared of him getting "tired legs" for the second consecutive season for standing around for too long. So who played first base for Teixeira that day after the 19-inning game? Number 13.
A-Rod is 39. He will be 40 in July. He has two surgically repaired hips and since 2011 he has played more than 100 games once (122 in 2012). He has played every game this season. He was pulled in the 11th inning of Friday's game for a pinch runner that didn't work out and the Yankees lost their best hitter for the remainder of the game. On either Tuesday or Wednesday against the Orioles, A-Rod will get the day off because the last 18 months off apparently wasn't enough time off.
The lineup has been improperly constructed for the first seven games and the wrong people have been getting days off. I'm not sure why I thought this season might be different for Girardi when it comes to his excessive resting of his players since it certainly didn't work the last two seasons.
So who's going to get the next game off? Whichever Yankee is hitting the best or whichever Yankee is the youngest or most important or making the most money.