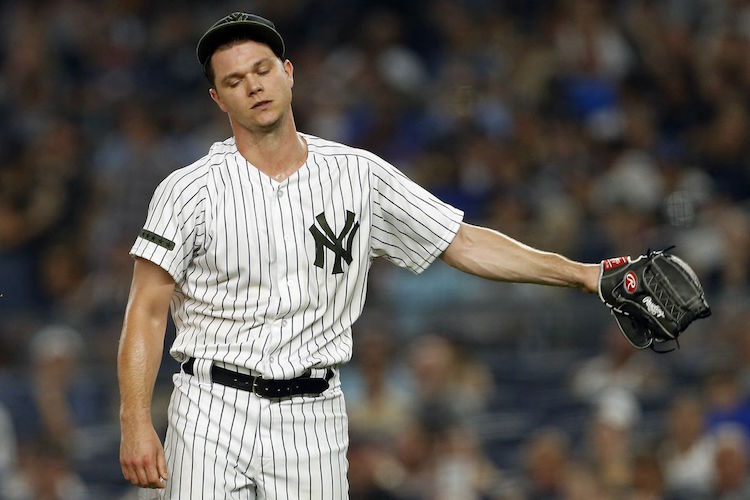 I was ecstatic when the Yankees traded for Sonny Gray. Brian Cashman was able to add a front-end starter, who had pitched to a 3.42 ERA over 705 career innings, and more importantly had pitched to a 2.08 ERA in two career postseason starts. In exchange for the A's ace, the Yankees had to part with a 2015 first-round pick, who had pitched just 29 1/3 minor-league innings (James Kaprielian), a top prospect whose status had begun to fade (Jorge Mateo) and an outfielder who had suffered an unfortunate and potentially career-damaging injury (Dustin Fowler). The Yankees had added an All-Star and postseason-proven pitcher for three players that might never make the majors. (Thankfully, Fowler did this season to overcome his awful injury.)
As a Yankee, Gray wasn't as good as he had been in 2017 before the trade and he was nowhere near his 2013-2015 self (2.88 ERA in 491 innings), but he was solid. His offense and defense let him down in most of his starts as he either got a loss or no-decision in four starts where he went at least five innings, allowing two earned runs or loss. But after the Yankees won the wild-card game, and Gray was announced as the Game 1 starter of the ALDS, his regular season didn't matter. This is what the Yankees had gotten him for: the postseason.
Gray was bad in Game 1 of the ALDS (3.1 IP, 3 H, 3 R, 3 ER, 4 BB, 2 K, 1 HR). Very bad. But it didn't matter much because the Yankees' offense was shut out in the 4-0 loss. Gray's poor ALDS performance took him out of favor for the start of the ALCS, and he was pushed to Game 4 for a chance to redeem himself for the egg he laid in Cleveland. He was much better against the Astros (5 IP, 1 H, 2 R, 1 ER, 2 BB, 4 K) and helped the Yankees tie the ALCS 2-2. Gray didn't get a chance to pitch again in the postseason, but after what I had seen during his time with the A's and his short time with the Yankees, I was excited for the future. If the Yankees had lost the AL East by just two games in 2017 and were now going to have a full season of Gray (along with NL MVP Giancarlo Stanton and not Chase Headley and Starlin Castro and Michael Pineda) then 2018 was going to be a lot of fun.
For the most part 2018 has been a lot of fun (minus the 9-9 start, Stanton's never-ending slump and Aaron Hicks continuing to be treated like Bernie Williams). But the biggest issue of 2018 has been Gray. He hasn't been bad. He's been awful. He's been worse than awful. What's worse than awful? Terrible? Whichever of those is the worst, that's what Gray has been.
I hate the stat "quality start" because why should a pitcher be rewarded for what could be a 4.50 ERA (6 IP, 3 ER), but using some so mediocre as the "quality start" to measure Gray, he has only pitched four of them in 10 starts. He has only gotten an out in the fifth inning in five of his 10 starts, and he has put 90 baserunners on in 49 2/3 innings. How could a starting pitcher have only pitched 49 2/3 innings over 10 starts on a team with championship aspirations? That's not a rhetorical question. I'm actually asking how it's possible.
The Yankees are 4-6 in Gray starts and 31-11 in all other games. He has been the weakest member of the Yankees' rotation, and basically the weakest starting pitcher to continue to start in all of baseball. But it's not just his actual numbers that suck, it's the collateral damage it has caused, and I don't mean keeping the Yankees virtually tied for a share of the division lead.
Despite the Yankees' unwillingness to have personal catchers (and rightfully so), Gray has essentially demanded to only work with Austin Romine. No other Yankees pitcher has an issue throwing to Gary Sanchez. Luis Severino didn't mind pitching to Sanchez when he threw a complete-game shutout on the road against the defending world champions. No one had a problem when the Yankees came within one game of the World Series with Sanchez catching in his first full season in the majors. No one minds because they want the best hitting catcher in the world in the lineup on days they pitch. But Gray's whining ways have led to Romine catching him no matter what, which sets a horrible precedent if the Yankees reach the postseason and need Gray to start.
But what might be worse than Gray's record for a team that gives him an average of 5.38 runs of support in his starts or his 5.98 ERA or his 1.711 WHIP is the complete lack of accountability he has had for his embarrassing season.
On Saturday, Gray was destroyed by the Angels. He was given a 4-1 lead through the second and made it disappear almost as quickly as he got it. His line for the night: 3.2 IP, 7 H, 5 R, 5 ER, 3 BB, 7 K, 1 HR.
After the game, Gray said the following about his performance:
"I thought I commanded my two-seam well. I think it was my four-seam that every time I threw it, it kind of leaked back over the middle of the plate. Slider was good. Yeah, I think the stuff was good."
In 3 2/3 innings, Gray put 10 runners on base, walked three, allowed seven hits, allowed three extra-base hits, walked Kole Calhoun (.160/.195/.199), walked in a run and hit a batter. But he thought his "stuff was good"! What does a Sonny Gray start look like when he doesn't have his good stuff? I'm afraid to find out.
Domingo German is in the Yankees' rotation because of Jordan Montgomery's injury, and because of a lack of major-league ready pitching in the farm system due to injury and inexperience, the Yankees' only current option to replace Gray in the rotation would be to let A.J. Cole start, and the reason he is on the Yankees is because of how bad he was as a starter. And thanks to all of the postponements, the Yankees' off days are quickly becoming day games and doubleheaders, so a phantom injury for a figure-it-out-with-bullpen-sessions disabled list stint isn't even an option. The Yankees are stuck with Gray every five days.
The Yankees were looking for starting pitching in the offseason even when they had Gray, Severino, Masahiro Tanaka, Jordan Montgomery and CC Sabathia penciled in for their rotation. Now because of Montgomery's injury, Tanaka and Sabathia's inconsistencies and Gray being unable to get through the fourth inning, the Yankees are most definitely going to trade for pitching. The depth of the farm system and future of the Yankees, which was somewhat compromised to get Gray last season, will be further compromised because of him again this season.
The only thing that has held the Yankees back from running away with the division so far has been Sonny Gray and his "good stuff". He better find his "great stuff" or Miguel Andujar or Clint Frazier or Justus Sheffield will realize their potential in the majors with another team. Or worse, Yankees fans will have to sit through another wild-card game this fall.